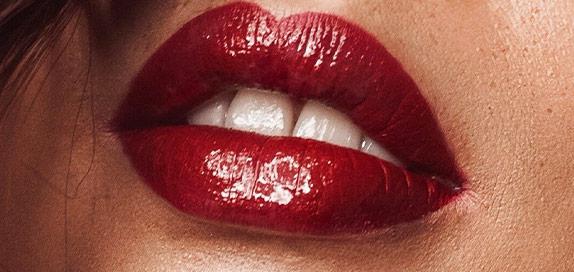 123 products found
Lip Makeup
Do you want your lips to sparkle, look velvety-smooth and have the ultimate definition? Or, maybe you're just after a nourished pout? Well, now you can have it all. Stay lustrous with chic lip liners, matte lipsticks, shimmering glosses and nourishing tinted lip balms that work together to beautify and enhance your lips.
Simply changing your lip color can revamp your whole look. Create a lavish lip that others could only dream of with our plethora of shades that suit any and every occasion, plumping up your pout for kissable results that go the extra mile. We also have a range of lip treatments and lip scrubs to ensure the perfect base for your lip makeup products.
Your bag should always have an essential lip product in it for those SOS moments – at least one nourishing lip balm, red lippie or an everyday gloss. Whether you want a classy nude matte lip during the day or a sultry bold rouge, it's there for the taking. Put your trust in some of the most elite brands and discover the secret to a fuller, lust-worthy smile, here at Cosmetify.
Lip Glosses and Stains
Make your pout pop and never worry about having to redo your lipstick again, as we bring you a next level range of lip glosses and stains. Take your pick from brands like Stila and Rimmel, and rest assured that your lip makeup will be on point.
Lip Kits
Do you struggle to find the perfect lippy and liner combo? Fear not, as we bring you a bunch of lip kits that make applying lip makeup all the easier. These nifty sets provide you with all the tools you need to create a killer pout. Choose from liquid lipstick and lip liner duos or go for the full expert treatment with our trios.
Lip Liner
Lip liner is an essential if you want your lip makeup to last past midday. Explore our massive range of pencils, kajals and crayons and discover matte, velvet and cream formulas that will shape and define your pout. Browse brands such as NARS and Bobbi Brown and indulge in the multitude of lip colors that are suited to every taste and style.
Lip Plumper
Plump up your pout with our collection of lip plumping makeup. Here, you'll find all that you need to make your lips that little bit more fuller. Browse our collection of glosses, balms and treatments and discover a formula that will give your lips a tantalizing tingle.
Lipstick
A makeup collection isn't complete without a classic lipstick. Take your pick from a variety of formulas, including matte, satin and sheer, before choosing your perfect shade, which could be anything from red to pink, cobalt blue or midnight black.  With big beauty brands such as MAC and Revlon on offer, you can rest assured that your lip makeup will be on point.
Liquid Lipstick
Liquid lipsticks are the makeup must-have that every beauty buff needs. Applying like an intense gloss before drying down to a sheer, velvet or matte finish, they're your one-stop shop to long-lasting lip makeup. Browse our impressive color range and discover your dream chic, sassy or sultry shade.