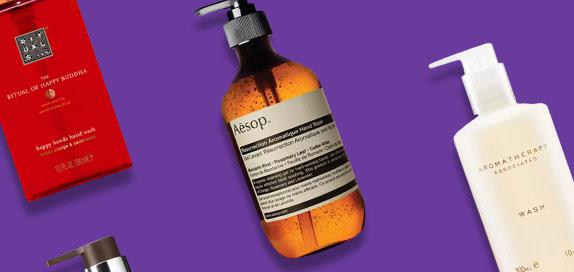 Hand Wash and Sanitisers
Never go anywhere without clean hands thanks to our collection of hand soaps, hand washes and hand sanatisers, here to keep your skin nourished and germ-free. Look around our complete guide to hand wash and sanitisers for more info.
136 products found
Hand Soap
Using hand wash and sanitiser has never been more important, so keep yourself and others safe and healthy with our protective collection.
Looking after your hands doesn't need to be a chore – make it a luxury! Browse our gorgeously scented hand washes, fragranced with aromas that range from the light and floral to the sweet and indulgent. We've provided you with some of the most nourishing products from leading brands like Crabtree & Evelyn, Tisserand Aromatherapy and many more, to comfort and cleanse those grubby hands of yours. When you have to wash your hands so often, you may as well do so with the finest, most aromatic and softening ingredients.
No matter your scent preference, you can discover your favorite fragrant wash among our wonderful array of hand washes, which will not only cleanse but also leave your mitts feeling silky soft and smelling simply divine. Make your hand a dream to hold with a luscious hand wash and sanitiser - find the one that's made for you here.
Hand Wash and Sanitisers Features