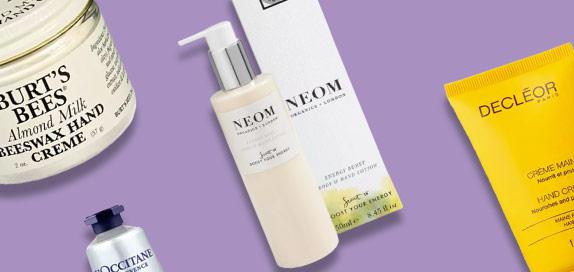 Hand Creams
Hand creams and hand lotions are just as important as your body moisturizer. Why, we hear you ask? Because hands can be one of your biggest tell-tale features when it comes to aging. Allow hand creams and lotions from the likes of L'Occitane, Weleda, Clarins. CeraVe and Aesop to work their magic on dry and sensitive skin. Read More
19 products found
Hand Lotion
To keep hands looking soft and youthful, it's essential that you regularly nourish, hydrate and moisturize them. Luckily, our epic line-up of hand creams and lotions can help you out.
Here, you can discover everything from deeply nourishing formulas that are packed with good-for-you ingredients, to creams and lotions that are specially designed to fight off signs of fine lines and wrinkles. You can even explore a variety of products that are infused with sweet scents such as cherry blossom, orange flower and marshmallow.
Whatever you require, our collection is guaranteed to meet all your needs and keep hands feeling both comfortable and soft. Not to mention, the more luxurious products with pretty packaging make fabulous gifts.
Browse the range today and discover your new beauty best-friend that we just know that you won't be able to keep your mitts off of!
You can also shop the likes of nail treatment kits and nail polish and give your hard-working hands the manicure they deserve!