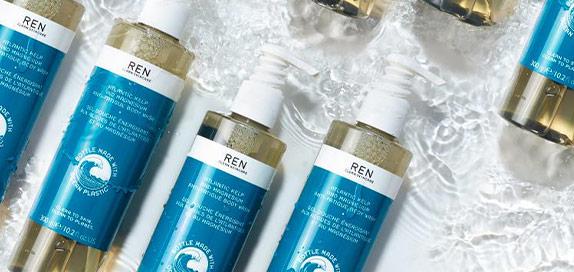 Why We Like REN
"Clean skincare with no parabens and kind-to-skin formulas? Yes please! REN are a great option for skincare obsessives who enjoy finding new, clean, radiance-boosting serums and hard-working, clarifying cleansers. We love their commitment to using gentle formulations housed in sustainable packaging. This is good news for not only our skin, but the environment too."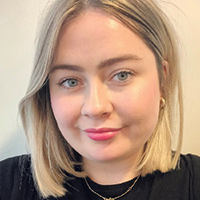 Written by Rebecca Jenkinson, Beauty Editor
43 products found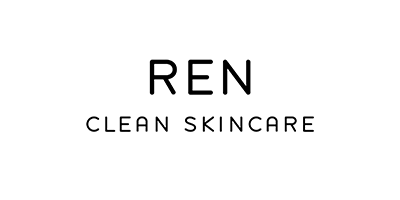 REN Clean Skincare launched in 2000, with the intention of providing people with the purest skincare, that will better skin health without damaging your skin or harming the environment. They strive to create skin and body care innovations that are only formulated with ingredients that will protect each product's efficacy.
The philosophy behind REN's Clean Skincare consists of three simple ideas - performance, purity and pleasure. By following their mission of helping the planet to become a cleaner and nice place, they are delivering kind-to-skin formulas that will work to enhance the appearance of the skin, to achieve a healthy and long-lasting, youthful look.
Their mission of working towards a cleaner planet is demonstrated throughout their ingenious formulations. REN uses hi-tech, 100% plant and mineral derived actives to provide us with ground-breaking formulas that are completely free from any harsh chemicals, toxins and potential irritants.
REN has become a widely-recognized brand within the beauty world, favored by beauty editors, social media influencers and celebs alike - their skincare ranges are a true winner in the industry!
As a way to tackle the current waste problems around the world, REN are working towards their aim of becoming a waste free brand by 2021; with the idea of refillable solutions and 100% recycled packaging, they are contributing to making the world a better place – who wouldn't want to be a part of something so great?
Where can I buy REN products online in the US?
Products by REN are sold in the US at leading, well-known online stores, such as Cloud10Beauty and Cosmetify.
Frequently Asked Questions about REN
Do they use any silicone in their formulas?
According to our information, you will not find silicone in any of their products.
Do they formulate their products with Parabens?
Parabens do not feature in their ingredient list and so they are a paraben-free brand.
Does REN use phthalates in their products?
They don't use phthalates in any of their products, making them completely phthalates-free.
Are REN producing their products sulfate-free?
REN are a sulfate-free brand.
Are REN products, formulations or ingredients cruelty-free and not animal-tested?
Their product line is 100% cruelty-free. As such, REN never tests products or formulations on animals.
I am a Vegan. Can I use REN products?
REN has many products suitable for vegans. Shop products which are vegan-friendly by selecting from our filters above.
Are these products free of irritating artificial/synthetic fragrances?
A lot of them are free-from-fragrance. If you wish to shop only fragrance free, use our site filters.
Do they have any mineral oil-free products?
They create mineral oil-free products when possible. You can check by using our site filters.
Is alcohol an ingredient in any of their products?
REN does have some alcohol-free products, which you can find by applying the appropriate filter.
Are these products likely to cause an allergic reaction?
Not all of their products featured on this site are claimed to have been allergy tested (aka hypoallergenic), however you can view the applicable REN range by using our sorting options.
Does this company operate a Fair Trade policy?
Where possible, REN products are produced according to certified Fair Trade standards.
In what country are the products made?
The UK is where REN produce their products.