The Cosmetify Index 2020 - Men's Edition

Beauty is genderless - and finally, fellas around the world have realised they are worthy of more than a basic '3-in-1' beauty regime and are delving into the exciting and forever-evolving world of beauty and cosmetics. From styling and grooming beards to indulging in a face mask or adding to their makeup bags, guys are realising just how rewarding (and fun!) self-care can be.
We've delved into the male side of beauty to discover the hottest men's brands and products, which have seen a surge in popularity since last year, and an insight into the future of men's grooming from our very own beauty team.
The Hottest Men's Beauty Brands
Men's beauty brands are becoming more popular year on year, with a wide range of products now available. When we look at our current hottest brands, we see skincare is a top priority with Clinique for Men and Bulldog in the top three most searched brands. Wahl takes second place, with more men having to tackle their own hair grooming during the UK lockdown.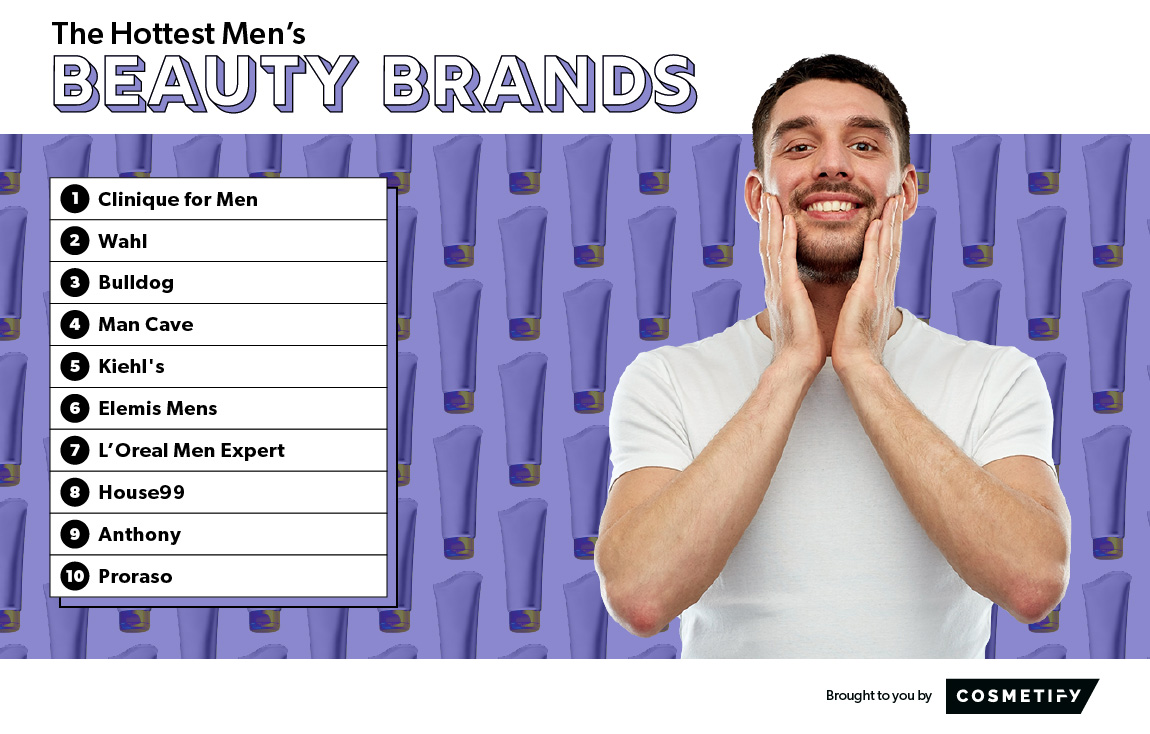 Clinique for Men
Wahl
Bulldog
Man Cave
Kiehl's
Elemis Mens
L'Oreal Men Expert
House99
Anthony
Proraso
Top 10 Most Searched Men's Products
Looking into the Cosmetify beauty data, our team discovered that the most searched product at the moment is hair clippers. With barbers doors currently closed due to COVID-19, guys are taking to a DIY fade and beard trim. Our top 15 hair clippers had over 13,000 views, showing just how high the demand is for at-home grooming (YTD).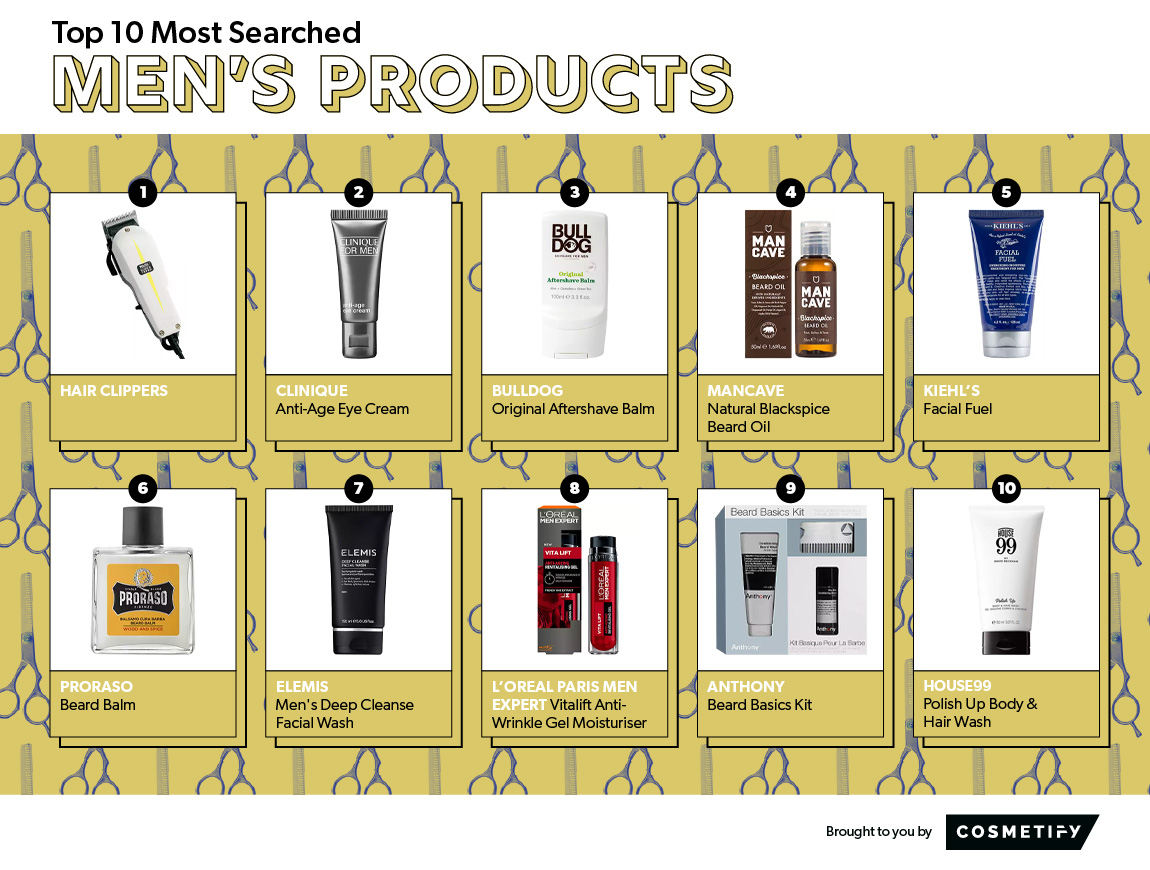 Most Popular Men's Makeup Brands on Cosmetify
With beauty brands taking their male audience into consideration, we've seen a spike in searches and interest in these products. From Tom Ford's men collection to our recent beauty addition, Warpaint, the men's beauty trend isn't one that's slowing down - and we love it!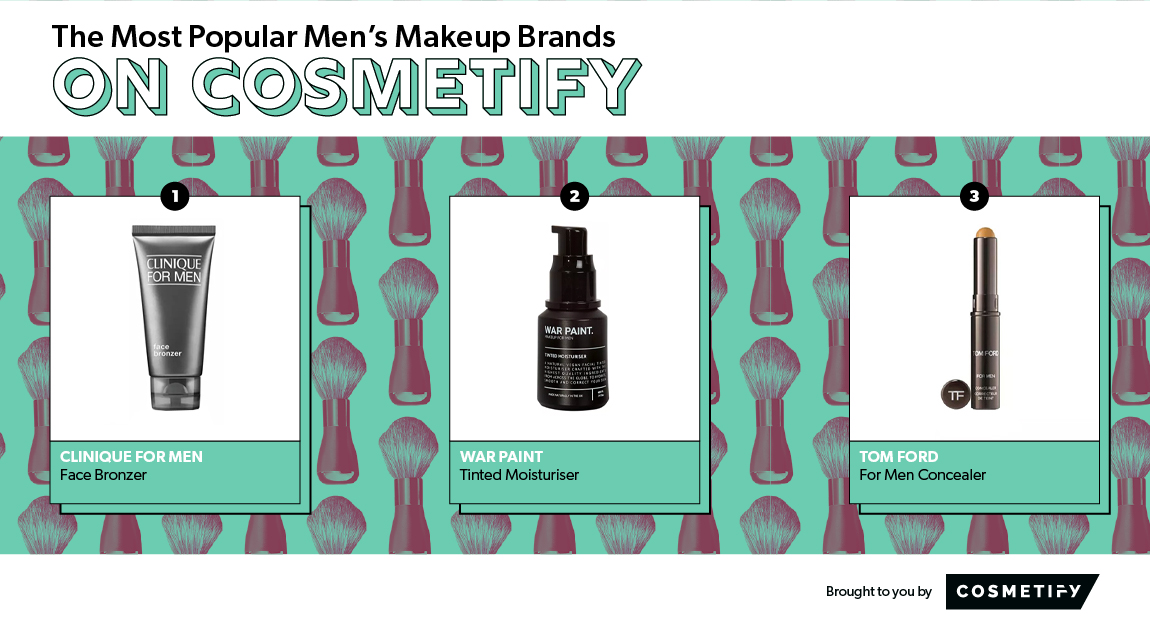 Top 20 Men's Beauty Searches
Beard oil is a staple of many guys' grooming arsenal and a major priority for the bearded bros. As the most searched term, with 126,000 monthly searches it seems the double-duty product is extremely popular.
However, when we look at the top searches at the moment, we can see that it's not just facial hair the modern-day man is concerned with; it's hair… everywhere. Manscaping is a popular and quite recent trend, and with 120,000 searches, it shows tips and tricks are in-demand. The rest of the top ten also refer to general hair and beard care, alongside face wash. The men of 2020 are fresh-faced and beautifully-bearded!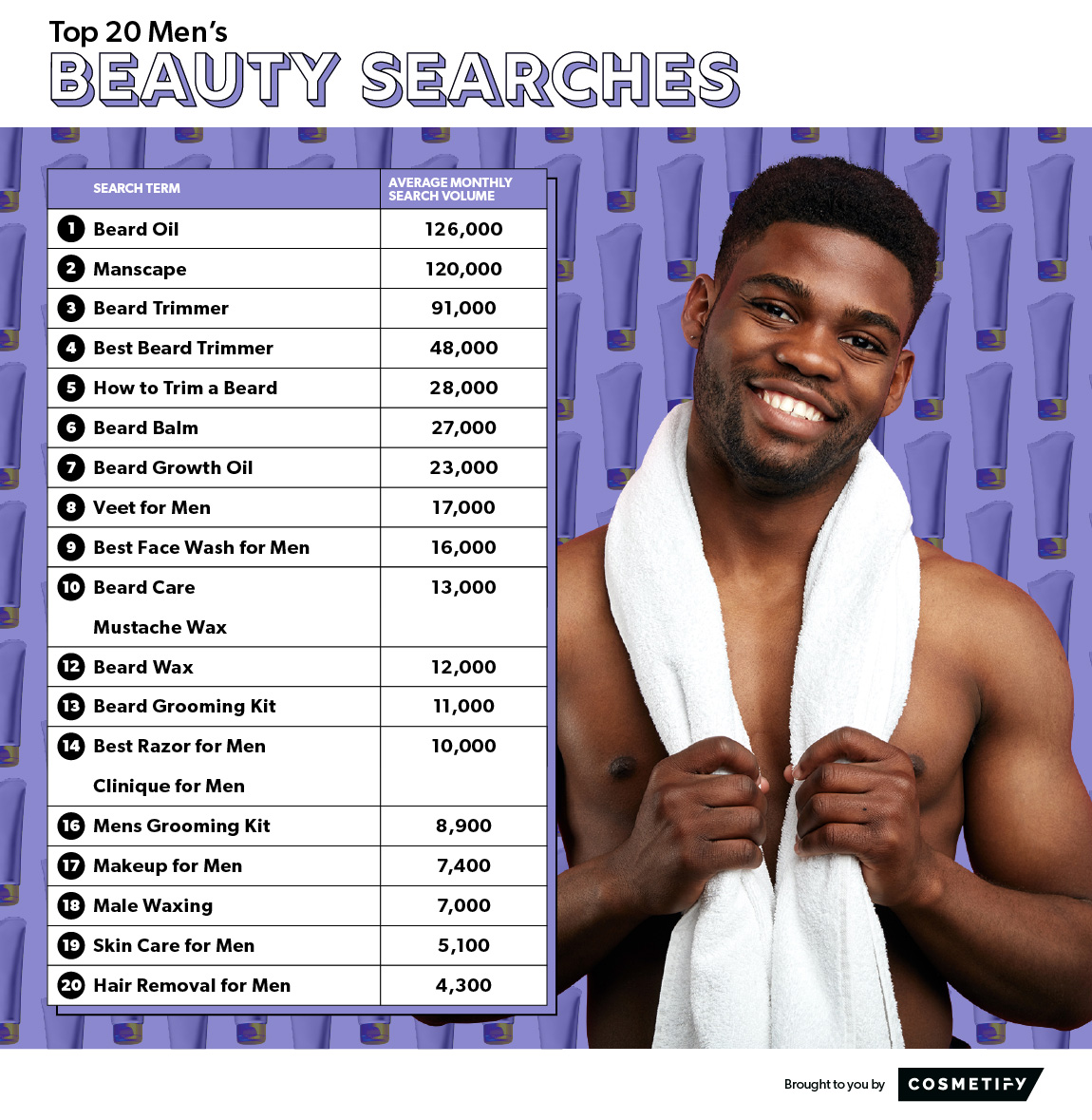 Increase in Popularity of Men's Grooming
Men's grooming concerns are on the up! Looking at the worldwide searches from last year compared to now, we can see that hair grooming and general skincare have seen a huge boost. The likes of 'body grooming' and moisturiser have also seen a surge in popularity, with many beauty-conscious guys seeking a more refined hair and skin regime. There's no shame in the self-care game!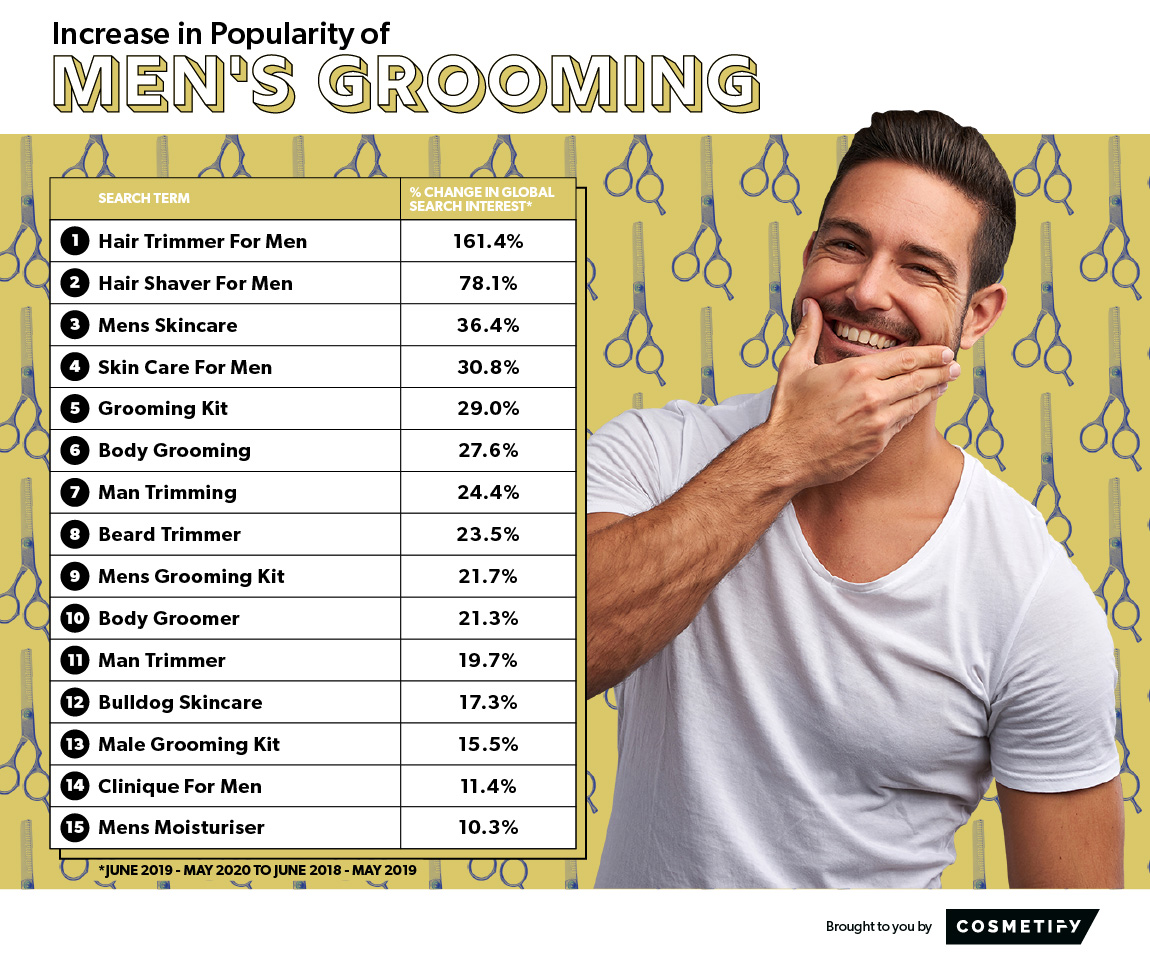 The Future of The Men's Beauty & Grooming Industry
The boundaries of beauty have been pushed for the greater good to reveal a bold, brilliant and more inclusive industry than ever before; but why has there been a surge and what can we expect from the future?
The team at Cosmetify have gathered their team of knowledgeable beauty troops to give their insight on the men's beauty industry, answering some all-important questions.
Why do you think men have become more concerned with health and beauty/cosmetics over recent years?
The rise in gender-neutral packaging has a lot to do with the surge of interest when it comes to men's skincare and grooming.
Brands like The Ordinary prove to be particularly popular with men as their marketing concepts and packaging remain totally gender-neutral, which makes it a little less intimidating for men that are trying out skincare products for the first time.
Additionally, today's society promotes a bigger acceptance of all the different sexualities, races, genders and abilities, more so now than ever before. This means that gender norms are finally being challenged which in turn helps men to feel less pressure when indulging in what was once a typically 'feminine' ritual.
Which products do you see being popular in the coming months?
As usual, you can expect to see the famed Kiehl's Facial Fuel moisturiser topping the charts with its mix of energising ingredients and typically 'masculine' packaging.
In general, the whole Facial Fuel range remains a favourite amongst men in the UK, as each product helps to deliver a surge of those much-needed vitamins upon the skin while remaining simple and easy to use.
Another product worth keeping an eye on is the Aesop Parsley Seed Facial Cleanser. The rise in cruelty-free and vegan products is a trend that follows through into the makeup, skincare, body care and men's grooming sectors, putting Aesop in the limelight.
Their kind-to-skin formulas, paired with gender-neutral packaging, is winning over the hearts and homes of men everywhere, and this intelligent cleanser is the perfect remedy for cleansing away stubborn dirt and grime while mildly exfoliating the skin.
What are the main focuses currently for men when it comes to skincare and grooming?
While a lot of men are beginning to step away from the dreaded '3-in-1' formulations that claim to do everything, ease and efficiency still remain high on the average man's agenda.
Finding a simple skincare routine that tackles the likes of dryness and ageing is important for the modern-day man, so much so that according to Twincraft Skincare: "33% of UK men now say that they use face creams and lotions on their skin, with 11% sticking to this routine on a daily basis".
Caffeine remains a popular ingredient that is included in a lot of men's grooming and skincare products. Its ability to energise, enliven and tighten the skin makes it a real winner amongst men of all ages.
How do you see the future progressing for the men's beauty industry?
With brands such as Warpaint releasing products such as bronzers and concealers that cater to men, I think the men's beauty industry is progressing to become more inclusive. Like women, men have faced pressures within society for their physical appearances, the launch of men's makeup highlights the spike in men's interest in the beauty industry in recent years.
Do women's and men's skin differ? How? Is this why different products are needed?
Due to testosterone, male skin is thicker, oilier and ages differently to women. Men's skin is 25% thicker than women's and a man's skin texture is a lot tougher. With regular shaving, men's skin needs to be treated differently, hence why they need a tailored approach to skincare. Skin becomes more sensitive due to daily shaving, so men need to use clean and sharp razors to avoid razor burns and bumps.
Men tend to use sunscreen less than women, hence why there is a 15-year skin age difference between men and women. UV damage can cause skin to age quickly, therefore men need more SPF than women.
What tips or advice would you give for men wanting to start a skincare routine and which products or brands should they invest in?
Start by knowing your skin type, men tend to have oilier skin than women due to a hormone called dihydrotestosterone (DHT) in their body. A higher level of DHT in the body causes overproduction of sebum, leaving their skin looking greasy and oily. Next, get a facial cleanser that contains moisturising ingredients to control oil. Use it in the morning and at night. Next is finding a moisturiser to help your skin maintain the moisture that will help your skin with ageing. SPF should be worn every day, so try to purchase a moisturiser with SPF.
Methodology
Increase in Popularity of Men's Grooming - Comparing 1st June 2019 - 31st May 2020 to 1st June 2018 - 31st May 2019 search data using Google Trends
All other research is compiled using Cosmetify's own data