Tanning Mitts Guide
With our tanning mitts guide, you can find out everything you need to know before buying or using the product including how do you clean a tanning mitt and how do you apply fake tan without a mitt. If you're ready to buy or want to see our selection, visit our tanning mitts page.
Tanning Mitts FAQs
How do you clean a tanning mitt?
The best way to clean your tanning mitt after use is to hand wash it in warm water. This will help remove any fake tan that has been absorbed and clean the surface fibres of the mitt. The leftover tan should rinse out quickly and easily. If desired, you can add a touch of gentle soap to the warm water to help draw out dry, stubborn stains, however this step is not completely necessary. Avoid harsh soaps and washing detergents as these do not necessarily clean the mitt and can cause skin irritation with the next application. Simply soak the mitt and wring out any excess water. Re-shape the mitt while it is damp and leave it to air dry.
Try to avoid using a washing machine to clean the tanning mitt as this can cause it to lose its shape, become damaged and distorted. Mixing it with other garments can also lead to stains.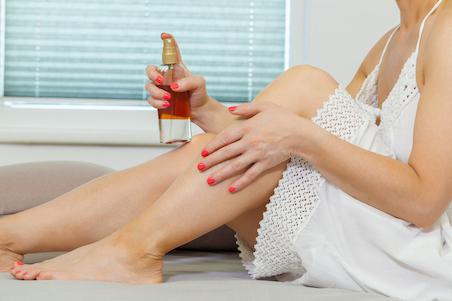 How do you apply fake tan without a mitt?
Although a tanning mitt is the easiest, most efficient and mess-free way to apply fake tan, there are other methods you can use.
Many self-proclaimed tanning experts suggest that using an old sock can provide the same results as a mitt and prevent your hands from over-tanning. Turn your sock inside out and wear it like a glove. Apply the self-tan directly to your skin and then use the sock to spread it evenly across skin.
A large, soft body or makeup brush is also one way to apply tan and often leaves you with flawless, natural-looking results. It works well with mousse formulas and you can even use the brush to add extra definition to the bone structure and body. Simply apply the tan directly to skin and buff it into skin using the brush.
If you are using a tanning cream, lotion or mousse, you can use your hand to apply the formula. However, be wary that you may wake up to hands and palms that are stained orange. Be sure to wash your hands thoroughly and immediately after application to try and avoid this mishap.
How many times can you use a tanning mitt?
Unfortunately, tanning mitts do need to be replaced every so often, however, you can get great use out of one mitt. If you apply fake tan on a regular basis – at least once every two weeks – you should replace your mitt once every three months.
If you self-tan less frequently, one mitt can last for up to six months or more. After this time, you should consider replacing it with a new one.