Complete Guide to Body Butter
By Rebecca Jenkinson, Beauty Writer
With our body butters guide, you can find out everything you need to know before buying or using the product including what is body butter and how do I use body butter. If you're ready to buy or want to see our selection, visit our body butter page.
Body Butter FAQs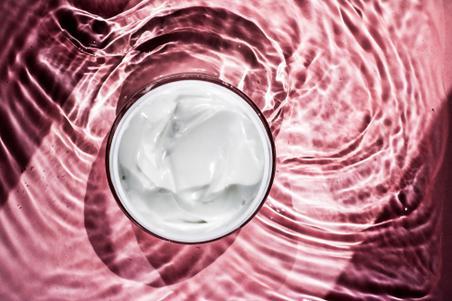 What is body butter?
Body butter is a thick, rich moisturising cream that you can massage over your entire body. Popular options come from brands such as Weleda, Kiehl's, Shealife and Sanctuary Spa. They are often heavier than gels or creams and are perfect for the skin in the Winter time. In summer, beauty lovers may favour lighter lotions and moisturisers.
Body butters are deeply nourishing on the skin and are a comforting option for after bathing. Body butters also use the warmth of the skin to melt the formula and leave you with a long-lasting hydrated feeling. This is an ideal solution for anyone who suffers from dry, chapped or flaking skin.
How do I use body butter?
Take a scoop of the body butter in your hands and simply massage across your skin in big circular motions, concentrating on any dry patches. Your natural body heat will help melt the formula into the skin, leaving you feeling soft and oh-so supple.
Like any other body moisturiser, use after bathing or before heading to bed as this will boost hydration and allow the butter to fully absorb into the skin throughout the night. Use as little or a much as you like, but we recommend using a generous amount to fully nurture your skin. Mix and match your favourite body butters to get the best nourishing results.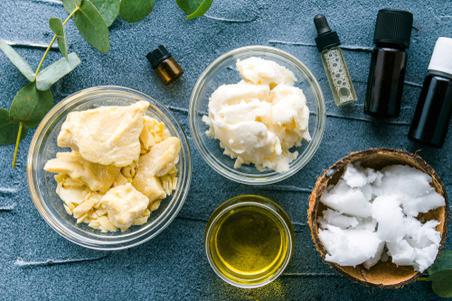 What is body butter made from?
Body butters can be made from a variety of different ingredients. They combine a nourishing mix of butters, oils, vitamins, fatty acids and antioxidants to create a deeply hydrating elixir. Popular body butters often include shea, cocoa or coconut butter. Whether it's a just one or a blend of a few different types, all come with huge benefits.
Cocoa butter is fantastic at locking in hydration, helping even the skin tone and reducing the appearance of scars. It is also known as a great option for skin conditions such as eczema and dermatitis. Coconut butter also has fantastic restorative properties, while shea butter has high fat content and keeps your skin feeling silky and supple. It also has a plethora of anti-ageing properties thanks to its rich vitamin content.
Can I use body butter on my hair?
Body butter is intended to hydrate and moisturise your skin. Unless stated by the individual product, we recommend only using on your body.
Although some ingredients are similar in your hair products and your body products, most body formulas often have perfume or gentle fragrance which is suitable on the skin but not for your hair. Also, as most body butters have a heavy and rich consistency, this can weigh down finer strands and could even leave it looking greasy.
If your hair is feeling parched and needs an extra dose of hydration, we have just the thing. Take a look at our incredible range of hair treatments, including hair masks, hair oils and serums. These formulas are specially created to add moisture to your locks, leaving your hair feeling silky all day long.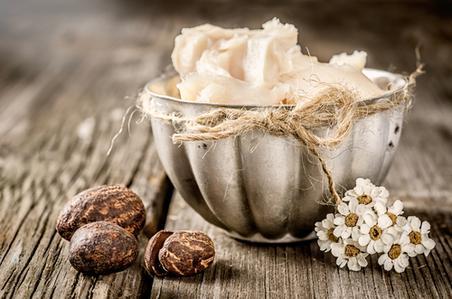 Is shea butter comedogenic?
Unlike other heavy body butter ingredients, shea butter is an non-comedogenic option. This means it will not block your pores, making it perfect for acne-prone skin types. Shea butter also has beneficial anti-inflammatory properties, which helps smooth and soothe any irritations and redness.
However, it is important to take a look at the other ingredients in your body care and skin care. Some products may include other comedogenic ingredients, which are heavier on the skin and can lead to excess oils and blocked pores. If you have sensitive skin or want to search by a specific ingredient, you can easily refine your search here at Cosmetify.
What are the benefits of coconut body butter?
Coconut body butter is a great form of restorative nourishment. Whether you suffer from dryness or dullness, a coconut body butter can help revitalise and rejuvenate the skin. The fatty acids in coconut butter have also been known to help reduce the signs of ageing, including wrinkles, fine lines and age spots. It is also an affordable skincare option and can be found in plenty of nourishing treatments.
By making body butters part of your daily body care routine, you can start to enjoy soft, smooth and supple skin. Elbows, knees and your hands are common areas where people can suffer with dry patches, so simply lather up on coconut body butter to replenish the moisture in these areas.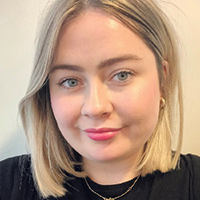 Rebecca is a content writer with over three years' experience and a keen interest in cosmetics. Cosmetify allows her to combine her blogging skills with her passion for beauty.