A 101 Guide to the Best La Prairie Products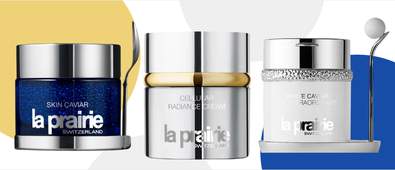 If you've been on the hunt for top-of-the-range skincare, where luxurious textures, advanced technologies and expensive packaging are all wrapped up into one, then you may have just hit the jackpot.
La Prairie is an undisputed leader in the luxury skincare industry. The Swiss-based brand is home to some of the most efficient and effective skin solutions in the world, where the likes of caviar, gold and platinum headline the ingredients lists. However, with such great and rare ingredients comes a great (and by great, we mean hefty) price tag.
As your fellow beauty-obsessives, we understand you'd want to make an informed decision before throwing your hard-earned cash at a new moisturizer or serum (although La Prairie never disappoint). Below, you'll find our fool-proof guide to the best La Prairie products so that you can invest in a brand new skincare routine with confidence.

La Prairie Skin Caviar Collection
Launching in 1987, Skin Caviar was the first ever line of products to seal active ingredients in an encapsulated shipping system. It became an instant skin care phenomenon, with the collection still reigning supreme today.
Each product in this range is infused with a form of caviar, from caviar extract to caviar water, caviar absolute and caviar premier. The expert formulas work to lift and plump skin so that you can reveal a youthful, healthy complexion. Browse the range and discover everything from the iconic pearl-like capsules to luxe creams and complexion-perfecting color cosmetics.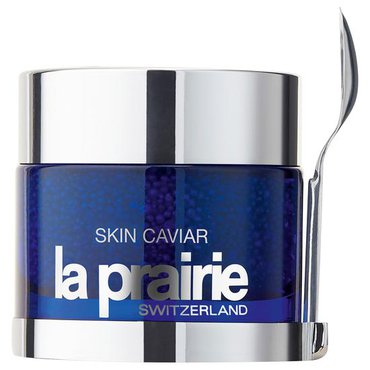 Introducing, La Prairie's first ever Caviar product. Dubbed as 'the instant mini lift', Skin Caviar is the lifting and firming legend that provides professional results, almost instantly.
The luxurious caviar-like pearls are filled with caviar extract – a highly-concentrated, age-fighting active ingredient. Once the capsule bursts, a silky serum penetrates the skin and its deeper layers and gets to work on uplifting tone, texture and appearance. Your complexion immediately feels softer, smoother and more hydrated, plus appears visibly firmer and brighter.
Arriving fully equipped with a spoon, you can scoop out the perfect amount of Skin Caviar and give your face the ultimate at-home treatment.
Go To Store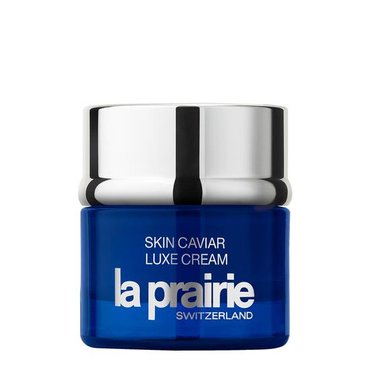 It doesn't get more indulgent than this. The Skin Caviar Luxe Cream brings the serenity of the Swiss lakes and the potency of Swiss caviar right to your bathroom door.
Bursting with more skin benefits than ever before, this luxurious cream packs the ability to transform every complexion, even the dullest. It delivers the most outstanding lifting and firming action, meaning skin is instantly supported, tightened and toned. With this expert formula, you can look forward to revealing your most youthful, radiant and supple complexion yet.
Go To Store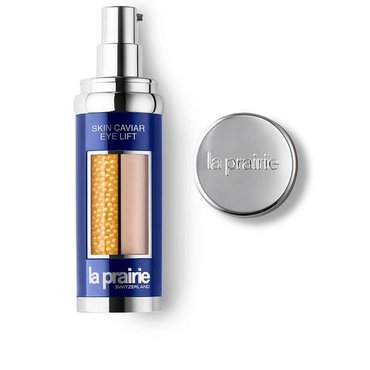 Give your eyes the five-star treatment with La Prairie's Skin Caviar Eye Lift.
Specially developed to target the delicate, expressive area of the face, this formula utilizes potent caviar beads and a gel-cream emulsion in order to reawaken and lift fatigued eyes. Every inch is covered, as eyebrows appear redefined, upper lids are lifted, firmed and tightened and the appearance of fine lines are visibly reduced. As for the under-eye, expect dark circles to be brightened and skin to be softened, thanks to the deeply hydrating and nourishing ingredients.
Go To Store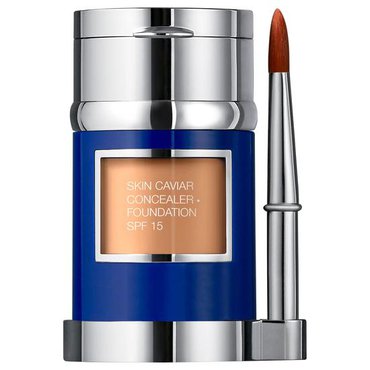 The Skin Caviar Concealer Foundation SPF15 is a must-have if you want to reap the benefits of skin care and makeup at once.
This cream foundation provides a full-coverage, natural-looking color and a dewy finish, whilst the extra concealer element helps to camouflage dark circles, blemishes and imperfections. Of course, the formula is also bursting with caviar extract, which further perfects skin by lifting, firming and hydrating.
Go To Store

La Prairie White Caviar Collection
If you thought Skin Caviar was good, wait until you get your hands on this collection. White Caviar is the luxury skin care range that will turn your beauty routine up a notch. Expertly formulated to illuminate and lift your complexion, each product is enriched with golden caviar extract and Lumidose, a skin-brightening molecule.
Each formula within the collection works overtime to maintain an even skin tone and reduce the appearance of dark spots, so that you can flaunt a radiant complexion. Take your pick from lavish crèmes, intense eye serums, illuminating lotions and more, and look forward to revealing your healthiest complexion yet.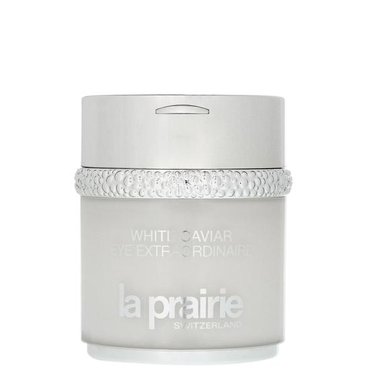 White Caviar Eye Extraordinaire is the eye cream that goes above and beyond to ensure you look well-rested.
The rich cream works overtime to nourish and comfort the delicate skin around the eye area and inject it with deep, long-lasting moisture. Dark circles and shadows are instantly brightened, and the appearance of greyness caused by pollution is visibly reduced. From the arc of the lid to the brow bone and lash line, the Eye Extraordinaire allows you to reveal your true beauty.
Go To Store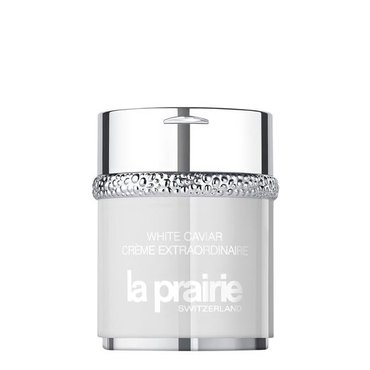 Having mastered the science of light, La Prairie bring you the White Caviar Crème Extraordinaire – a rich facial cream that illuminates and hydrates skin.
Expertly developed to combat dull complexions, age spots, acne scars and more, this luxurious cream is a miracle-worker when it comes to visibly improving the overall appearance of your skin. Lumidose – a powerful illuminating molecule – and golden caviar extract are combined to illuminate the areas of your face that need it most, so you can flaunt a naturally radiant complexion.
Go To Store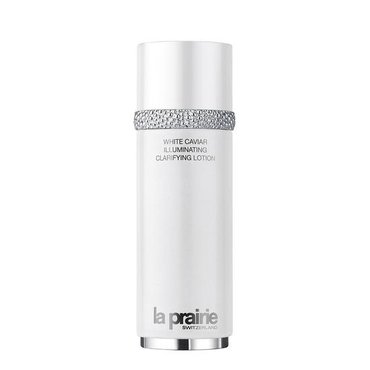 The White Caviar Illuminating Clarifying Lotion is a pre-treatment and the first step to illuminated, radiant skin.
Supercharged with golden caviar extract, the lotion gently exfoliates skin and buffs away any dead skin cells that may be dulling your complexion. Luminosity is instantly improved as the appearance of discoloration and age spots are reduced. Not to mention, skin is rebalanced, refreshed and ready to receive the benefits of any formulas that follow.
Go To Store

La Prairie Cellular Radiance Collection
Dull and lifeless complexions aren't an option for La Prairie and their Cellular Radiance collection. Doing exactly what it says on the bottle, the products within this range reignite skin's youthful glow, instantly and indefinitely.
With everything from brightening eye cream to gold-infused fluid and illuminating serum on offer, you can effectively revitalize and replenish skin. Wave bye-bye to dark spots, uneven skin tone, scars and blemishes, as La Prairie take care of your skin once and for all.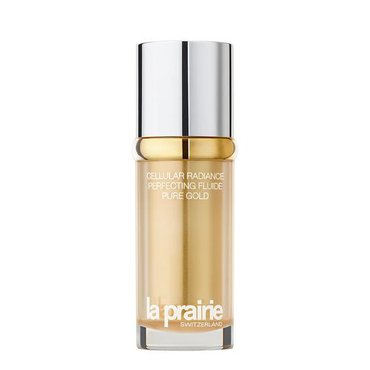 The Radiance Cellular Perfecting Fluid Pure Gold takes any skin care routine from zero to one hundred. Bathing skin in a golden light, it unlocks the inner radiance you never even knew you had.
The prestigious gold-infused formula effortlessly sweeps over skin, revitalizing and improving skin tone and texture along the way. It mimics the most flattering lighting conditions, so that you can flaunt a lit-from-within complexion, wherever, whenever.
Go To Store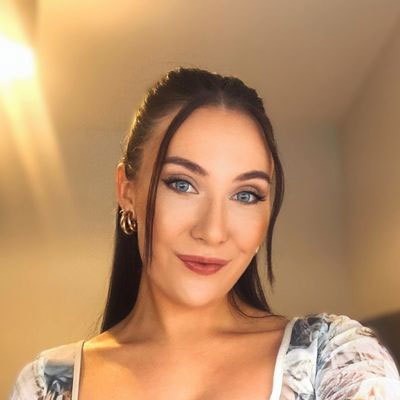 Carly is a beauty editor at Cosmetify and has been a part of our family for three years. She has over five years of experience in health, beauty and wellness writing.