Tarte Cosmetics
Enjoy the Tarte Cosmetics collection of mascaras, primers, concealer & colour correctors plus others across the spectrum. Be sure that you sign up with us so that you hear about product promos and sales.
51 products found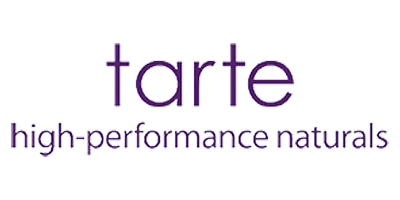 Glamorous makeup solutions packed with feel-good ingredients? We're sold. Tarte Cosmetics are here to save our skin woes and beauty needs with their epic line up of cruelty-free makeup and skin care rituals.
The brand started up back in 2000 with a dream of turning the beauty world on its head by producing luxe cosmetics that boast clean, cruelty-free labels. Today, Tarte Cosmetics have championed the market and dominated the cosmetics industry with their eco-chic, skin-loving beauty must-haves.
From vegan skin care to hypoallergenic makeup, Tarte Cosmetics offers up a whole host of skin-enhancing solutions that work to beautify all skin textures, tones and types. The brand takes pride in banishing nasty chemicals and actively forbids the use of parabens, phthalates, sodium lauryl sulphate, triclosan and gluten. Instead, Tarte Cosmetics pride themselves on using ingredients like Amazonian clay, maracuja oil and other naturally derived resources. The result? Healthier skin that looks as good as it feels.
Why We Like Tarte Cosmetics
"Offering up some of the glitziest, most pigment-packed products on the market, Tarte Cosmetics have earned a special place within our hearts – and our beauty cabinets. Our favourite American beauty brand has teamed together high-performance naturals™ with cruelty-free ingredients to provide us with our cleanest makeup routine yet."
Ellie Child, Content Editor
Where are Tarte Cosmetics products sold in the UK?
You can get Tarte Cosmetics products from a number of leading and well-known online retailers in the UK, including QVC.
Here at Cosmetify, we do the hard work and help you save money on all your favourite products. We compare prices from a range of retailers across the web, meaning you can easily find the cheapest place to buy mascaras, primers, concealer & colour correctors plus lots more by Tarte Cosmetics.
We also showcase delivery cost and associated deals, so you can find the best prices for your favourite beauty goodies in one place.
Frequently Asked Questions about Tarte Cosmetics
Do they use phthalates in their formulas?
Tarte Cosmetics don't put any phthalates in their products or formulas.
Have these products been through testing to avoid allergic reactions and irritation?
There is always the potential for one person to react differently to another, however Tarte Cosmetics products are claimed to be Hypoallergenic, so there's less of a chance you'll react negatively to their products.
Are Tarte Cosmetics products mineral oil-free?
They are 100% mineral oil-free.
I only use vegan-friendly products. Is Tarte Cosmetics for me?
Our sources indicate that Tarte Cosmetics is vegan-friendly, so there are no animal-derived products or animal ingredients in its formulas!
Have Dermatologists tested and approved Tarte Cosmetics?
Tarte Cosmetics products are Dermatologist tested so they've been tested by a skin specialist.
Are they an animal-friendly/cruelty free cosmetic brand?
Tarte Cosmetics are a cruelty-free brand. They never test their products or ingredients on animals.
Has the end product been tested by an Ophthalmologist?
Where necessary, these products have been ophthalmologist-tested and should be safer for sensitive eyes.
Will I find artificial fragrance in their products?
Not all, but Tarte Cosmetics are supportive of those who wish to shop fragrance-free and have suitable ranges (use the filters above).
Parabens are widely used in this industry. Do they feature in Tarte Cosmetics products?
They have some paraben-free products, use our filters to narrow your search to these.
Whereabouts is the Tarte Cosmetics range produced?
The products are made in the USA.
SLS Free
Gluten Free
Phthalates Free
Hypoallergenic