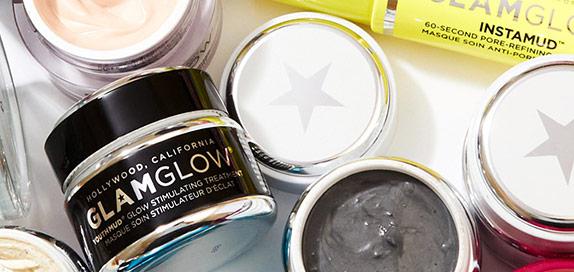 GLAMGLOW
Enjoy the GLAMGLOW selection of clay & mud masks, anti-ageing skincare, day creams plus others across the spectrum. Be sure that you sign up to our alerts so that you are first to know about GLAMGLOW promos and sales.
Best Selling GLAMGLOW Products
GLAMGLOW Face Masks
Adored for their innovative and fast-acting selection of face masks, GLAMGLOW initially reached their cult-level status by releasing a range of globally-recognised, innovative mud treatments. These mud treatments, more commonly known as face masks, are the driving force behind GLAMGLOW's success.
These results-driven masks arrive in a variety of different formulations, allowing you to choose the perfect treatment for your skin concern and unlock the secret behind A-lister skin. With masks catering to the likes of dryness, breakouts, premature ageing and dullness, finding the ideal solution to your skin woes has never been so easy.
Clear up blemishes in a flash with the GLAMGLOW Supermud Clearing Treatment Mask.
Originally made for Hollywood actors and actresses, this fast-acting mask works to instantly brighten up dulling complexions while shrinking enlarged pores for a truly flawless visage. Getting red-carpet-ready skin has never been so attainable, thanks to this innovative and blemish-busting formulation.
Combining potent ingredients with high-powered technologies, this does-it-all face mask utilises a blend of six acids, charcoal and K-17 clay to target problem skin and newly formed blemishes. A specialised activated-x charcoal works to lift away excess oil and dirt from even the deepest of pores to reveal an Insta-worthy complexion. Meanwhile, this brand's SUPER 6 Acid Blend gently buffs away dead skin cells to exfoliate the skin and deliver gloriously glowy results.
Ideal for pores, oiliness, blemishes and acne-prone skin, this wonder mask fights off visible imperfections for a truly beautified complexion. Discover your best glow-up yet with the almighty Supermud Clearing Treatment Mask.
£12.80

£16.00
Delivering a surge of unmatchable hydration, the GLAMGLOW Thirstymud Hydrating Treatment is the skin care essential your visage is crying out for.
Worshiped for its ability to revitalise dull and drying complexions, this iconic mask is the intensive treatment any and every skin type can benefit from. Harnessing the likes of hyaluronic acid, citric acid and a blend of active fruit extracts, this formula sinks dreamily in and gets to work instantaneously.
Hyaluronic and citric acids work together to provide an intensive hydration that restores and calms the skin, while orange blossom honey, coconut and ginger root deliver a radiance-boosting action. This is topped off with a blend of apple, oat beta glucan and hydraclay actives that ensure the natural moisture within your skin is retained.
Having won multiple awards, this intelligent treatment mask can be used as a quick 15-minute treatment or as an overnight remedy for severely dehydrated skin types.
£12.80

£16.00
Find the perfect fit for your skin with the sensational GLAMGLOW Gravitymud Firming Treatment.
Targeted to lift and firm all skin types, this state-of-the-art formula turns back the clock on your complexion to reveal noticeably younger-looking skin. Once applied, the treatment sinks in and firms up to become a peel-off mask that uncovers a radiantly glowing complexion. This one-of-a-kind mask has graced our social media feeds with its undeniable results and eye-catching packaging, earning it a place in the hearts and homes of beauty lovers everywhere.
The formula is made up of mega-targeted ingredients that transform from white to chrome and actively tighten up the skin for show-stopping results. TEAOXI™ Marshmallow and Liquorice Leaf work together to leave the skin feeling truly firmed and lifted for the post-facial results you deserve.
Better still, this incredible formula can also be used on the neck and décolletage.
£12.80

£16.00
GLAMGLOW Toners & Serums
Dulling skin, you've met your match. Take your skin care routine to the next level with a range of supercharged formulas that tackle even the most temperamental of skin types. From exfoliating serums to skin-plumping toners, the GLAMGLOW toners and serums range offers a broad spectrum of post-mask specialities that keep your complexion looking its best at all times.
These high-potency complexes combine some of the most unique ingredients together with hard-working technologies to ensure that your skin is looking bright, dewy and full of vitality from the AM until the PM.
Pep up your complexion with the ultimate skin treat from GLAMGLOW.
The GLAMGLOW Superserum is a potent, fast-acting serum that delivers a multitude of skin-enhancing benefits in just a few drops. Its silky formula drenches the complexion in a smoothing action that acts as a second skin, plumping up your visage for age-defying results.
Ideal for duller skin types, this Superserum dissolves away uneven surface cells whilst lessening the severity of fine lines and wrinkles for a generally smoother complexion.
The formula itself contains a Super Six Acid Blend that works on all of the skin's layers to loosen up dead cells whilst melting away any unwanted dirt, oils and grime. This high-potency complex includes the likes of exfoliating AHAs, BHA and PHA to promote cell renewal, delivering consistently flawless results. When these dead skin cells are melted away, the appearance of duller skin tones is also lessened and uneven textures are reduced.
Hyaluronic acid is included to instantly hydrate while added activated charcoal purifies pores.
£41.95

£57.42
It's time to ditch the scrubs and move on to a more intelligent way of exfoliating.
Gone are the days of beaded scrubs and dried-out complexions. Instead, the GLAMGLOW SUPERTONER™ is here to save the day with its advanced formulation and acid complex. This ingenious solution works as an exfoliating acid that melts away dead skin cells, eliminating the likes of uneven textures and dullness.
Its super-concentrated formula is made up of a Super Six Acid Blend and activated charcoal that instantly refines and retextures the skin. Reaching deep into the pores, the SUPERTONER™ keeps your skin looking blemish-free and smoothed out for filter-like results. This balancing toner is ideal for instantly sorting out uneven textures, enlarged pores and problem skin.
Working to exfoliate, tone and clarify the pores, this skin care essential gives you the keys to a clearer and healthier visage. Reinvigorate your complexion with this beauty must-have and discover what a good skin day can look like, every day.
£23.20

£34.42
Unlock the secret to a noticeably younger-looking visage with the all-powerful GLAMGLOW Youth Potion Rejuvenate Serum.
This powerhouse serum is ideal for those lusting after a rejuvenating and youth-enhancing action, ensuring that your skin looks as good as it feels at all times. Filled to the brim with invigorating peptides and raspberry stem cells, this supportive serum packs a serious punch when it comes to delivering hydration and vitality for a youth-infused visage.
Targeting fine lines, wrinkles and looser skin, this serum gets to work on firming and plumping up the complexion for younger-looking skin in flash. Each innovative ingredient helps to support the skin's natural collagen production for a filled-out finish. The serum's texture is lightweight and watery for instant results that sink beautifully in to enhance luminosity levels. Red algae extract, squalene and hyaluronic acid are also included for their nourishing properties and ability to intensely hydrate.
£38.40

£48.00
GLAMGLOW Moisturisers
Sure, your everyday moisturisers kick dryness to the curb, but do they also illuminate, maintain 24-hour hydration and soothe unwanted redness? We didn't think so.
Skin care giants GLAMGLOW have created an epic array of moisturisers that go above and beyond to keep your complexion looking flat-out flawless. Infused with the likes of hyaluronic acid, nourishing oils and restorative butters, each moisturiser within the GLAMGLOW range helps to perk up duller skin types while injecting it with a surge of skin-loving hydration.
Make the most of your complexion with a skin care staple that goes the extra mile.
Kickstart your glow-up with the GLAMGLOW Glowstarter Mega Illuminating Moisturiser.
This intensely restorative moisturiser delivers a multi-action finish that supports, hydrates and illuminates the skin with every wear. Arriving in three shades (Pearl Glow, Nude Glow and Sun Glow), this deeply nourishing hydrator wears beautifully on all skin tones to ensure the perfect match.
Its formula is infused with a cocktail of vitamins, botanicals, TEAOXI™ golden root technology and hyaluronic acid that all flood the skin with a surge of moisture. This envy-inducing, glowy action lasts throughout the day and into the night, wearing beautifully under makeup for that 'lit from within' glow.
Attaining that post-spa glow has never been so simple, and it's all thanks to the moisturiser's all-inclusive formula that illuminates, hydrates and even bronzes with a subtle sun-kissed action. Get your hands on this multi-dimensional moisturiser for results that won't let you down. Ideal for wearing alone or for prepping makeup.
£25.90

£37.00
Discover the answer behind all of your skin woes with the almighty GLAMGLOW Moisturetrip Moisturiser.
This deliciously creamy yet lightweight moisturiser is here to save the day with its omega-rich formula, helping all skin types to reach their full potential. Containing antioxidant-rich chaga mushroom, this multi-purpose moisturiser helps to protect your complexion from external aggressors whilst calming irritation and soothing drier areas. Omega-rich cannabis sativa seed (hemp) oil also aids in nourishing the skin and relieving redness where possible.
Use this iconic skin care staple as an everyday hydrator and rejoice in flawlessly hydrated skin from dusk 'til dawn. Hyaluronic acid is utilised for its water-retaining properties, ensuring that the skin is wrapped in a blanket of hydrating moisture. Better still, the moisturiser protects against blue light exposure and works perfectly as a post-mask treatment.
£22.00

£42.00
Stay hydrated with GLAMGLOW's cult-followed moisturiser.
The GLAMGLOW Waterburst Hydrated Glow Moisturiser combines innovation, technology and hot-topic ingredients together to make the most of your visage. This weightless water cream boasts a lighter-than-air finish for non-greasy results that sit beautifully under makeup. Adored for its light texture, this intelligent moisturiser utilises moisture-lock technology that delivers 72 hours of long-lasting, lust-worthy hydration.
Sinking deep into the skin, this sea-blue formula quenches the thirst of even the most dehydrated skin types for a revived and revitalised look. Once applied, skin is treated to a moisture reservoir that keeps the complexion feeling truly comforted.
This dreamy formula contains a triple hyaluronic acid complex to retain moisture for longer, while water from the volcanic Island of Jeju is blended with TEAOXI® blue nymph lily extract and hydration technology for unbeatably dewy results.
£31.20

£39.00
GLAMGLOW Cleansers
Wash your way to a happier, healthier visage with GLAMGLOW's impressive line-up of glow-inducing cleansers.
With a variety of different formulations and textures to choose from, this selection of skin-cleansing must-haves provides you with everything you could possibly need to maintain a healthy complexion. The brand's most coveted cleanser is the GLAMGLOW Super Cleanse Triple Charcoal Cream To Foam Cleanser, which contains purifying charcoal to deep-clean clogged up pores.
Ideal for all skin types, each cleanser works to buff away the dirt and grime from your day without stripping any of those naturally-occurring essential oils.
Cleanse away the day with your soon-to-be new favourite cleanser.
The GLAMGLOW Super Cleanse Triple Charcoal Cream To Foam Cleanser is the easiest way to shrink pores and clear up imperfections. Containing a triple-charcoal boost, this advanced cleanser works to detoxify your complexion with a wash of purifying goodness. The cream-to-foam texture reaches all areas, delving deep into your pores to prevent future breakouts.
Harnessing a potent blend of skin care essentials, the cleanser works to remove debris, oil and face makeup with complete ease. The cleanser's line-up of ingredients includes TEAOXI® eucalyptus leaf, Mediterranean clay, and a special blend of bamboo, ubame wood, and coconut charcoals. Treat your skin to a purifying action like no other with this skin care must-have.
£19.95

£25.00
Infuse your skin care routine with something a little fruitier. The GLAMGLOW Tropical Cleanse is your one-stop-shop to a brighter, clearer complexion.
This little tube of goodness encapsulates everything you could possible need to relish in a cleaner, healthier complexion. The exfoliating cleanser is powered by a cocktail of superfruits, purple clay and tropical fruit enzymes to help buff and beautify your visage.
Polish the day away with a triple exfoliating blend that includes the likes of pomegranate seeds, fruit enzymes and tropical fruit extracts to exfoliate away dead skin cells that may be dulling your complexion. Delivering a double action, this cleansing exfoliator works to melt away dirt, oils and makeup whilst buffing off uneven textures for an all-over smoothing result. Ideal for normal, combination, dry and oily skin types.
£18.00

£35.55
Meet your complexion's new best friend: the GLAMGLOW Gentle Bubble Cleanser.
This everyday cleanser gets to work by washing away stubborn makeup, dirt, oil and grime without stripping any of your skin's natural oils or moisture, making it safe for regular use. A mix of conditioning agents coat the skin in a nourishing action whilst getting rid of product build-up along the way.
Oat amino acids hydrate and feed the skin while soft, irritant-free bubbles gently cleanse away face makeup and other impurities to prevent future breakouts. Apple extract is also featured alongside vitamin E and the brand's TEAOXI® Green Tea Leaf to ensure a purifying action is maintained throughout each cleanse. Ideal for even the most sensitive of skin types, this kind-to-skin formula is the go-to formula for a happy and clean visage.
£17.60

£22.00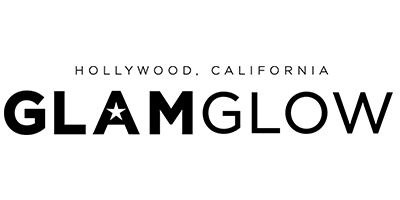 Starting out as a small living room project, GLAMGLOW soon exploded to become a worldwide sensation with distribution increasing to 86 countries. Now they can be found in over 6, 500 luxury retail stores, spa back-bars, luxury hotels, airlines and cruise lines.
Glenn and Shannon Dellimore founded GLAMGLOW in 2010 when creating an exclusive skin-enhancing remedy for a close actor friend of theirs. After a long conversation about skin care products and their lack of instant results, Glenn and Shannon set out to create an easy-to-use, highly effective treatment that provided camera-ready results. With a selection of well-known actors as test subjects, GLAMGLOW was created to provide for performers that needed instantly perfect skin.
With requests ever increasing, Glenn and Shannon made the executive decision to share their glam secret. Sharing the shortcut to perfect skin with everyone, GLAMGLOW soon became a worldwide name.
Why We Like GLAMGLOW
"Who doesn't want a red-carpet-ready facial? We know we do. GLAMGLOW brings the glitz and glam of L.A facial treatments, bottling it up for us to all benefit from. Boasting a wide and varied range of specialised formulations, any skin type can benefit from glowier, healthier skin without having to step outside the house."
Ellie Child, Content Editor
Where can you get GLAMGLOW products in the UK?
You can buy GLAMGLOW products from a variety of retailers in the UK, including Look Fantastic, HQHair and Allbeauty. You can also get these products from Fragrance Direct, Feel Unique and more.
Frequently Asked Questions about GLAMGLOW
Do they use silicone in their products?
GLAMGLOW uses silicone in some of their formulas. Hide these by using our filters.
Can I buy alcohol-free products from them?
They avoid including alcohol in their formulas where possible.
Do they make phthalates-free products?
They do have some phthalates-free options. Search for them using our site filters and by checking ingredients lists.
Does this brand put Sulphates in their formulations?
You'll find a lot of their formulations feature sulphates (or sulfates). Use our filters to narrow your search should you require.
Are these products mineral oil-free?
Not all of their products are mineral oil-free. Use our filters to find the ones you want.
Do their formulas contain Parabens?
They have some paraben-free products, use our filters to narrow your search to these.
Are GLAMGLOW formulas 100% vegan?
Of the GLAMGLOW products you can view on our site, more than half contain animal-derived ingredients. You can see their vegan selection by choosing the relevant filter.
Where do GLAMGLOW manufacture their products?
The products are made in Los Angeles in the USA.