A Guide to Skincare Shelf-Life
Does Skincare Expire? A Guide to the Shelf-Life of Your Products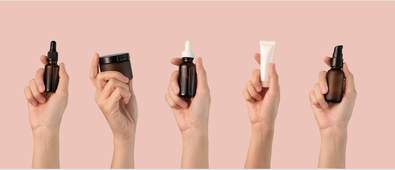 It's no secret that building a skincare routine is a case of trial and error. You have to go through a bunch of lotions and potions in order to find your favourites. Some products become holy grails, whilst the rest sit at the back of the drawer collecting dust. We can't bring ourselves to throw them out because, well, what if we need them (unlikely but we're hoarders, okay)?! This leads us to the question, does skincare expire?
The simple answer is yes, skincare expires. All beauty formulas have a shelf-life, including the most expensive serums, oils and creams. So, in order to help you know when to let go, we've created a complete guide to the shelf-life of your most-loved skincare products.
How can I check skincare expiration dates?
When it comes to skincare, and beauty products in general, best before dates aren't really a thing. However, you can find a small Period After Opening symbol on all labels and packaging, which acts as guidance for how long a product can continue to be enjoyed after first use. The PAO sign is a number (typically 6, 12, 24 or 36) followed by an M and an open jar symbol. The letter M stands for month and the number refers to how many months. So, a '6M' and an open jar symbol means you should throw the product out six months after opening.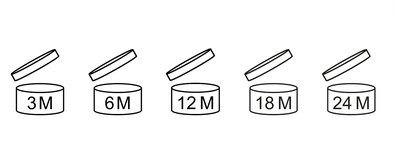 You can also look out for the hourglass timer symbol. It's not a regulation for all skincare products, but it is required for formulas that expire after 30 months, whether opened or unopened. The symbol will also be accompanied by a 'best before date'. If you have gone past the date, it's not fresh enough to use.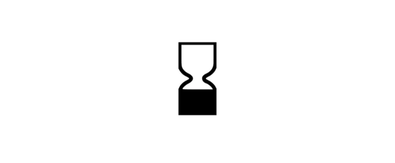 Another packaging feature that'll help you decipher the expiry date is the batch number. Underneath the barcode is a combination of numbers and letters unique to an individual product batch that allows you to find out the formula's shelf-life. You can enter the batch number into an online batch code checker (like this one) to see exactly when a product was manufactured and its expiry date.
If you're not good with dates or have lost track of when you first used a product, then use your best judgement. If a product has separated, changed texture, looks discoloured or smells a little funky, then it's probably time to replace it.
What are the expiration dates of skincare products?
Generally, skincare products are made to last up to 30 months on the shelf and 12 months after opening. However, many factors can alter the expiration date, including ingredients used, how you store your products and how you apply them. You can use the chart below as a rule of thumb.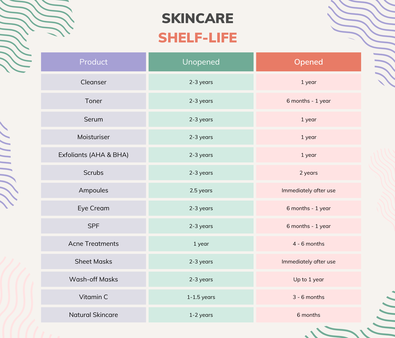 What are the risks of using expired skincare products?
Whilst you can technically still use products after their expiry date, doing so can be problematic and often contribute to the skin concerns that you're trying to fix. After a period of time, active ingredients begin to lose their freshness and potency, and therefore the formula is not as efficacious. Expired skincare products are also a breeding ground for bacteria and microbes, which can be transferred to skin and cause itching, rashes, redness and infections.
How can I store my skincare products so that they last longer?
Did you know that storing your skincare incorrectly can play a big part in reducing its shelf life? Especially if the likes of retinol, vitamin C and SPF are a part of your routine. It's an unwritten rule that skincare should be kept in a cool, dark place as direct sunlight and humid rooms can alter the formula and damage the active ingredients. You may also notice that products that utilise high concentrations of unstable active ingredients are housed in dark, opaque bottles in order to prolong their efficiency.
Skincare fridges are also a great way to keep your formulas in tip-top condition. The innovative accessory is designed to keep your serums, creams and face masks chilled, which not only preserves ingredients but delivers a cool, refreshing application.
Another way to ensure your favourite products last longer is to apply them with clean hands. Sticking unwashed hands into creams can transfer dirt and bacteria into the product, causing it to spoil quicker. Cosmetic spatulas, spoons and brushes are a great way to keep formulas free from contamination, while products that use pipettes or pumps are also a lot more sanitary and help to reduce the formula from oxidising too quickly.
Now that you're geeked up on all things regarding shelf-life and expiry dates, you can finally give your skincare drawers a spring clean. If you're interested in learning more about cosmetics and how to care for them, check out our guide on How to Clean Makeup Brushes.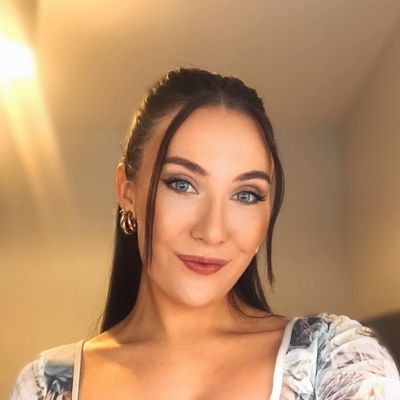 As the Senior Content Editor for Cosmetify, Carly is the go-to for all the latest (and greatest) beauty tips, tricks and trends. With over six years of experience in the industry, she knows all the ins-and-outs when it comes to health, beauty and wellbeing.