Zeos For Men
Explore the Zeos For Men array of anti-ageing skin care, beard oils, balms & waxes, bath & shower gels and other products. Remember to sign up with us so that you never miss Zeos For Men offers and sales.
9 products found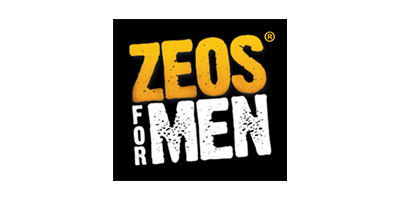 There's a simple maxim at the heart of everything Zeos does: life is tricky enough without making grooming unnecessarily complicated. That's why the brand makes a point of bringing you only the products you need to look and feel your absolute best.
It all kicked off in 2014, when Zeos first released their unique take on the warm waxing kit, helping any man who so wished to achieve smooth, fuzz-free skin. Since then, the brand has expanded to produce a whole range of exceptional products. The QU3 range, for instance, supplies city dwellers with a first line of defence against the skin-irritating nastiness that's endemic in urban areas.
As well as this award-winning, innovative range, the brand has also perfected a series of premium beard oils, which allow the more hirsute among us to keep facial fuzz looking and feeling great at all times.
Explore Zeos' forward-thinking collection today and give your facial hair the best care available. Skin is protected and beards are kept in top condition, so you can get on with your morning—what more could you ask for?
Where are Zeos For Men products sold in the UK?
Products by Zeos For Men are sold in the UK at leading, well-known online retailers, such as Fragrance Direct and Amazon.
But with such a saturated market, it can be tricky figuring out which is the best place to buy Zeos For Men products for the cheapest price. That's where we come in. Cosmetify helps by showcasing all the prices from multiple retailers and letting you order online. This means we compare the costs so whether you're looking for anti-ageing skin care, beard oils, balms & waxes, bath & shower gels and more, you can easily find the cheapest price on all your favourite bits and bobs.
Better still, we even show you their delivery costs so there's no nasty surprises once you hit the checkout.
Frequently Asked Questions about Zeos For Men
I am a Vegan. Can I use Zeos For Men products?
More than half of the Zeos For Men products showcased on our site contain animal-derived ingredients or by-products. Therefore, Zeos For Men is not classified as an entirely vegan-friendly brand. Applicable products are clearly marked across the site.