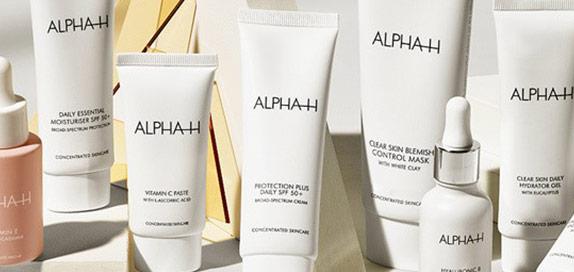 Alpha-H
Embrace the Alpha-H selection of anti-ageing skincare, day creams, face oils & serums and more besides. Be sure that you add a brand alert so that you are always aware of Alpha-H promos and sales.
Best Selling Alpha-H Products
Alpha-H Clear Skin Collection
Are breakouts and blemishes ruining your chance at a clear complexion? Fear not, as the Clear Skin collection from Alpha-H puts problematic skin back on track.
This professional-grade range of anti-blemish products is all you need to reclaim control and confidence. Serving up a complete day and night system, the products work overtime to tackle blemish-prone skin and combat congestion.
Whether you're experiencing a bout of teenage skin, dealing with a post-menopausal complexion or battling the backend of a bad breakout, these expert formulas leave skin clear, calm and clarified.
Give breakouts the boot without further irritating your skin with this Blemish Control Gel from Alpha-H.
Powered by natural antibacterial ingredients, including wild oregano, eucalyptus and tea tree, this spot-busting gel clears and calms stressed-out complexions. Working as an intensive 'on-the-spot' treatment, it minimises the appearance of individual blemishes, soothes irritation and redness in the affected area and prevents further breakouts.
The gel can be used as and when needed for fast-relief and can even be applied under or over makeup.
£16.00
The Hydrator Gel from Alpha-H is the spot-fighting formula that also nurses your skin back to good health.
The lightweight gel hydrates and rebalances skin, all whilst stopping the spread of bacteria that causes breakouts. A special blend of hyaluronic acid, sodium PCA and aloe vera condition and soften skin, whilst cotton seed extract combats irritation. The result? Nourished skin, reduced breakouts and a clear complexion that you can feel confident in.
£21.00
Meet the face wash that gives skin a deep and thorough cleanse. The Clear Skin Daily Face Body Wash is your fast track to a revitalised complexion.
Designed to reduce excess oil, unclog pores, fight and prevent acne, it leaves skin smooth, balanced and squeaky-clean. It boasts a natural antibacterial formula that utilises ingredients such as tea tree to cleanse without stripping the skin or causing irritation. The gel texture feels cool on skin and leaves your complexion refreshed and radiant from tip-to-toe.
£35.00
We understand the concerns when it comes to putting creams and lotions on already-oily skin, but the Daily Moisturiser from Alpha-H is more than your average moisturiser.
Expertly developed to hydrate and balance oily, combination and acne-prone skin, this moisturiser keeps skin fresh all-day-long. The lightweight formula is powered by 10% glycolic acid and hyaluronic acid. Together, they work to minimise enlarged pores, improve overall skin clarity and balance oil production, whilst antibacterial ingredients, like aloe vera, tea tree and green tea, help to banish blemishes, even out skin tone and reduce imperfections.
£23.00
Alpha-H Liquid Gold Collection
Liquid Gold is Alpha-H's flagship product and a cult-favourite amongst the beauty elite. Thanks to its revolutionary resurfacing benefits, the formula sky-rocketed to success and later went on to inspire the launch of the Liquid Gold collection.
Expertly crafted to address a variety of skin concerns, including uneven skin tone, texture and premature ageing, this range of products is your fast pass to a youthful complexion. With glycolic acid supercharging every formula, you are able to keep skin firm, plump and full of life, with minimal effort. Shop everything from eye cream and hand cream to cleansers and face masks.
Liquid Gold is quite the superstar. With over nine beauty awards under its belt, plus accolades from the beauty elite, it's a must-have for your collection.
The skin solution is a miracle-worker for mature, damaged, aged and acne-scarred skin. Powered by glycolic acid and AHAs, it's a treatment that gently exfoliates, tones and hydrates skin in one go. Dead skin cells are buffed away to reveal natural glow, whilst the appearance of dark spots, pigmentation, fine lines and scars are reduced. Skin is left soft, smooth, plump and radiant from the very first use – like a facelift in a bottle!
£30.25

£33.50
Just when you thought Liquid Gold couldn't get any better, Alpha-H infuse the revolutionary formula with aromatic botanicals and moisture binding ingredients.
Liquid Gold Rose is the new and improved, multi-purpose formula that can be used as a toner, exfoliator, serum or moisturiser. The powerful treatment works to resurface skin, improve the appearance of fine lines and increase elasticity, all whilst depositing instant, weightless hydration. Skin is visibly transformed, clarified, brightened and energised.
£37.00
Voted as 'one of the best eye creams to reduce puffiness', Liquid Gold Firming Eye Cream is all you need to start every day with a fresh face.
Made with a quadruple peptide technology, this eye creams works overtime to brighten and smooth the delicate eye area. It stimulates cell turnover in order to reduce the look of dark circles, pigmentation, fine lines and fatigue and leave eyes refreshed and rejuvenated.
£52.00
Washing away makeup, dirt and impurities at the end of a long day has never been easier, thanks to the Liquid Gold Resurfacing Cleansing Cream.
This rejuvenating cleanser is brimming with glycolic and lactic acid – two superstar ingredients when it comes to gently exfoliating the surface of the skin. Together, they slough away dead skin cells and bacteria, leaving the skin brighter, softer and smoother.Not to mention, the appearance of fine lines, uneven texture and pigmentation are reduced, meaning you can also reveal a youthful, healthier complexion.
£8.40

£12.00
Alpha-H Vitamin Serums Collection
Customising your skin care routine has never been easier, as Alpha-H deliver a diverse edit of vitamin-infused serums.
This collection makes it super easy to create a routine that adapts to your ever-evolving skin needs. Whether your complexion needs brightening on a Monday or a hydrating boost by Friday, the antioxidant-rich formulas allow you to give different skin concerns special care and attention, as and when.
Shop the range today and discover the custom approach to skin nutrition and wellness – it's as easy as ABC.
Wave bye-bye to early signs of ageing with Alpha-H's Vitamin A 0.5% serum.
This intense antioxidant skin renewal treatment is all you need to maintain a youthful, radiant complexion. Brimming with vitamin A, it's a powerhouse when it comes to evening out skin tone, boosting firmness and stimulating cell renewal. Best when used at night, the non-irritating serum leaves skin soft, smooth and full of life.
£38.95

£39.00
Intense hydration delivered with every drop – this vitamin E serum from Alpha-H is the secret to soft, smooth and radiant skin.
Working around the clock to nourish, soothe and hydrate your complexion, this serum is the perfect remedy for rough, dry and cracked skin. As well as boasting a potent infusion of vitamin E, the formula utilises a variety of antioxidants in order to calm irritation and speed up the skin's healing process.
£29.00
Vitamin C is essential if you want to showcase a healthy, radiant complexion.
Alpha-H present an intensive serum, powered by vitamin C, that effectively improves skin's radiance, elasticity and texture. With every drop, the appearance of dark spots and pigmentation are reduced, enlarged pores are minimised and skin is protected from future sun damage. Not to mention, collagen production is stimulated and hydration is boosted, leaving the skin looking plumper, firmer and younger, for longer.
£38.75
The Vitamin B Serum from Alpha-H is another one to add to your anti-ageing collection.
A potent cocktail of vitamin B, niacinamide and ferulic acid work together to combat the look of fine lines and wrinkles and protect against environmental aggressors. The result? Smooth, healthy and hydrated skin that's much more youthful in appearance.
Ideal for all skin types, but especially mature, it's a must-have for when your skin is looking and feeling fatigued.
£24.00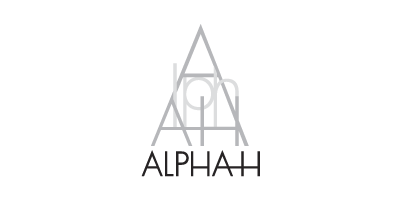 This proudly Australian brand is globally recognised as a leader in preventative and corrective skin care.
Owner and director Michelle Doherty was motivated to start the brand because of her own struggles in finding the most effective skin treatments. Underwhelmed by commonly available remedies and taken aback by the disinterest of medical professionals, she quickly took the brand to its current level of international renown.
Alpha-H is today a global phenomenon, stocked by prestigious clinics, high-end spas and premium airlines. This popularity stems from the collection's clinically tested effects, which require little effort on the customer's part. These revolutionary, cosmeceutical blends usher in a new generation of skin care, allowing you to treat your body to such innovations as the brand's now-iconic Liquid Gold, an award-winning resurfacing treatment that boasts a state-of-the-art delivery system. That, however, is but one of the brand's highly efficient skin care formulas. Discover the one that's right for you today.
Why We Like Alpha-H
"Combining scientific findings with innovative ingredients, Alpha-H are committed to bestowing each and every skin type with a tailored formula that beautifies with every application. We first fell in love with their Liquid Gold formulation and have now become fully-fledged Alpha-H followers due to their results-driven product lines. "
Ellie Child, Content Editor
Where are Alpha-H products sold in the UK?
A range of Alpha-H products are available to buy online from UK retailers, such as Beauty Bay, Cult Beauty and Amazon. Other places to buy products include Allbeauty, Asos and more.
From anti-ageing skincare, day creams, face oils & serums plus others across the spectrum, compare prices across the web to find the cheapest place to order your favourite Alpha-H products.
Frequently Asked Questions about Alpha-H
I don't want to buy products containing phthalates. Can I shop from Alpha-H?
None of their formulas or products contain phthalates.
These days, many brands avoid using Parabens in their formulas. Do Alpha-H?
The brand do not use parabens in their product ingredients.
What's the cruelty-free status of products made by Alpha-H?
Alpha-H do not test on animals, nor do they have any third parties (such as suppliers) conduct animal testing on their behalf, making them 100% cruelty-free.
Do Alpha-H use silicone in their products or formulas?
Many of their products are silicone-free and can be found by using the filters on this page.
Do Alpha-H formulate their products with sulphates?
Many of their products are not sulphate free. If you wish to shop for products without this ingredient please use our sorting options.
Does Alpha-H use mineral oil in their products?
When possible, they use mineral oil-free ingredients.
I'm vegan and only use vegan-friendly products. Is Alpha-H suitable for me?
Most of the Alpha-H products featured on our site are not vegan-friendly, but you can view those that are by simply looking for the vegan icon on the relevant product page.
What country are Alpha-H products manufactured in?
Alpha-H manufacture their products in Gold Coast, Australia.
Glycolic Acid
SLS Free
Vitamin A
SLES Free