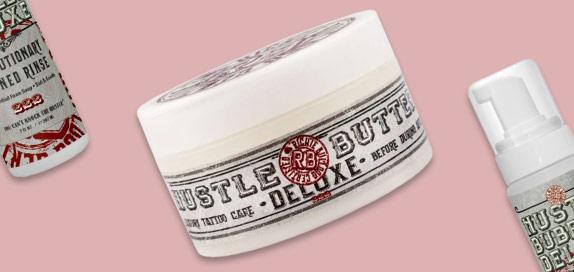 Hustle Butter
Sorry, we currently have no products for Hustle Butter at this time. Sign up for updates below.
Launching in February 2012, Hustle Butter is the first, all-natural, vegan petroleum replacement that can be used at all stages in the tattooing process.
Rich and luxurious, this deluxe tattoo lubricant changed the game for both tattoo artists and clients. Designed to be used as a tattooing glide, tattoo aftercare or just a daily moisturiser, the signature formula has swiftly become an essential within the industry today, tomorrow and forever.
As word spread, Hustle Butter found itself as a staple in tattoo lovers' cabinets, stocked on the shelves of tattoo parlours and shipping two million ounces worldwide, with labels in English, German and Italian – you can't knock the hustle!
Not only does the luxury ointment continue to fill the void of quality vegan products in the tattoo aftercare industry, but it has expanded into a full line-up. Shop the complete range now and discover everything from Hustle Butter Luxe to Hustle Butter CBD, as well as tattoo wash and numbing soap (which is also great for piercings)!