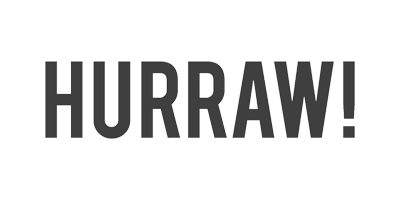 Hurraw
Premium organic, vegan and raw, Hurraw! boasts a decadent and lip-smacking lip care range. Hurraw! launched in 2010 with one mission in mind: to create the very best, truly natural and delightfully vegan lip balms. They wanted their balms to be beautifully smooth, long-lasting, melt-proof (you know how stuffy those pockets get) and tasty enough to want to eat.
So the team set out on their mission and created the finest and fruitiest balms around. With flavours ranging from Papaya Pineapple to Baobab Banana, Coffee Bean to Chocolate there's a beautiful scent for everyone to enjoy.
Their balms include a range of essential oils, including Argan, avocado and cacao, which have all been cold-pressed to attain their flavour, aroma and nutrition. They're happily bee, shea, soy and palm-free and are rigorously tested to ensure they're gluten-free too.
Hoorah for Hurraw! the vegan lip balms that are quite literally taking the world by storm – they've been featured in Cosmo, Elle, Grazia and Allure and are loved by the editors at The New York Times and Teen Vogue.
Get your hands on these little tubes of goodness and keep your lips feeling fresh and revitalised.