Party Nails Inspiration
By Hannah Prynn
-
1 year ago | Updated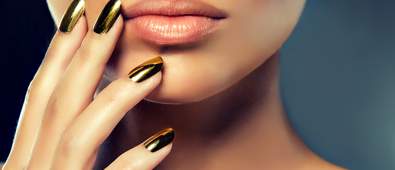 If you're looking for some nail art inspo for an upcoming party, night on the town, or even New Year's Eve, then you're in luck. Here at Cosmetify we've got the low-down on some of the most gorgeous and on-trend party nails that you can try out to revamp your look and add that perfect finishing touch to your outfit.
1. Confetti crazy
Creative and cute, these confetti-inspired nails are the perfect way to accessorize an outfit. The colour variations you get in glitter and confetti brings an essence of fun to any look − whether that be a little black dress or a blingy ensemble.
We recommend you sandwich your sparkly shade in between a clear base coat and top coat to keep it adhered to your nail.
Get the look:
2. Pretty in pink
If you're a sucker for all things girly, then this gorgeous nail art will be right up your street. This neutral pink shade is decorated with rhinestones and a glittery ring finger. It's just the design you need to achieve a feminine and dainty nail look.
Get the look:
3. Dramatic sparkle
Black nails can feel too dark and gothic to a lot of people, but this look proves black nails can be totally chic! Perfect for finishing off any evening or party outfit, the sparkly tips stand out dramatically against the black like stars in the sky. Ideal for adding some glamourous flair to your outfit. New Year would be a great time to flaunt this dazzling glitter design.
Get the look:
4. Gorgeous and grey
Grey doesn't have to be boring, and these nails certainly prove it. If you love this neutral colour but don't want to be too neutral, spice things up with multiple shades of grey, a white nail or a sparkly nail - or all three like you see here! These nails are ideal for people who want to up their nail game without making their claws the centre of attention.
Get the look:
5. Flicker of gold
These delicate, swirling flicks can be any colour, though we recommend a metallic or glittery colour to keep the look super party-friendly. And if you aren't adept at nail art (we don't blame you, that stuff is hard), press-on nails can be a quick and easy way to get your nails ready to part-ay.
Get the look:
6. Natural and nude
Don't fancy going all out for the occasion? The barely-there nail polish trend to the rescue! Healthy nails complement any look, and this super glass-like look lends an elegant air that's a step up from totally bare nails. A nail strengthener like these ones below will help you grow your nails out without chipping.
Get the look:
7. Paint the town red
Ideal for Christmas parties and New Year celebrations, a true red nail is a classic that shouldn't be ignored just because you see it so often. Just like a red lip or a red outfit or a red anything, this shade helps the wearer make an impression and gives them a total air of sophistication. (And if pure red is too boring for you, just pop on some glitter to go full holiday!)
Get the look:
8. Magic matte
For a simple but chic mani, mattify a classic holiday shade like this Christmas tree green with a matte top coat. It's also popular at the moment to top matte nails with a dash of glitter or streaks of nail art in regular glossy shades to provide an intriguing contrast that will catch the eye.
Get the look:
So, there you have it. A stunning selection of going-out nails to get you inspired for the party season. You can ensure that your nails are looking the part this autumn/winter with the help of our nifty nail art products.
For some nail inspiration, head over to our blog on trending winter nail colours. If you need to go back to basics on all things nails, check out our tips for choosing the best nail polish and our ultimate guide to nail shapes.