A Hair Care Addict's Guide to the Best Aveda Products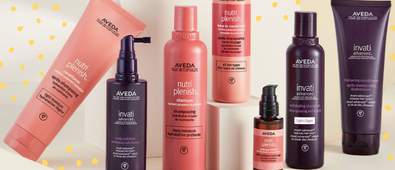 Aveda is the all-natural, holistic hair care brand that goes above and beyond to ensure we're rocking silky-soft, healthy locks. The brand draws inspiration from Indian rituals, herbal remedies and the ancient art of Ayurveda to provide a selection of elite hair care rituals that cater to all textures, lengths and colours. However, with such a vast collection of products, finding your perfect Aveda match may seem somewhat daunting - especially if you're a newbie to the world of hair care.

Below, we've rounded up the brand's most popular ranges to help you find your ideal hair care hero and unlock the secret behind salon-worthy locks.
Aveda Be Curly:
Go on, Be Curly, it's what your hair does best. Tailored to enhance those luscious curls, wavy locks and gorgeous ringlets, Aveda's Be Curly range is the Mecca for curly hair.
Harnessing the hair-loving potential of natural ingredients, Aveda have made a superior collection for our curly-haired friends. Vegan and cruelty-free, each remedy is brimming with active nutrients to bring out the best in your curls; whether it's a soothing shampoo, stellar styling product or nourishing conditioner, it's a must-have for your selection.
Browse the top-class range here on Cosmetify to find everything you need to hydrate, soften and style your lustrous curls.
Aveda Shampure:
Suitable for all hair and body types, from wavy to tight, sensitive to oily, Aveda's Shampure range continues its holistic theme by incorporating a stream of organic and natural ingredients into each product.
Whether it's with a cleansing shampoo, softening conditioner or luscious body lotion, the wholesome team at Aveda have intricately created each formula to bring out the best in your hair or skin.
Shop the supreme selection of bestsellers here on Cosmetify to add some natural goodness to your skin and hair care routine.
Aveda Damage Remedy:
The range name says it all, this deluxe collection is for damaged hair that needs some TLC. The diverse selection has a product for every hair type and every concern: find moisture-intensive treatments for dry and dull locks or strengthening shampoos for weak and fragile hair. Whatever you need, Aveda has it in their Damage Remedy range.
Much like the rest of Aveda's production line, Damage Remedy is spearheaded by the revitalising power of plants. Instead of the typical stain of parabens, silicone and phthalates, Aveda imbue their nourishing products with natural and organic ingredients that complement a vegan lifestyle.
If all of the above sounds like it's made for your hair (why wouldn't it be?) then explore the bestsellers below to breathe life back into your locks.
Aveda Nutriplenish:
For total hydration, you'll want to treat your hair to a drink of the nutrient-rich product line that is Aveda Nutriplenish.
What's so special about this line? The omega-5 rich superfood blend in each bottle, for one, which ensures lush, shiny, totally hydrated hair.
But the Aveda experts have also created two versions of the shampoo, conditioner and mask in the range, Light and Deep Moisture, for different hair needs. As you can probably guess, Light Moisture is made for those who have fine to medium hair or prefer a lighter formula, while Deep Moisture is perfect for thicker hair that needs more intense detangling and nourishment. Light Moisture is also better for those who wash daily, while Deep Moisture works best for those who leave a few days between washes.
Aveda Invati:
Invati has skyrocketed to the top of the list in popularity, becoming a cult favourite with Aveda's followers for the efficiency, potency and replenishing power of their products.
Keeping in tune with the rest of Aveda's ranges, Invati is entirely comprised of cruelty-free and vegan ingredients. Welcome the natural goodness into your hair care collection for hair's that nourished, hydrated and rejuvenated.
Browse the bestselling selection here to discover everything you need for a thorough hair care routine: embrace the cleansing qualities of their shampoos, the softening potential of their conditioners and the nourishment of their Scalp Masque.
Aveda for Coloured Hair:
Caring for dyed hair can be a bit of a hassle sometimes, with frequent trips to the salon and worrying about your tone fading before your next appointment. Luckily, Aveda's colour conservation range takes all the hard work out of having dyed hair. The products in these ranges use plant-based extracts to preserve the hair's vibrancy long after leaving the salon so you can feel confident in your colour. Choose from anti-fade shampoos, colour renewal treatments, blonde-specific products and more!
Aveda Botanical Repair:
Taking their Damage Remedy range to the next level, this line focuses on mending the broken bonds within damaged hair for ultimate restoration.
With extreme attention to detail and a commitment to using plant-based technology, Aveda took six years to perfect these formulations, which rebuild the hair bonds in your hair cortex for real results rather than just mimicking the appearance of health like many other 'repairing' ranges do.
Using blends of corn, coconut, avocado, sunflower and sacha inchi oil and shea butter, these products can strengthen your hair up to five times! As an added bonus, you're sure to love the fresh, floral and herbal scent of this line, which blossoms with ylang-ylang, rose and marjoram essential oils.
If you love Aveda, you may also like our Handy Guide to the Best of AmikaHair Care!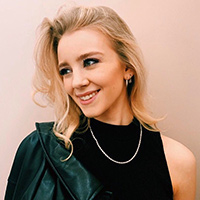 With five years' experience under her belt, Ellie has worked alongside a range of highly regarded makeup artists, giving her a real insight into what consumers should be spending their money on.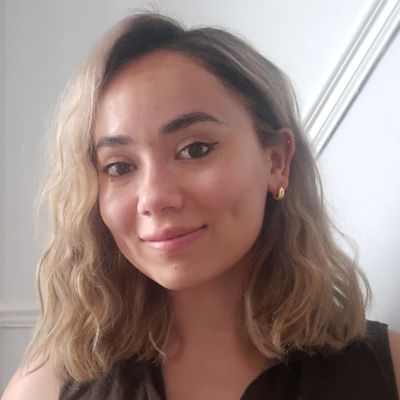 Gabriella is a junior content writer with a background in creative writing, content marketing and journalism. She's passionate about all things makeup and skincare, but especially vegan and cruelty-free beauty that is effective and inexpensive.