Ultimate Guide to Eyebrow Makeup
With our brows guide, you can find out everything you need to know before buying or using the product including how do you apply eyebrow makeup and what is the best brow makeup for sparse brows. If you're ready to buy or want to see our selection, visit our eyebrow makeup page.
Eyebrow Makeup FAQs
How do you apply eyebrow makeup?
The first step is to create the shape of your eyebrow and then outline using an eyebrow pencil. This highlights which areas need tweezing or filling in. Using a brow pomade or brow powder you can easily fill in the sparse areas with a slanted eyebrow brush. Start from the tip and work your way inwards. Then to fix everything in place apply a tinted or clear eyebrow gel. And voilà - bold, beautiful arches that frame the face.
However, you don't have to use all the eyebrows products every time you apply makeup. Depending on your routine you can mix and match each product to get bold brows or a natural full effect. A clear brow gel is perfect for no-makeup makeup days, whereas a brow powder is ideal for glam looks.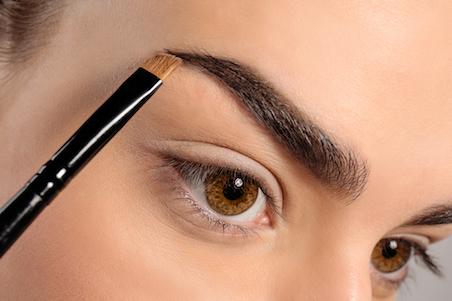 What is the best brow makeup for sparse brows?
The best eyebrow makeup for sparse brows are pomades, powders and pencils. It all depends how thick and bushy you want your brows to be. Using a slanted eyebrow brush and pomade you can easily add definition and color to any bare areas. Just be sure to use short, quick strokes in the direction of the brow hairs to mimic your natural eyebrows.
Then if you want to go the extra mile, a tinted brow gel can quickly add a fullness and definition to thinner arches. Better still, gels also lock your brow hairs in place so there's no smudging or budging throughout the day.
Is it possible to grow thicker eyebrows?
Growing thicker eyebrows takes time and plenty of patience. The first step is putting down the tweezers and stop over-plucking! Then it's time to nourish your brows with any eyebrow treatment. At Cosmetify, we have a range for you to choose from including growth serums and eyebrow conditioners, which all help enhance the appearance of your arches.
If all else fails, you can fake it till you make it with our guide on how to get thicker eyebrows. This guide explains how you can easily use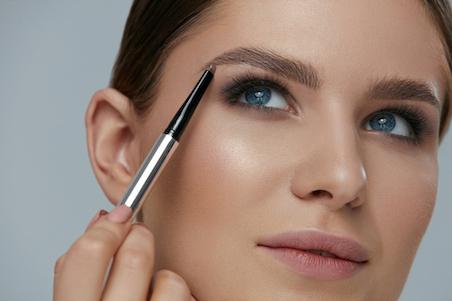 How do I choose an eyebrow color?
When choosing the perfect eyebrow color, it's important to not stray too far from your current hair color. We recommend going either one to two shades lighter or darker than your hair. To create extra dimension to your arches, you can always mix and match shades rather than using one block color.
You can easily add this color to your brows using brow powders and pencils. Or, alternatively you can use a brow kit which includes everything you need to achieve well-groomed, defined eyebrows in an instant. This mixture of shades and products also helps them look more natural and not too drawn on.