Our Go-To Guide to Tata Harper Skin Care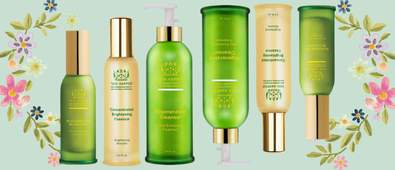 Want to discover all the benefits of Tata Harper skin care? You've come to the right place.
We've created our go-to beginner's guide to the best Tata Harper skin care products, from cleansers and serums to moisturizers and essences.
This brand takes a luxury approach by championing farm-to-face formulas, which use natural ingredients to soothe, moisturize and brighten your skin. Plus, each product is housed in their luxe glass packaging to bring a boujee touch to your bathroom cabinet.
Not sure where to start looking? We've rounded up our favorites to give you a little helping hand.
Tata Harper Cleansers
Delve into the luxurious world of Tata Harper skin care and find yourself a nourishing cleansing solution. Their top picks of indulgent skin cleansers help wash away impurities and product build-up and leave behind soft, smooth and supple results.
From clarifying solutions to anti-aging must-haves, there's a cleanser to suit every skin concern. Figure out your favorite and update your skin care routine with a plush, skin-enhancing formula. Each one is housed in the iconic Tata Harper packaging that adds a touch of glamor to any bathroom cabinet.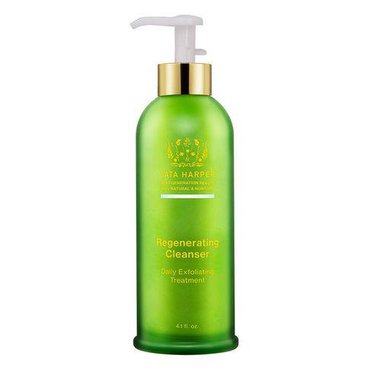 Wash away the worries of the day with the Regenerating Cleanser. It helps remove any trace of makeup, impurities and excess oil without stripping the skin. Better still, the cleanser also contains both physical and chemical exfoliation using apricot microspheres and BHA from white willow bark. This helps refine the texture and unclog your pores, leaving your skin feeling polished and blemish-free.
The Regenerating Cleanser has a creamy format, enriched with other natural goodies such as salicylic acid and aloe vera. This combination of ingredients helps boost your natural radiance, while also calming any irritations.
Go To Store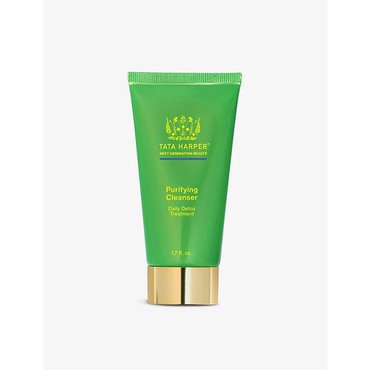 Do you struggle with oily to combination skin? Don't worry, Tata Harper have formulated the perfect solution with their Purifying Cleanser.
This gel to oil formula detoxifies the skin, helping unclog pores, remove product build-up and wash away any impurities from free radicals and pollution. By doing so, the luxurious formula helps renew and rejuvenate your complexion, fighting the tell-tale signs of ageing.
The cleanser also contains fruit enzymes, which exfoliate the skin to revive dull, tired complexions in an instant.
Go To Store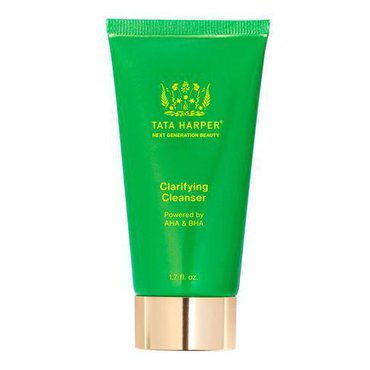 Discover the cult-favorite Clarifying Cleanser. This foaming gel cleanser helps oily complexions achieve a comfortable matte effect, without stripping or over-drying the skin. Use daily to help wash away dirt, grime and impurities for a clearer and healthier looking finish.
This cruelty-free cleanser is free from nasties and contains 100% natural ingredients, such willow bark, lactic acid and citric acid. These nourishing goodies help minimize the appearance of blemishes, balance excess oils and soothe any redness and irritations.
Go To Store
Tata Harper Moisturizers
Find natural skin care solutions and nurturing moisturizers from Tata Harper. Using innovative formulas and only the highest quality of ingredients, each product is free from nasties such as GMO, toxins, artificial colors and synthetic chemicals, which means they feel gentle when massaged across your skin.
Whether you need a boost of hydration or an oil-controlling solution, Tata Harper have the perfect moisturizer for you and your complexion. Their moisturizing products help you achieve healthy-looking skin, with increased radiance and glow. Their top picks include the best-selling Clarifying solution and the Repairative Moisturizer.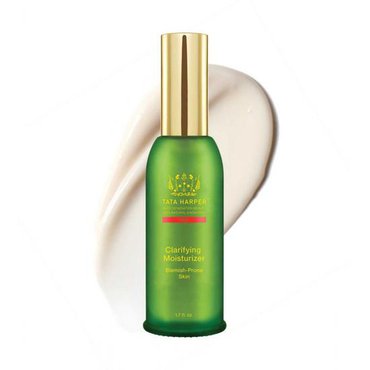 Treat your skin to the Tata Harper Clarifying Moisturizer, which hydrates the complexion while also balancing excess oil production.
If you have acne prone, oily skin, you need to add this luxury day moisturizer to your shopping list. To tackle blemishes, inflammation and redness, this moisturizer contains salicylic acid and superseeds. It provides a comfortable, matte finish and perfectly preps the skin for your makeup. Use daily to soothe, smooth and tone your complexion, without worrying about congesting your skin.
Go To Store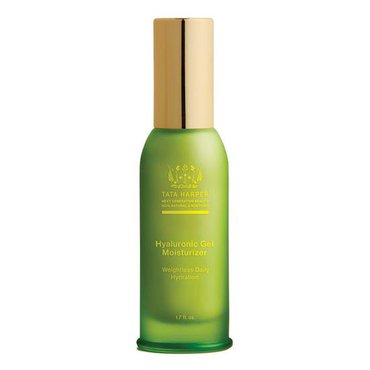 Give your skin a much-needed dose of hydration using the Hyaluronic Gel Moisturizer from Tata Harper. It has a lightweight, yet mighty formulation which restores, rejuvenates and refreshes your complexion.
Enriched with gel water technology and natural ingredients, such as chia seed water, marsh samphire and tremella mushroom, this moisturizer feels nourishing smoothed across the skin. It's also rich in antioxidants, which helps clarify the complexion and fights the signs of ageing like fine lines and wrinkles.
Go To Store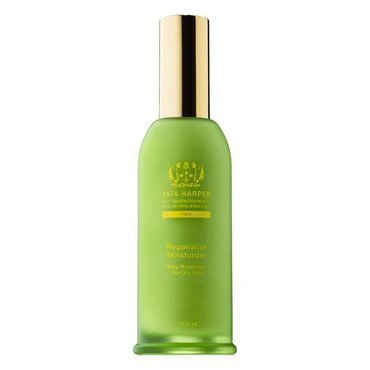 Loved by beauty editors across the globe, the best-selling Repairative Moisturizer is a must-have skin care item. It's perfect for dry or mature skin types, thanks to its deeply hydrating formulation.
This Tata Harper moisturizer ensures a healthy-looking, radiant and youthful look. It refreshes tired complexions, helping plump up the skin and minimizing the signs of ageing. The silky cream uses nourishing natural ingredients, such as raw honey, cocoa, mango butter and hyaluronic acid. This leaves the skin feeling soft to the touch and looking oh-so-supple.
Go To Store
Tata Harper Essences & Serums
Essences and serums are an indulgent yet nourishing step in every skin care regime. They hydrate the skin, ensuring a balanced, healthy-looking glow. Not to mention, essences also improve the effectiveness of facial serums, helping them deeply absorb into the skin.
So, it's only right Tata Harper offer both of these products in their luxury skin care collection. At each stage of your own skin journey, Tata Harper are on hand to help with award-winning and cult-favorite formulas, such as the Hydrating Floral Essence and the Resurfacing Serum.
Discover your favorite skin-enhancing products today.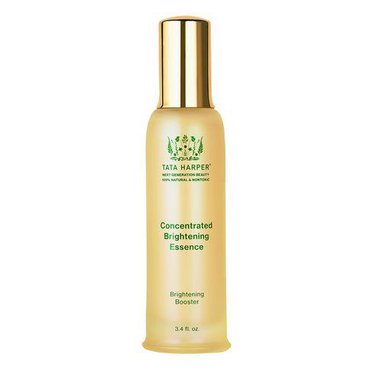 Illuminate your complexion with a little help from the experts at Tata Harper. Their Concentrated Brightening Essence is an indulgent treat for the senses, helping prep the skin for your favorite serums.
This luxury face mist targets dullness, enlarged pores and discoloration by brightening, toning and hydrating your complexion. It contains a plethora of high-performing natural goodies, such as vitamins, minerals, hyaluronic acid, AHAs and BHAs. These act as a pre-treatment, which helps serums better absorb into the skin.
Go To Store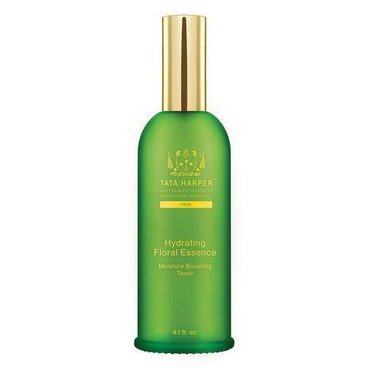 Awaken the senses with the Tata Harper Hydrating Floral Essence. Loved by A-listers, beauty editors and skin care pros, this item is a luxury element worth having in your skin care collection.
Spritz onto a clear, makeup-free complexion and reap the rewards of a nourishing, natural formulation. The mist hydrates, smooths and refreshes in an instant, using antioxidant-rich rose, lavender and neroli hydrosols, as well as hyaluronic acid. This helps tackle dryness, fine lines and uneven texture.
Use as part of your daily routine or as a midday pick me up.
Go To Store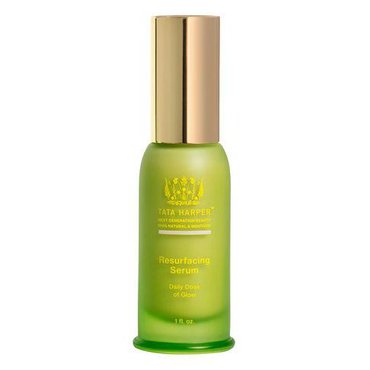 Revive tired, dull skin with the much-loved Resurfacing Serum. This Tata Harper formula helps you achieve radiant, glowy and healthy-looking results. Use the lightweight solution daily after applying your favorite essence and smooth across your face, neck and décolletage.
The serum contains a high-performing blend of AHAs, BHAs, hyaluronic acid, vitamins and antioxidants. This combination of natural goodness helps remove dead skin cells and improves overall elasticity for a youthful appearance. It's a great option to have in your collection for days when you want to reinvigorate and rejuvenate your precious complexion.
Go To Store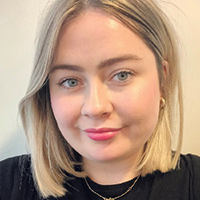 Rebecca is a content writer with over three years' experience and a keen interest in cosmetics. Cosmetify allows her to combine her blogging skills with her passion for beauty.