The Ultimate Valmont Skin Care Guide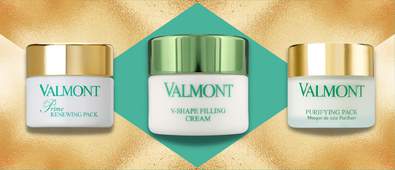 Valmont are the epitome of luxury skin care. Their indulgent products may have a higher price tag but with that comes ingenious formulations that help boost vitality, suppleness and brightness.
Hailing from the Alpine Glaciers in Switzerland, this brand has a long history in the skin care industry. Since their early beginnings in 1985, they have grown a strong fan base of beauty lovers who want to add an extra special touch to their daily routines.
Here at Cosmetify HQ, we've rounded up our ultimate lust-list of products to help tone and firm the skin. Discover your next splurge skin solution right here…
Valmont Lines and Volumes Collection
Their Lines and Volumes collection contains their very best anti-aging and anti-wrinkle products, including the V-Shape and V-Line items.
These ranges help plump up the skin and reduce the signs of aging, including fine lines, deep set wrinkles and sagging. Implement the cream, balms and lotions into your routine to smooth the skin and achieve a youthful visage.
Showstopping and stupendous, the V Shape Filling Cream is one for the beauty books. It's a potent anti-wrinkle moisturizing cream which enhances skin firmness and plumpness, helping diminish and 'fill in' the signs of ageing. Use daily for softer, younger-looking skin.
The cream has gained cult status with its regenerative properties that tighten, firm and tone the face. It also contains an innovative blend of fibro-boost and vitamin C to stimulate collagen and elastin production for youthful results.
Never has it been easier to stop the signs of ageing in their tracks than with Valmont by your side. Their V Line Lifting Cream is the perfect anti-ageing treatment for mature skin types and is a must-have in your bathroom cabinet.
The rich cream helps invigorate the complexion, using a complex blend of peptides, densi-derm, fibro-boost and vitamin C. Use as part of your morning and evening regime to tighten and plump up the skin. The formula also helps protect your precious face from free radicals which can cause premature ageing.
When completing your daily skincare routine, don't forget the soft skin around your eyes. The V Line Lifting Eye Cream targets this delicate area and helps protect the skin and prevent signs of ageing.
To do so, it has an innovative formulation which firms and smooths the skin. This helps diminish the appearance of crow's feet, fine lines and dark circles. Not to mention, this daily eye cream also reduces overall puffiness in the orbital area.
Top tip: when applying this cream use your ring finger to ensure extra light pressure.
Valmont Prime Collection
Discover the indulgent, yet essential Valmont Prime Collection. These creams, masks and skin treatments are ideal for daily skin care routines. They take your ordinary regime and transform it into a magical moment you can relish in every day.
All of their products contain rich, nourishing and potent ingredients, as well as Swiss cellular technology, which helps revive tired, dull and mature complexions. The Prime collection specifically contains a range of Valmont's best-selling products, including the Prime Renewing Pack.
Get your hands on their best-selling Prime Renewing Pack. This go-to face mask is loved across the globe, thanks to the creamy texture and innovative formulation with cellular prime complex.
The mask gets to work in an instant helping smooth fine lines and rejuvenating tired complexions. Skin feels refreshed, radiant and refined. For daily use, apply a thick layer and leave for 3-5 minutes. Or, for a special treatment leave for 20 minutes and remove with a damp cloth.
Do you struggle with a dehydrated, dull and tired complexion? Don't worry, Valmont have the perfect solution. Their luxury Energy Prime Regenera I is a moisturizing cream that contains an innovative formula of oxygenating biological extracts and a cellular prime complex. This helps encourage cell renewal and promotes a youthful-looking visage.
Use daily to revitalize your complexion, so your skin appears brighter, firmer and smoother. It's the perfect pot to help tackle dry skin and firm pesky fine lines and wrinkles.
Valmont Purification Collection
Treat yourself to the Purification Collection from Valmont. This range of products help cleanse, refine and revive your complexion. Whether it's a cleanser, face mask or exfoliator, there's something for every step of your daily and weekly routine. Each one helps rejuvenate tired and dehydrated skin types, ensuring glowing results.
Utilizing the power of pre- and probiotics, these must-have products help nurture, protect and strengthen the skin. Choose from a variety of products all housed in the simple, sleek and stylish packaging.
The Purifying Pack is a go-to face mask for oily skin types. It helps revitalize and purify your complexion, banishing impurities, dirt and excess oil without over drying the skin.
It's also the perfect solution for beauty lovers who struggle with enlarged pores and unwanted texture. The nourishing mask mattifies the skin and helps balance sebum production, so your complexion feels clearer, healthier and oh-so-supple. Use as often as needed to cleanse and smooth the skin as part of your evening routine.
Valmont have created the ultimate exfoliation cream. Discover their Spirit of Purity Face Exfoliant, which gently buffs the skin's surface to reveal radiant and smooth results.
It's a great way to tackle skin texture as it removes dead skin cells without stripping the skin. To do so, it uses luxury fine quartz crystals, which help banish even the smallest impurities. It also has a non-irritating formula so is suitable for sensitive skin types.
Use three times per week and follow with your favorite nourishing face mask.
Wash away your full coverage foundation looks at the end of a long day with Fluid Falls from Valmont. This milky creamy cleanser is a go-to for beauty lovers as it helps remove even the most stubborn makeup.
Due to its lightweight texture, this cleanser is refreshing and comfortable on all skin types and feels gentle massaged across the face, eyes and neck. It even contains calming chamomile extract to soothe the skin, while still removing makeup and impurities.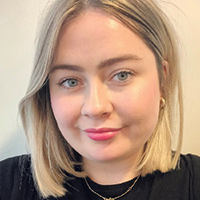 Rebecca is a content writer with over three years' experience and a keen interest in cosmetics. Cosmetify allows her to combine her blogging skills with her passion for beauty.