A Guide to Dr. Barbara Sturm
The Best of Dr. Barbara Sturm Skincare: A Complete Guide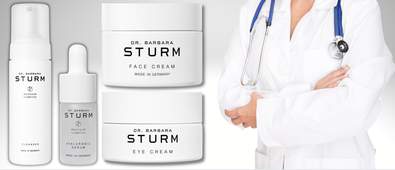 Dr. Barbara Sturm is the skincare hype you need to believe. As pioneer of the iconic vampire facial, and founder of the fountain of youth, this German aesthetics doctor knows exactly how to defy the inevitable aging process.
Once a best-kept secret amongst A-listers, beauty editors and 'skintellectuals', Dr. Barbara Sturm's epic collection of clinical-grade, non-invasive skincare is now available for all to enjoy. It features a line-up of exclusive, high-quality formulas, including face cream, sun drops, cleanser and of course, the cult-favorite Hyaluronic Serum.
If you've been dying to try all that Dr. Barbara Sturm has to offer but have no idea where to start, allow us to help you out. Below is our full guide to Dr. Barbara Sturm skincare, featuring everything from the best-selling ranges to products.

Dr. Barbara Sturm Skincare
Now, this is a brand you can trust. Backed by science and endless research, Dr. Barbara Sturm is endorsed by A-list celebrities, beauty editors and influencers everywhere, and you can quickly realize why it's so acclaimed.
Each formula is intricately designed to bring out the best in your skin, whether it's with the hydrating qualities of a face mist or the soothing properties of a serum.
We've handpicked their bestselling products that are guaranteed to reveal a fresh, bright and renewed complexion with a healthy glow. Explore premium skin care that actually works in this top-drawer collection.
This Hydrating Face Mist is the definition of multi-purpose skin care: imbued with natural, skin-loving ingredients, the invigorating formula simultaneously provides UV protection, softens the skin, promotes skin renewal and fights environmental stressors. How's that for efficiency?
Lightweight and versatile, you can apply the mist as part of your daily routine or whenever your skin needs quenching. The compact design of the bottle makes it idea for on-the-go hydration, whether it's after work, before a night out or for lunchtime refreshment.
The secret to younger, healthier and brighter skin begins with a cleanser. Whilst it may not be the sexiest part of your skin care routine, is there a more satisfying feeling than a potent cleanser banishing impurities, dirt or excess sebum from the skin?
This rigorous cleanser does all of the above whilst enhancing skin renewal, injecting moisture into your skin and preparing for a nourishing moisturizer. Imbued with salicylic acid and aloe vera, the rejuvenating formula promotes clear skin with a silky-smooth touch.
Embrace the natural look with this bestselling Face Cream that alleviates the need for makeup. Purposely designed to produce a radiant, healthy and bright complexion without foundation, Dr. Barbara Sturm's deluxe face cream enhances your natural beauty.
Suitable for all skin types, this inclusive formula helps you enjoy full, plump and clear skin that's bursting with hydration. Purslane and antioxidants form the center of the rejuvenating remedy, combining to restore and balance the skin whilst forming a protective shield.

Dr. Barbara Sturm Anti-Aging Range
No-one likes growing old, and whilst we can't stop the years from ticking by, we can stop them showing on your skin. Well, we can't, but Dr. Barbara Sturm can.
The accomplished brand has become the go-to in anti-aging, delivering a premium collection backed by science. Dr. Barbara Sturm is the number one anti-aging specialist for celebrities, and this supreme range produces youthful skin worthy of the big screen.
Reduce the appearance of wrinkles, fine lines and crow's feet with each potent formula brimming with replenishing ingredients. Highly effective and quick-acting, the stellar selection offers everything you need for bright, clear and healthy skin.
Tired eyes are the first part of the face to give away your fatigue, which is why we've introduced you to the revitalizing properties of Dr. Barbara Sturm's premium eye cream.
Powered by the enriching qualities of omega lipids, the lightweight and fast-absorbing formula instantly reduces puffiness, the appearance of dark circles and hides bags under your eyes.
Hydrate, nourish and soothe the delicate area under your eye to reveal fresh, bright and clear skin with a youthful glow.
Are you fed up of looking at tired eyes, endless wrinkles and crow's feet taking over your complexion? Dr. Barbara Sturm understands your frustration and has produced an efficient anti-aging serum that actually works.
Notice visibly brighter, younger and fresher skin with improved elasticity and firmness. Enjoy a tangible difference after just a few weeks of implementing this replenishing formula into your routine.
Rich in hyaluronic acid and antioxidants, the potent remedy is rife with active ingredients that take years off your complexion.
The brand's bestseller, this enriching serum has become the standout product for visibly younger skin. Utilizing boundless expertise and thorough research, the science-backed formula is absorbed deeply into the skin for long-lasting hydration.
Embrace the revitalizing qualities of hyaluronic acid to deliver a surge of moisture to dry skin, whilst the low weighted molecules provide firmness and tightness to sagging areas.
Add the anti-aging masterpiece into your daily routine and enjoy tangibly younger skin that breathes confidence into your body.

Dr. Barbara Sturm Brightening & Clarifying Range
Brightened skin with clarity is something we all crave, and now it's easier than ever to achieve. Dr. Barbara Sturm has created a deluxe range of potent products brimming with renewing ingredients to produce a flawless complexion.
Revitalize and rejuvenate your skin with this premium selection that promises to enhance your daily routine. Whether you want a mask, cream or treatment, you can find the product tailored to your skin and skin care regime.
Lightweight and fast-absorbing, each luxurious formula is easy to apply, highly effective and produces a visible difference to your skin.
Tackle troublesome skin and take back control of your complexion with this potent remedy. Harnessing the replenishing powers of zinc oxide, tea tree oil and maclura bioflavonoids, Dr. Barbara Sturm has created the antidote to blemish-prone skin.
Small and compact, the sleek product slides seamlessly into your handbag and is perfect for on-the-go application. Prevent future breakouts, hide the appearance of impurities and enhance the skin's renewal process with each use.
Easy to apply and extremely effective, introduce this treatment to your daily routine to combat irritated skin.
Brighten up your daily routine with this brightening face lotion. Formulated with an enriching blend of antioxidants, hyaluronic acid and vitamin E, this must-have lotion is the key to unlock bright, clear and radiant skin.
Produce a youthful complexion with a healthy glow with this lotion that provides continuous hydration. Lightweight and comfortable on the skin, the protective components provide a preventive layer to keep your skin looking fresh. Welcome this luxurious lotion into your routine for results you can really notice.
Contrary to the product name, this dynamic formula cleanses your skin instead of masking impurities. Rare and enriching ingredients such as sunflower oil, kaolin clay and balloon vine remove excess sebum to promote a healthy complexion.
Unclog your pores, achieve a balanced tone and reveal a matte finish with each application. Whilst you're enjoying your renewed complexion, the soothing mixture of aloe vera, purslane and vitamin E produces a smooth and soft texture that's a dream to touch.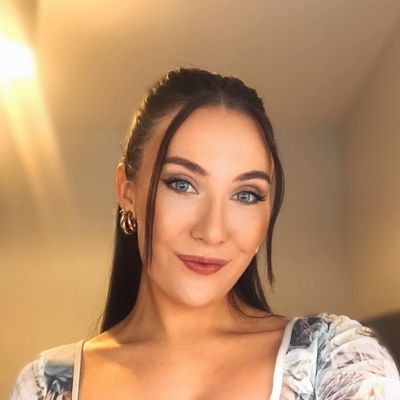 As the Senior Content Editor for Cosmetify, Carly is the go-to for all the latest (and greatest) beauty tips, tricks and trends. With over six years of experience in the industry, she knows all the ins-and-outs when it comes to health, beauty and wellbeing.