A Guide to Drunk Elephant
A Beginner's Guide to Drunk Elephant
Just when you thought you had a top-shelf, Instagrammable beauty collection going, Drunk Elephant bursts onto the scene with more must-haves.
The skincare brand – which has since expanded into haircare and body care – is one of the fastest growing names in the industry, with celebrities, beauty editors and 'skintellectuals' alike all singing its praises.
As well as offering chic, neon-capped bottles and cute and quirky names, Drunk Elephant are best known for their vegan, cruelty-free and 'clean' formulas. Every product is free of what the brand coins as the 'suspicious six' (essential oils, drying alcohols, silicons, chemical sunscreens, fragrances and dyes, and SLS) in order to minimize skin issues and guarantee visible, transformative results.
Want to find out for yourself just how good it is but not sure where to start? We've put together a complete guide to the best Drunk Elephant skin, hair and body products so that you can build the ultimate beauty routine.

Drunk Elephant Skin Care
Take your daily routines to new heights with the much-loved Drunk Elephant skin care range. From day creams to face masks and serums to eye creams, there's something to suit every skin type and every skin concern. Whether you're searching for anti-aging must-haves or glow-enhancing formulations, they have the answer.
The brand pride themselves on clean, natural and forward-thinking synthetic ingredients, which help get the best out of each and every complexion. Wave goodbye to nasty chemicals and drying formulas and instead say hello to nourishing, hydrating and glowing skin care products.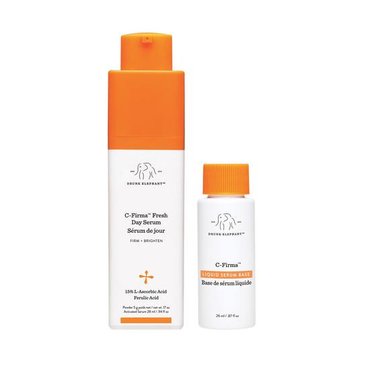 $78.00
Get your mitts on one of the best-selling items in the Drunk Elephant skin care collection – the C-Firma Fresh Day Serum. This product not only helps firm and tone the skin, but it also boosts brightness. It's a go-to for influencers, skin care addicts and beauty editors alike.
Thanks to a plethora of nourishing and clean ingredients, this serum and powder combo gets to work to both protect and enhance your complexion. It diminishes fine lines and wrinkles, restores vitality and reveals radiance. Simply mix together, then smooth across the face, neck, décolletage and the back of your hands in the morning.
Ingredients include the likes of potent vitamin C in the form of 15% pure L-ascorbic acid, as well as enzymes, vitamin E and ferulic acid. This combination of goodies helps protect your skin from nasty pollutants, stressors and free radicals. Not to mention, a blend of pomegranate extract, pumpkin ferment and acids ensures a brighter and youthful-looking finish.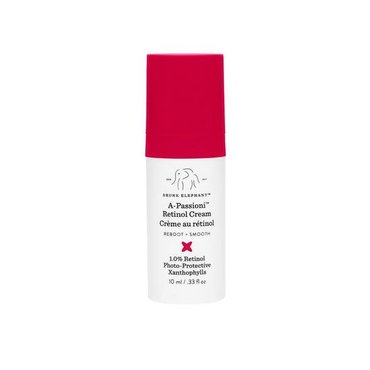 $28.00
Want to improve the tone and texture of your skin? Look no further than the trending A-Passioni Retinol Cream from the experts at Drunk Elephant.
This popular form of retinol is a must-have in your collection of skin care products. It uses a blend of vegan retinol and a nasty-free formulation to deliver hard-working results, without any of the typical redness. However, make sure you use a pea size amount once a week at first and then gradually increase how often you use it. With continued application the cream helps restore, rejuvenate and add much-needed radiance to your complexion.
It combines a fruity concoction of vitamin F, passionfruit, apricot and jojoba oils to moisturize the skin. Not to mention, antioxidant-rich winter cherry, kale and xanthophylls to protect the skin against environmental stressors. Altogether this peps up the skin and encourages collagen production, which tackles the signs of aging, as well as skin dullness and tiredness.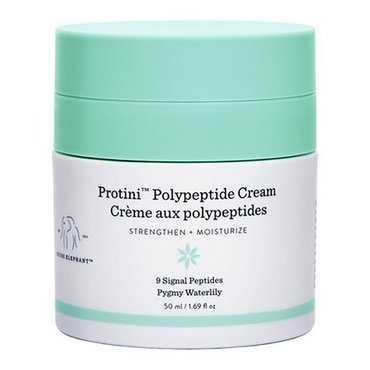 $22.00
Strengthen your skin with the Drunk Elephant Protini Polypeptide Cream – a shot of protein in the form of a facial moisturizer. Use morning and night to revitalize the appearance of your skin in an instant.
This much-loved and critically acclaimed formulation is known for its long list of forward-thinking ingredients. It includes a winning combination of nine signal peptides, supportive amino acids, growth factors and pygmy waterlily stem cell extract, which help improve the texture and appearance of your skin. This gives your face a mega boost of antioxidants and nutrients, which moisturize and plump for a revitalized finish.
Whether you want to diminish the signs of aging or need to revive your tired skin, this cream is the perfect daily solution for the job. The ingredients help stimulate collagen production, which ultimately creates a more youthful-looking appearance. Better still, it's free from any nasties and is both vegan and cruelty-free.

Drunk Elephant Hair Care
Years in the making, Drunk Elephant have expanded their range of goodies to include oh-so-nourishing hair care items, including a shampoo, conditioner, scalp scrub and tangle spray. The brand worked alongside hair care specialist Chris McMillian, who is stylist to the stars, to create this go-to range free from nasties and 'The Suspicious Six', which includes the likes of SLS and silicons.
Housed in the iconic and sleek Drunk Elephant packaging, all the hair care items are picture perfect in your bathroom. Better still, they help you get the most out of your shower routine.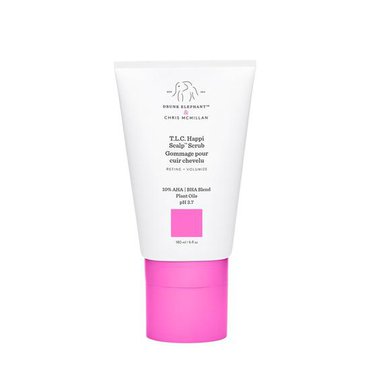 $36.00
More often than not we forget about treating our scalp, but with this Drunk Elephant T.L.C. Happi Scalp Scrub you can truly give it the attention it deserves.
Whether you suffer with a flaky scalp or struggle with product build up, this scalp scrub is the answer to all your hair prayers. It helps fight the flake and nourishes your head for a balanced and refreshed finish. With a little scalp TLC, you can even ensure your hair looks instantly fuller and healthier.
Enriched with a winning combo of ingredients, this scrub gets to work quickly. It contains six plant oils rich in antioxidants and fatty acids, including marula, baobab and mongongo. This gives your scalp that extra moisture boost, while a blend of AHA/BHAs break down any dead skills. Then cellulose acetate ensures a gentle exfoliation to wash away that build-up.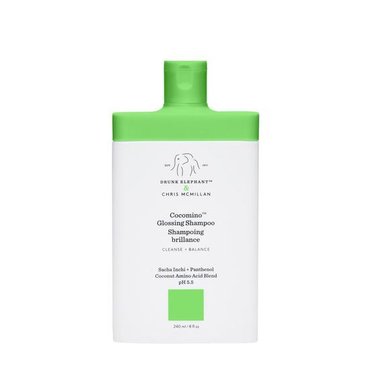 $25.00
You deserve a great hair day and one of the best ways to achieve that is with the Drunk Elephant Cocomino Glossing Shampoo. Think bouncy, silky and down-right gorgeous locks.
This shampoo is a great way to gently cleanse the hair, removing the build-up of dirt, oils and styling products. It also protects your precious locks from water loss, as well as heat and styling damage, using a mixture of strengthening amino acids and extracts. Better still, it doesn't weigh your hair down or strip your strands of color. Instead, the shampoo feels lightweight on the scalp and leaves you with luscious results.
Massage into to the scalp to activate the low-foaming solution infused with nourishing oils, like sacha inchi seed, argan and marula. Enriched with only the best ingredients to boost moisture and vitality, this shampoo is also free from nasties like sulfates, fragrances and silicons.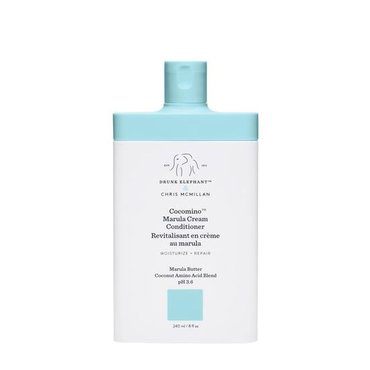 $25.00
To get the best results from your hair care routine, pair the Cocomino Glossing Shampoo with the corresponding coconut powered Cocomino Marula Cream Conditioner.
This Drunk Elephant conditioner is the solution to all your pesky knots, frizz and static woes, helping you achieve tangle-free, smooth and soft results. No greasy feeling. No weighed down locks. Instead, your hair feels strengthened, protected and nourished all in one go, thanks to the blend of hardworking ingredients.
Enriched with a beneficial blend of oils, like argan, baobab and mongono, this conditioner leaves your hair soft to the touch. Better still, the combo of amino acids and hydrating agents strengthen and moisturize your strands, so your hair looks visibly healthier and bouncier.
No nasty ingredients were used in the making, including sulfates, silicons and drying alcohols. Therefore, there's no need to worry about the build-up of silicons, so massage the creamy solution from root to tip and let it get to work.

Drunk Elephant Body Care
If you're a diehard Drunk Elephant fan, we bet you've been eyeing up their must-have body care range. Made with the same attention to detail and ingredient list as the facial skin care line, everyone has been waiting with bated breath for the body formulas to drop. And we can get enough of them!
Think skin-enhancing, clean ingredients with innovative formulations (and extra cute packaging). Free from nasty components, such as drying alcohols, silicons, SLS and chemical screens, these body care products are bound to have you drunk in love.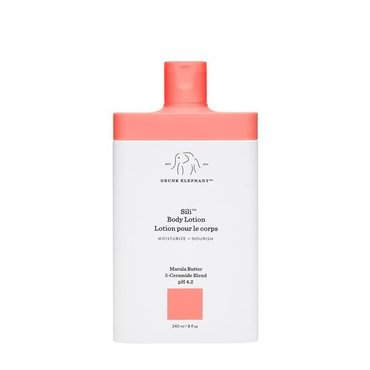 $20.00
The Sili Body Lotion has taken the beauty world by storm, thanks to its fast-absorbing and strengthening formulation. Treat yourself to this must-have solution from Drunk Elephant and give your body care collection a new burst of life.
The lotion is perfect for dry, irritated and dull skin, helping revive and rejuvenate. It boosts moisture and prevents any future water loss, so your skin feels hydrated for longer. Add into your daily routine to experience silky, soft results on the regular.
Infused with nourishing goodies, the body lotion feels comfortable on the skin. The ingredient list includes the likes of plant oils, fruit-derived antioxidants, butters, ceramides and squalane, which work together to soothe and smooth the skin. In fact, this blend protects your precious skin for environmental aggressors and free radical damage. And, like the entire Drunk Elephant line, this lotion is free from any nasty components.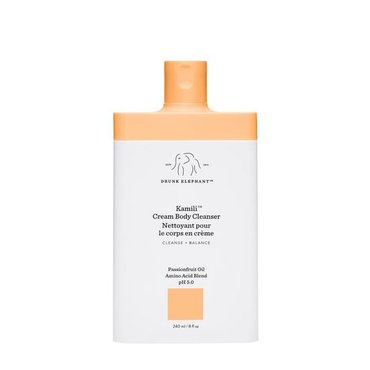 $20.00
Update your bathing routine with the Kamili Cream Body Cleanser from Drunk Elephant. This cleanser helps you wash away the worries of the day and keeps your body super fresh and clean.
Make shower time the best time using this nourishing solution. It contains gentle ingredients, which cleanses the skin of any daily dirt and grime without stripping the skin of its natural oils – suitable for even the most sensitive skin. Simply lather the cream across your body and massage into the skin to achieve soft, supple results.
Top ingredients include a blend of oils, such as sweet almond, marula, sacha inchi seed and passionfruit. This soothes the skin and provides a much-needed dose of moisture, leaving you with a rejuvenated glow. It also contains an ultra-mild surfactant blend and a multi-amino acid blend, which strengthens the skins natural barrier and protects your body from over-drying.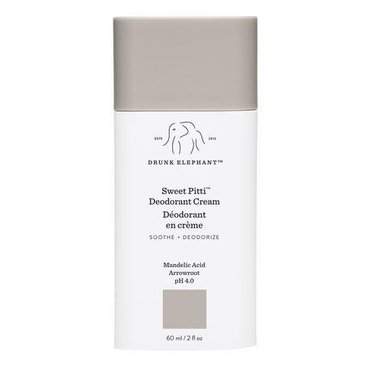 $16.00
Take the plunge and test out the world of natural deodorants with the Drunk Elephant Sweet Pitti Deodorant Cream. You wouldn't put harmful ingredients on your face, so why would you treat your underarms any different? Drunk Elephant have just the answer!
Free from harmful chemicals, petroleum, aluminum and of course the usual 'Suspicious Six', this clean cream is a great way to give your pits a break from other deodorant options. It's also ideal for sensitive skin sufferers, thanks to its lack of sulfates and dyes.
Instead, it uses a potent mixture of mandelic acid and absorbent arrowroot to eliminate odor. And don't worry, it also effectively absorbs any excess moisture, so you can feel confident and dry throughout the day.
If that wasn't enough, this cream also helps nourish your underarms using a blend of shea butter and plant oils, like marula, mongongo seed and baobab. These protect the skin-barrier and keep your body moisturized.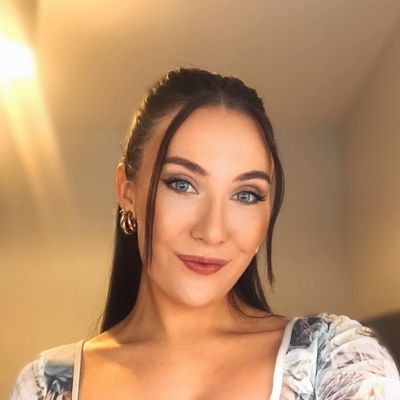 As the Senior Content Editor for Cosmetify, Carly is the go-to for all the latest (and greatest) beauty tips, tricks and trends. With over six years of experience in the industry, she knows all the ins-and-outs when it comes to health, beauty and wellbeing.