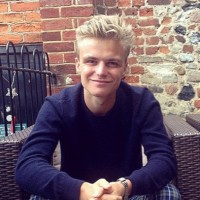 Alex Bryson
Content Strategist
Follow on LinkedIn
- Alex has worked as a writer for over six years
- Bachelor's degree from Goldsmiths, University of London
Work Experience
Alex has worked as a writer for over six years, starting off as a Music Writer and Editor in 2014. He transitioned into a Writing and Advertising Associate in his hometown of Bury St Edmunds, before venturing out to China to work as an English Teacher.
He returned home and back to editing for The Kontrarian in 2017.  At the turn of 2018, he harnessed his knowledge of grooming and skin care at Cosmetify, joining as a Content Strategist.
Education
Alex has a natural gift with words, and he furthered his talent by studying English at Goldsmiths, University of London. He graduated with a 2:1 grade bachelor's degree in 2015.
Alex says:
"I write about everything and anything grooming or fragrance-related. If it smells expensive or has 'for men' tagged on the end, I've probably got an opinion on it.
Over the past couple of years, I've discovered more about cosmetics than I thought humanly possible, whether that meant poring over family perfume recipes passed down from generation to generation, researching unpronounceable k-beauty ingredients or working out what exactly it means for a formula to be entirely 'natural'."
If you'd like to get in touch with a member of the Cosmetify editorial team then please visit our contact us page.
What I'm Loving Right Now
Alex's Latest Posts