A Handy Guide to the Best This Works Products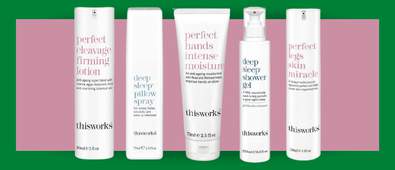 Whether you're struggling to nod off or searching for the perfect body lotion, This Works has it all. From sleep sprays to candles and shower gels to hand creams, there's a product to suit every step of your self-care routine.
With each product you can rest assured it actually gets the job done as they use impressive formulas that guarantee results.
So, what are you waiting for? Take a look at our handy guide of all their best products to find your new favorite beauty and wellness solution.
This Works Sleep Solutions
Renowned for their sleep inducing remedies, This Works have everything from irresistible body balms to snooze-worthy pillow sprays. Take a sneak peek at their award-winning collection of natural sleep solutions and delve into a deep, relaxing and stress-free slumber.
Their range of products are also fantastic for your skin, using nourishing ingredients and innovative formulations. This helps you achieve your well-deserved beauty sleep, so your skin looks healthy and thriving come morning.
Whether you having trouble drifting off or want to perfect your zen time, This Works have the solution for you.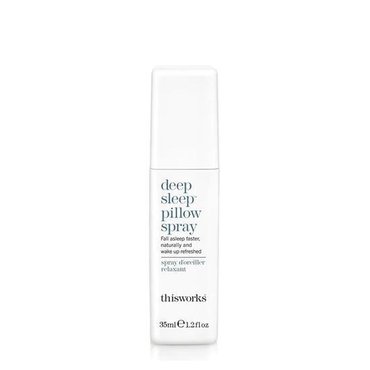 $18.30
Feel rested and restored with the Deep Sleep Pillow Spray. This award-winning solution is the secret to sleep success.
It uses a relaxing blend of lavender, vetiver and chamomile to ease your mind and body. Simply spritz onto your pillow and duvet before you hit the hay to let the natural oils get to work calming your senses.
The spray is also ideal for travelling, as it creates a peaceful moment wherever you rest your head.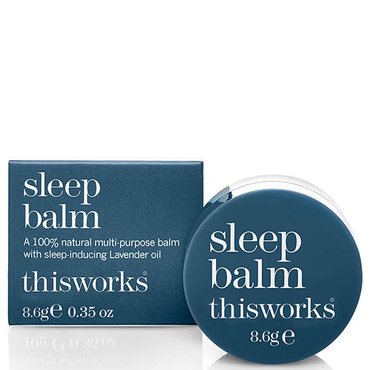 $16.14
Relax at the end of a hard day using the Sleep Balm on your pulse points before bed. The warmth of your skin will release the serene aromas to ease any tensions.
The balm combines a number of nourishing oils, such as lavender, rose, coconut and monoi, which soothe the skin and relax the body. The lavender aroma is also known for its comforting qualities, helping you naturally drift off come night-time.
Not to mention, you can also use this balm to nourish any dry patches, like cuticles, hands and elbows.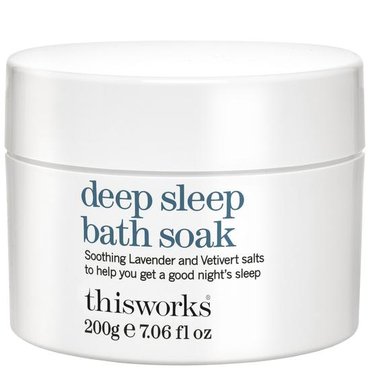 $29.10
Start your sleep routine way before your head hits the pillow with the Deep Sleep Bath Soakl. This nourishing and luxurious soak looks after skin, while also easing the mind and body.
The formula is free from GMOs, parabens and sulphates and is enriched with hydrating and soothing natural essential oils, including lavender, chamomile and vetivert. This moisturizing solution helps soften the skin and wash away the worries of the day. Use just before bed to prepare your body for a relaxing slumber.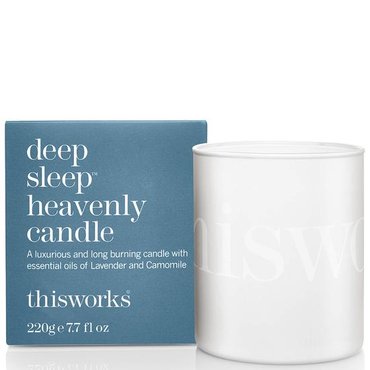 $26.94

$35.58

(25% off)
Set the scene for a relaxing night of rest with the Deep Sleep Heavenly Candle. It provides an irresistible and therapeutic fragrance for your home of lavender and chamomile, which is the ultimate treat after a long, hard day.
Housed in a sleek, white jar, this candle looks perfect situated on your nightstand or alongside a relaxing bath. Lighting a candle is a fantastic way to create a calming ambience, which gets you in the best mindset before bedtime.
And with a burn time of 40 hours, you can rest assured you can use this candle time and time again.
This Works Body Care
Discover a plethora of clean, nourishing and targeted solutions for your body. From moisturizers to tan-enhancers, there's an item to suit every type of routine. And with This Works you can easily find nurturing products that target specific concerns and areas of the body, such as the arms, legs, chest and hands.
In each of their products they use scientifically backed formulations and naturally derived ingredients. This includes their 'superblend', which excludes any nasties or harsh chemicals. These nourishing body care goodies are truly a treat, providing comforting, hydrating and soothing results day after day.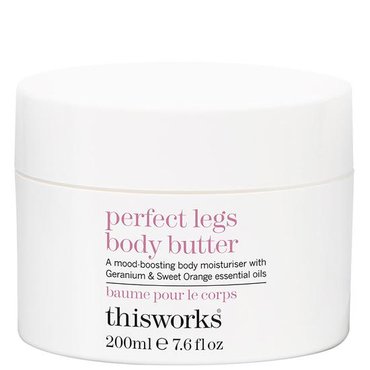 $29.70
Keep your legs looking lovely all year round with the Perfect Legs Body Butter. This must-have formula pampers and primes legs with a hyaluronic acid, shea butter and essential oil blend. Easily absorbed with no greasy feeling, it can be massaged across your legs to achieve hydrated, smooth and rejuvenated results.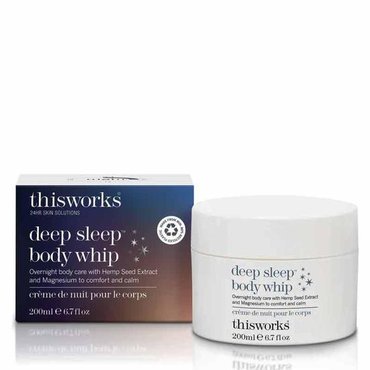 $24.78

$30.98

(21% off)
When it comes to body care products, This Works has the best remedies. Their Deep Sleep Body Whip is a great option for beauty lovers searching for a hydrating, anti-ageing formula as well as a good night of beauty sleep.
Enriched with hemp seed extract and magnesium, the luxurious whip helps rest your mind and renew your skin as you sleep.
This Works Skin Care
Your skin goes through a lot, which is exactly why you deserve to treat yourself to a clean skin care routine. All their products are free from nasties and only use 100% natural fragrance. Better still, they are entirely cruelty-free and have a wide range of vegan-friendly products.
Each skin care item is designed to protect, nurture and rejuvenate your precious complexion all day long. From eye creams to face oil, there's a product to help you at every step of the way. Browse their skin care line and discover anti-aging, hydrating and detoxifying must-haves all under one roof.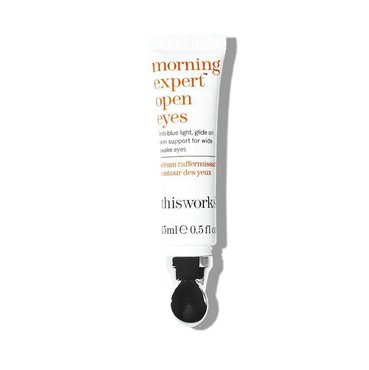 $38.82
Whether you've had one too many late nights or simply need an extra boost come morning, This Works Morning Expert Open Eyes is the perfect solution. It has a cream formulation which works by brightening, smoothing and soothing the delicate skin around your eye area.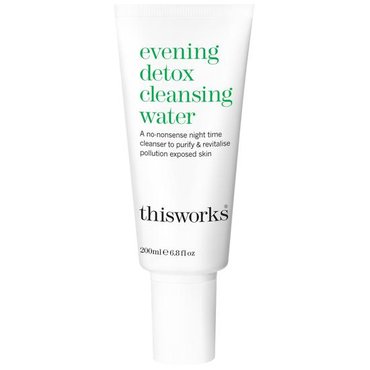 $28.02
Get your hands on This Works Evening Detox Cleansing Water. After a long day of exposure to harsh environmental aggressors, this gentle cleanser works around the clock to restore skin.
With sweet almond oil, aloe vera and liquorice root, it washes away dirt and grime, as well as future-proofs skin to prevent signs of ageing and inflammation.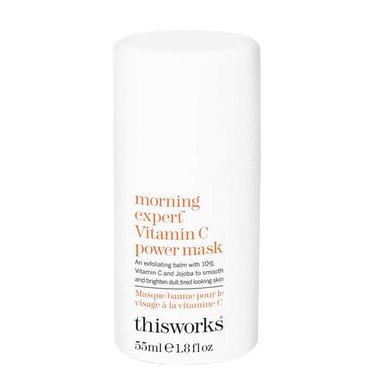 $37.74

$48.54

(23% off)
Do you struggle with stressed out, dull and tired skin? This Works have just the solution. Their much-loved Morning Expert Vitamin C Power Mask tackles all your skin concerns in one go, instantly brightening complexions.
Water-activated vitamin C granules exfoliate away dullness, reduce uneven skin tone and tackle signs of premature ageing to give you a glow-boosting facial.
Related Categories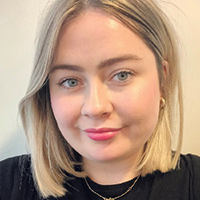 Rebecca is a content writer with over three years' experience and a keen interest in cosmetics. Cosmetify allows her to combine her blogging skills with her passion for beauty.