Bentonite Clay Skincare
Bentonite, also known as calcium bentonite, is a type of natural clay with a fine, soft texture often found in face masks, hair treatments, toothpaste and dietary supplements. Its most common uses are for balancing sebum production, preventing acne and removing tooth plaque, but it also boosts good gut bacteria and flushes out toxins.
See our bentonite clay guide to answer your questions like what is bentonite clay and what does bentonite clay do.
4 products found

Frequently Asked Questions about Bentonite Clay products
What is bentonite clay?
Bentonite clay is formed from volcanic ash and is dried and filtered. When mixed with water, it turns into a thick paste.
Named after Fort Benton in Wyoming, which has large deposits of the clay, it's been used for centuries as a natural remedy for many skin and body conditions.
What does bentonite clay do?
Bentonite clay is great for removing dead skin cells, unclogging your pores and balancing oil/sebum production, which in turn prevents future blemishes, redness or irritation. It's also great for nappy rash!
It can also be found in sunscreens to help them work more effectively and can treat skin rashes and inflammation.
Some people also ingest bentonite clay to treat stomach gas, diarrhea, constipation and more, though you should always consult a doctor before doing this. It can also be good for your teeth and gums when used in toothpaste.
How does bentonite clay work?
Bentonite clay's magic comes from being super absorbent—whether it's absorbing excess oil, dirt or toxins in your gut. It's also antibacterial, which is beneficial for preventing breakouts and detoxifying your mouth when used in toothpaste.
Who should use bentonite clay?
Bentonite clay can be used on all skin types and for all ages, though it's best suited for anyone looking to treat oily, acne-prone or inflamed skin.
How do you use bentonite clay?
Bentonite clay is easy to use, and you'll often find it incorporated into the likes of face masks, cleansers and toothpaste. If you're using a product that contains bentonite clay, follow the instructions for the product.
There are also some great ways you can make bentonite clay treatments from scratch! You can mix the clay with water or shea butter, coconut oil or zinc oxide cream to make a diaper rash cream for your baby (just make sure you consult a doctor first). You can also make your own clay mask by mixing bentonite with apple cider vinegar, essential oil and water.
What other ingredients can I use alongside bentonite clay?
Bentonite clay hasn't been shown to react badly with any other common skincare ingredients, so it's pretty safe to include this in your skincare routine along with other ingredients for treating oily or acne-prone skin. It also works well alongside the other clays, including kaolin, green clay and red clay.
Are there any side effects of bentonite clay?
It's generally safe to use, but it's always a good idea to patch test a new skincare ingredient! Put a little bit of clay mixed with water on your skin to make sure you don't have any sensitivities or a reaction.
How often should I use bentonite clay?
If you've got oily skin, you can use skincare products that contain bentonite clay daily, but if you have drier skin, it's recommended you only use it once or twice a week so you don't over-strip your skin.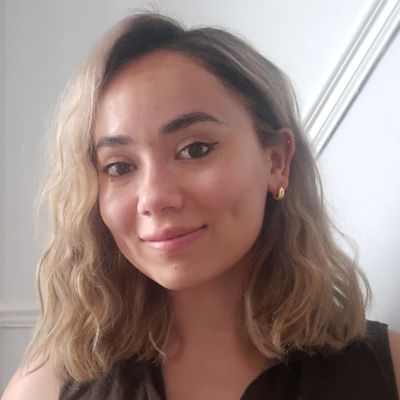 Written by Gabriella Buckner, Beauty Editor