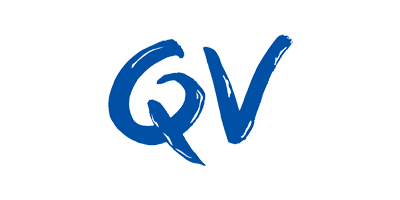 QV
Sorry, we currently have no products for QV at this time. Sign up for updates below.
Skin conditions can really affect your quality of life. The likes of psoriasis, dermatitis and eczema are not only a knock to your confidence levels but are also incredibly hard to live with on a daily basis. Luckily, Australian brand QV is here to help with their caring range of solutions.
QV specialize in skin care remedies that help to lessen the severity of major dry skin conditions for the entire family. Providing alternatives to harsh, fragranced soaps and lotions, QV have established themselves as the go-to brand for easy and safe remedies. The brand promotes emollient therapy as a way of soothing and moisturizing dry skin types.
Combining caring cleansing and moisturizing remedies together in a two-step routine is how QV tackle these unwanted skin conditions, rehydrating and rehabilitating the weakened epidermis for a sense of relief. Working its magic on both adults and children alike, the QV range provides a veil of comfort to prevent unwanted itching and scratching.
Browse our range of QV and discover everything from the best-selling QV cream to the Gentle Wash Cleanser. It's time to give your skin the TLC it deserves.