Popband London
Discover the Popband London range of hair care. Be sure to sign up with us so that you hear about brand offers and sales.
10 products found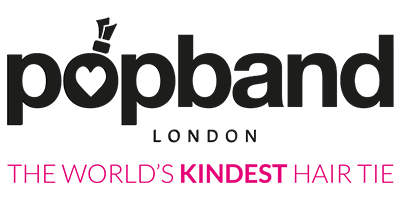 Quirky, cute and oh-so-kind. Popband London is home to the ultimate hair band and was founded in 2013 by Lou Booth for women of all ages that are tired of pesky dents, sore tight ponytails and split ends.
Many of us know the struggle of doing your hair only for your basic band to break under the smallest amount of pressure, meaning you'll be going through hair bands like never before and soon left band-less.
But luckily for you, Popband London has specially designed hair bands that are reliable, strong and will compliment not only your hair but your wrist, one hair band at a time. And the wonderful team at Popband London are constantly working on new colours, prints and styles that align with the latest styles seen on the catwalk or urban and classic styles.
What's more, Popband created the innovative Poplaces that will add color and personality to your footwear. Plus these remarkable, cute laces are super stretchy so you can easily slip your shoes and trainers on and off without ever having to undo them, which is perfect for ladies who love to save time and be up and out the door as soon as possible.
Popband London allows you to explore all the facets of your personality and you can choose a style for every occasion. This beauty brand is fun, hair-friendly and dynamic which is perhaps why it has gained cult status worldwide. So add some attention to detail and spice up your every day with the stylish and unique Popband London
Where can Popband London products be bought in the US?
Popband London products can be bought online in the US from Look Fantastic.
With Cosmetify you can save money on hair care, as we compare the prices across different stores on the web. If you're looking for the cheapest place to buy Popband London products, then you've come to the right place.
We also showcase shipping cost and associated deals, so you can find the best prices for your favorite beauty goodies in one place.