Kojic Acid Benefits & Uses in Skin Products
Kojic acid is a skin-brightening ingredient that was discovered in Japan in 1907 in a fungus used in Japanese food production. It's now a powerful but gentle acid for battling hyperpigmentation as it blocks the amino acid that helps produce melanin - a safer alternative to the prescription-strength skin-lightening ingredient hydroquinone.
See our kojic acid guide to answer your questions like what is kojic acid and what are the benefits of kojic acid.
1 product found

Frequently Asked Questions about Kojic Acid products
What is kojic acid?
Kojic acid is a chemical derived from mushrooms, with mild antioxidant, antimicrobial and exfoliating properties, but mainly known for its ability to brighten dark spots.
What are the benefits of kojic acid?
Kojic acid is used in health and beauty products to lighten dark spots caused by age, sun damage, pregnancy (melasma) and scars. By reducing age spots, kojic acid has an overall anti-aging effect. Its antioxidant properties shield skin from free radicals caused by exposure to UV rays and pollution, which damage skin and make skin tone uneven.
Kojic acid also has anti-fungal and anti-bacterial benefits, and can be used to treat and prevent fungal and other skin infections.
How does kojic acid work?
Kojic acid is able to lighten all types of hyperpigmentation thanks to its melanin reducing properties. It blocks the formation of tyrosine, an essential amino acid for producing melanin—an over-production of which is what's forming those unwanted dark spots!
How quickly does kojic acid work?
Results will vary depending on your skin type and tone, of course, as with all products. You might see your dark spots reduce after a few weeks but the average is one to two months of consistent use.
Does kojic acid permanently lighten your skin?
Kojic acid only works to brighten the appearance of dark spots, blemishes, scars and pigmentation and doesn't permanently lighten your natural skin.
Who should use kojic acid?
Use kojic acid if you have any hyperpigmentation you want to get rid of, whether that's from sun damage, pregnancy, bug bits or any other reason.
Kojic acid is a great option if you can't tolerate hydroquinone or don't want to go through your doctor to get a prescription-strength skin-lightening ingredient (which can cause a lot of sensitivities if not used correctly).
How do you use kojic acid?
You can easily incorporate kojic acid into your daily routine through something like a brightening pad, face serum or oil.
Some dermatologists recommend only using it for short periods of time, such as three months, before giving your skin a break.
What other ingredients can I use alongside kojic acid?
Kojic acid has been shown to work well with glycolic acid. The pair make a great duo when it comes to brightening and refining your complexion. Since kojic acid can increase your chances of sunburn, you'll definitely want to combine it with an SPF when using in the mornings.
Are there any side effects of kojic acid?
As previously mentioned, kojic acid can cause you to sunburn easily since melanin helps protect the skin from UV damage and kojic acid is melanin-reducing.
You may also be at risk of getting contact dermatitis, which presents itself as rashes, itching and dry patches. This is more likely with higher concentrations of kojic acid in a particular product, and if you have sensitive skin.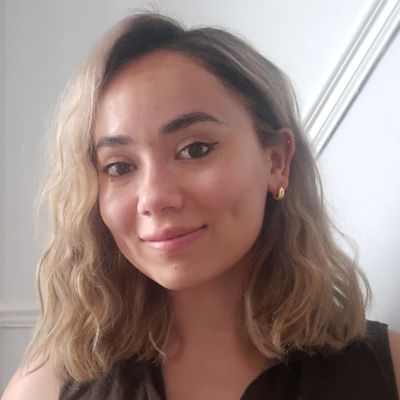 Written by Gabriella Buckner, Beauty Editor