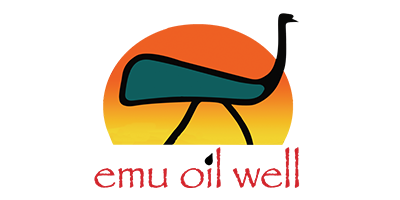 Emu Oil Well
Sorry, we currently have no products for Emu Oil Well at this time. Sign up for updates below.
Emu Oil is a natural healing oil that comes from the Australian Emu bird. The all-natural, highly-penetrating oil holds a variety of beautifying benefits, including anti-bacterial and anti-inflammatory properties that are valuable to the skin and body- as it works to moisturize and heal chapped, dry skin and smooth fine lines.
Pure Australian Emu Oil is an odorless, white solid at room temperature, which melts down to a clear, golden-colored liquid at 20-22 degrees, but when cooled it returns back to its solid state. It's equally as effective when applied as a solid or a liquid.
It contains a combination of the essential fatty acids such as: Linoleic acid (Omega-6), Linolenic acid (Omega-3), Oleic acid (anti-inflammatory), Palmitic acid, and some traces of other fatty acids. These fatty acids are vital to keep our bodies healthily functioning – and Emu Oil is one brilliant source of these all important acids. Emu oil contains the highest concentration of Omega 3 found in nature, making it one of the best, natural transdermal oils available on the market.
Emu Oil products are non-allergenic and contain no hormones, bacteria or steroids, so even the most-sensitive skin types can reap the benefits of the Pure Australian Emu Oil.
Thanks to its anti-inflammatory properties, it can heal and relieve pain in muscles and joints, as it easily penetrates all of the layers of skin, providing the muscles and joints with soothing and moisturizing effects. Additionally working to protect and soften the skin, this oil is an essential, multifunctional product that everyone can benefit from.