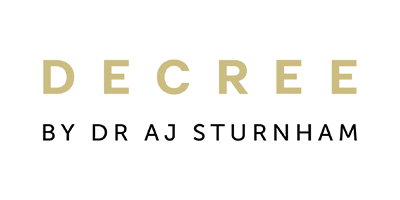 Decree
Embrace the Decree line up of face oils & serums, skin cleansers, cleansing cloths & sponges and much more. Be sure to add a brand alert so that you don't miss out on Decree discounts and deals.
9 products found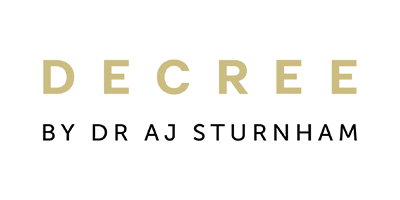 Decree is the doctor-led skin care range created by AJ Sturnham that cuts through all the noise by offering best-in-class products and proven results.
Skin care doesn't have to be complex, and Decree makes sure of it by delivering optimal results with simple and concise formulas.
Each product within their line-up is specially calibrated to meet your skin's natural tolerance. Therapeutic doses of skin care actives are submerged in synergistic formulas and then separated into a daily and weekly regimen, so you can give skin concerns the ideal amount of attention. This clear-cut method allows Decree to provide consistency, which ultimately results in a complexion that is always kept looking and feeling its best.
Decree's no-fuss approach means you are able to turn long-winded skin care regimes from a chore to a pleasurable experience. Discover SPF, cleansers, moisturizers and more, and give your skin care collection the overhaul it needs.
Why We Like Decree
"Decree is the skin care range that filters out the nonsense in order to provide professional, effective results. Their collection of clear-cut, simplistic formulas deliver all that your skin needs to thrive from A.M to P.M. Your skin care routine has never been easier!"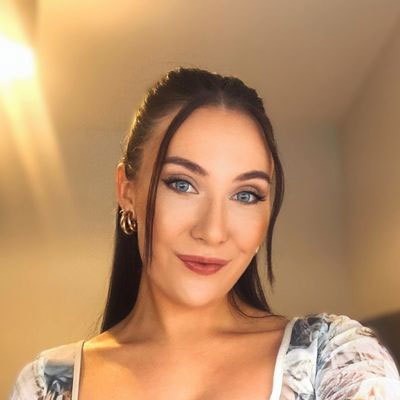 Written by Carly Cochrane, Beauty Editor
Where are Decree products sold in the US?
You can buy Decree products from a variety of stores in the US, including Harvey Nichols.
Frequently Asked Questions about Decree
Are Decree artificial fragrance free?
Decree products are produced without the use of synthetic fragrances.
What's the cruelty-free status of products made by Decree?
Decree is a cruelty-free brand, meaning it does not engage in the practice of animal testing for any of the formulations in its product line.
The Decree product line is Dermatologically tested but what does it actually mean?
Yes, all of their products are Dermatologically tested, meaning they have been by reviewed by a dermatologist, a doctor who specializes in skin conditions.
Has the end product been tested by an Ophthalmologist?
Yes, these products (where relevant) have been tested by an ophthalmologist.
Do Decree use Parabens?
Like a lot of brands these days, parabens do not feature in their product formula.
Fragrance Free
Gluten Free
Cruelty Free
Vegetarian Friendly