Celebrity Beauty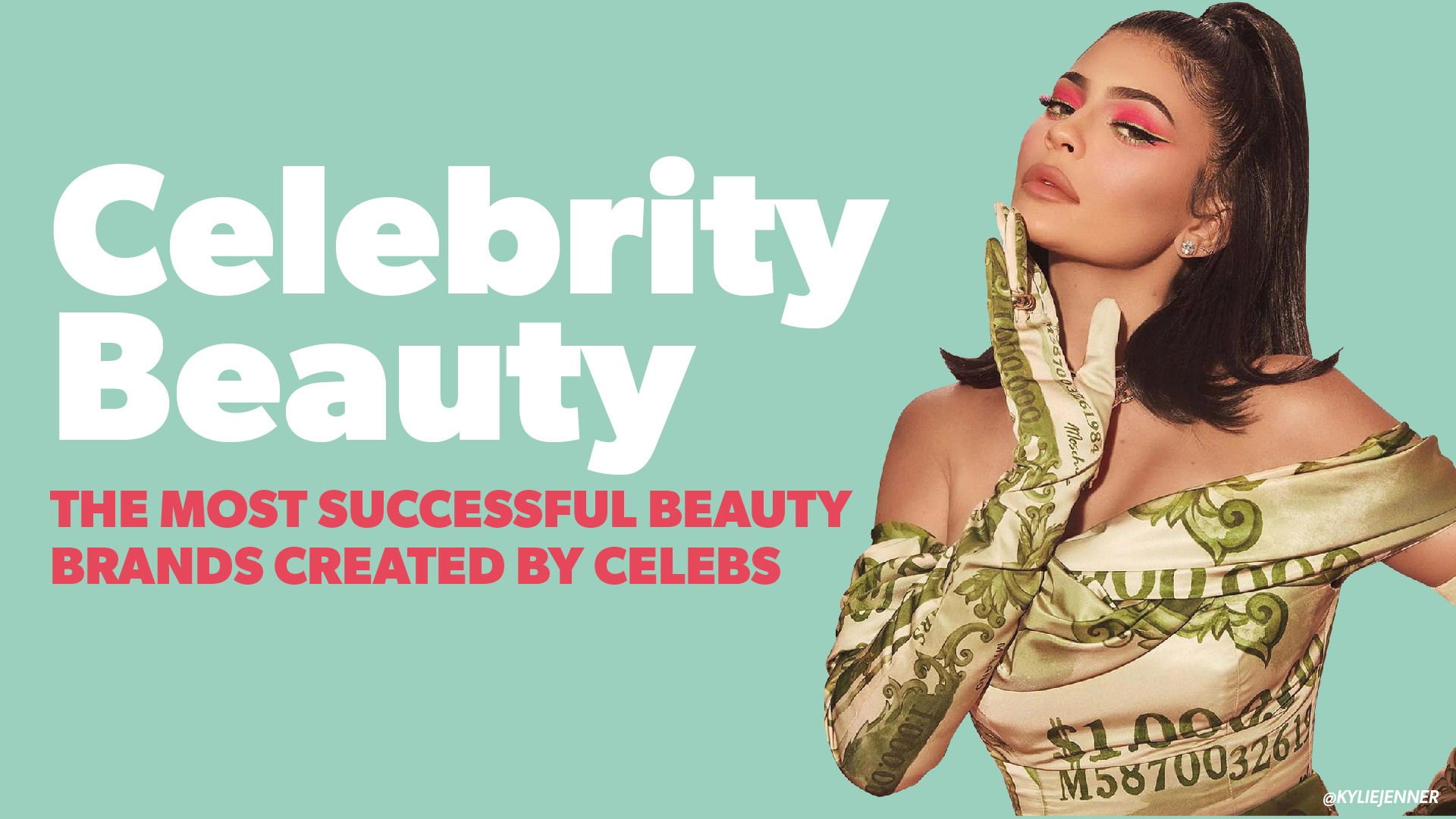 The most successful beauty brands created by celebs
Everyone has their own unique beauty routine, it's something that is very personal and varies from individual to individual. With this in mind, we were curious to know which of our favourite celebrities have found success by adding their own personal touch to the beauty industry.
Are you a fan of Rihanna's Fenty Beauty? Does Milly Bobby Brown's Florence by Mills work for you? Is Lady Gaga's Haus Laboratories a fantastic addition to your routine? Or do you forgo the celebrity brands altogether?
To find out which celebrity beauty brands are really hitting the mark, we've taken a look at 27 brands created and run by some of the biggest names from London to L.A. Having looked at several factors to measure each brand's success, we've formulated a score for each, allowing us to reveal which celebrity beauty brands are really worth checking out.
The top ten celebrity beauty brands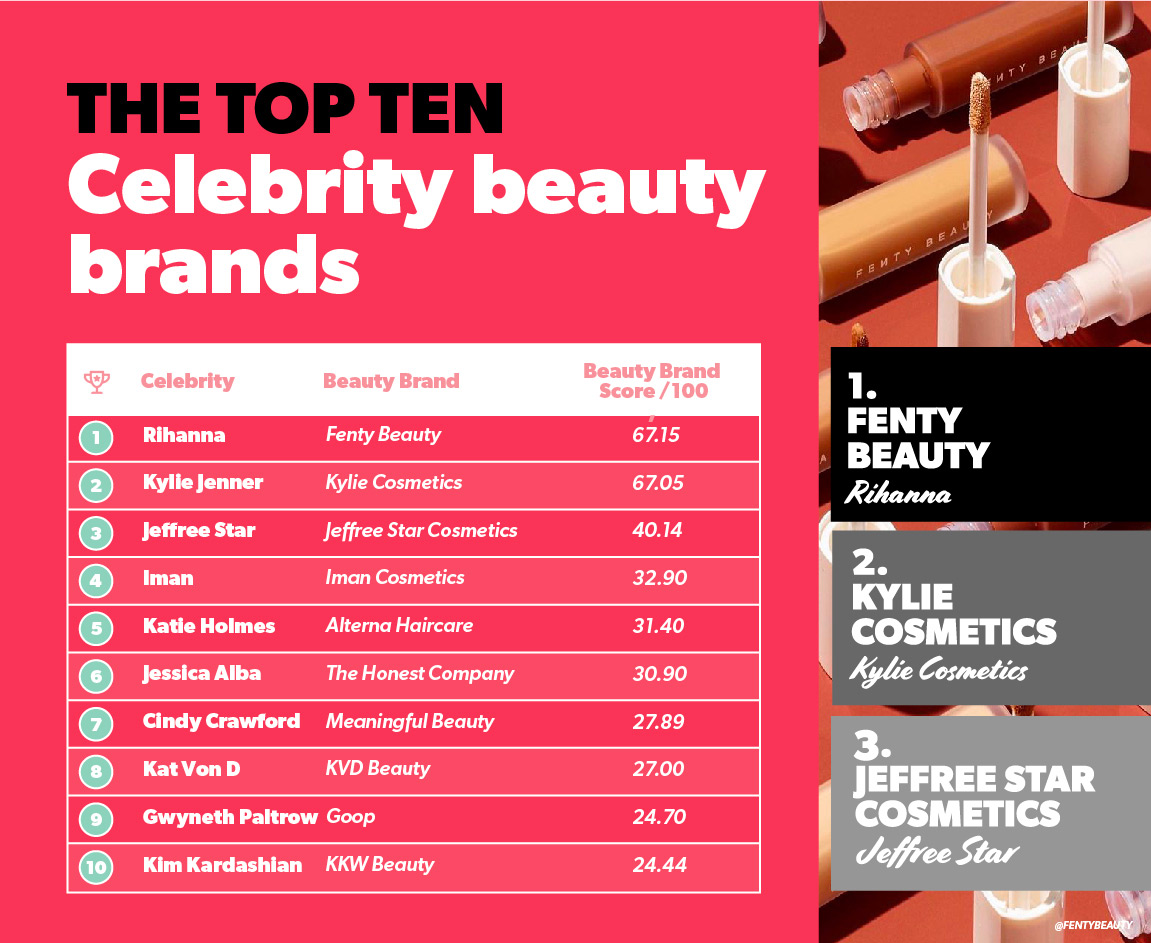 1. Fenty Beauty
The most successful celeb beauty brand is Fenty Beauty by Rihanna, with an overall score of 67.15! Since launching in 2017, Fenty Beauty has quickly become one of the biggest names in the beauty industry. Featuring a diverse product range with everything from foundations and concealers, to blushers and bronzers, it's clear that Rihanna is serious about making her mark on the beauty industry.
Having amassed 10.7 million Instagram followers and 5.06 million mentions on the platform, the brand has also proven highly popular amongst consumers who are always eager to flaunt their Fenty looks. This public popularity is mirrored by equally impressive revenue figures of $570 million!
2. Kylie Cosmetics
The global reality star Kylie Jenner takes second place with her beauty brand Kylie Cosmetics, which just missed out on the top spot with a score of 67.05. Catapulted to fame by the ever-popular Keeping Up With The Kardashians, Kylie's venture into the world of business has proven a successful gambit, with her company raking in annual revenue of $200 million!
Kylie's background in reality television may have helped her understand how to reach people through different media such as online platforms and social media, which is a real asset when marketing a business. Perhaps this explains how Kylie Cosmetics has managed to accumulate an Instagram following of 25.2 million and counting!
3. Jeffree Star Cosmetics
Jeffree Star is one of the biggest names on YouTube, whose beauty videos and makeup tutorials earned Jeffree the accolade of being the world's wealthiest YouTuber. With a background like that, it's only natural that Jeffree would take the leap into the beauty industry with his very own line of cosmetics.
Founded seven years ago in 2014 with an initial product range of three Velour liquid lipsticks, Jeffree Star Cosmetics has become a huge success. With revenue of $106.5 million and millions of loyal social media followers, this is a beauty brand that is here to stay.
The wealthiest celeb beauty brands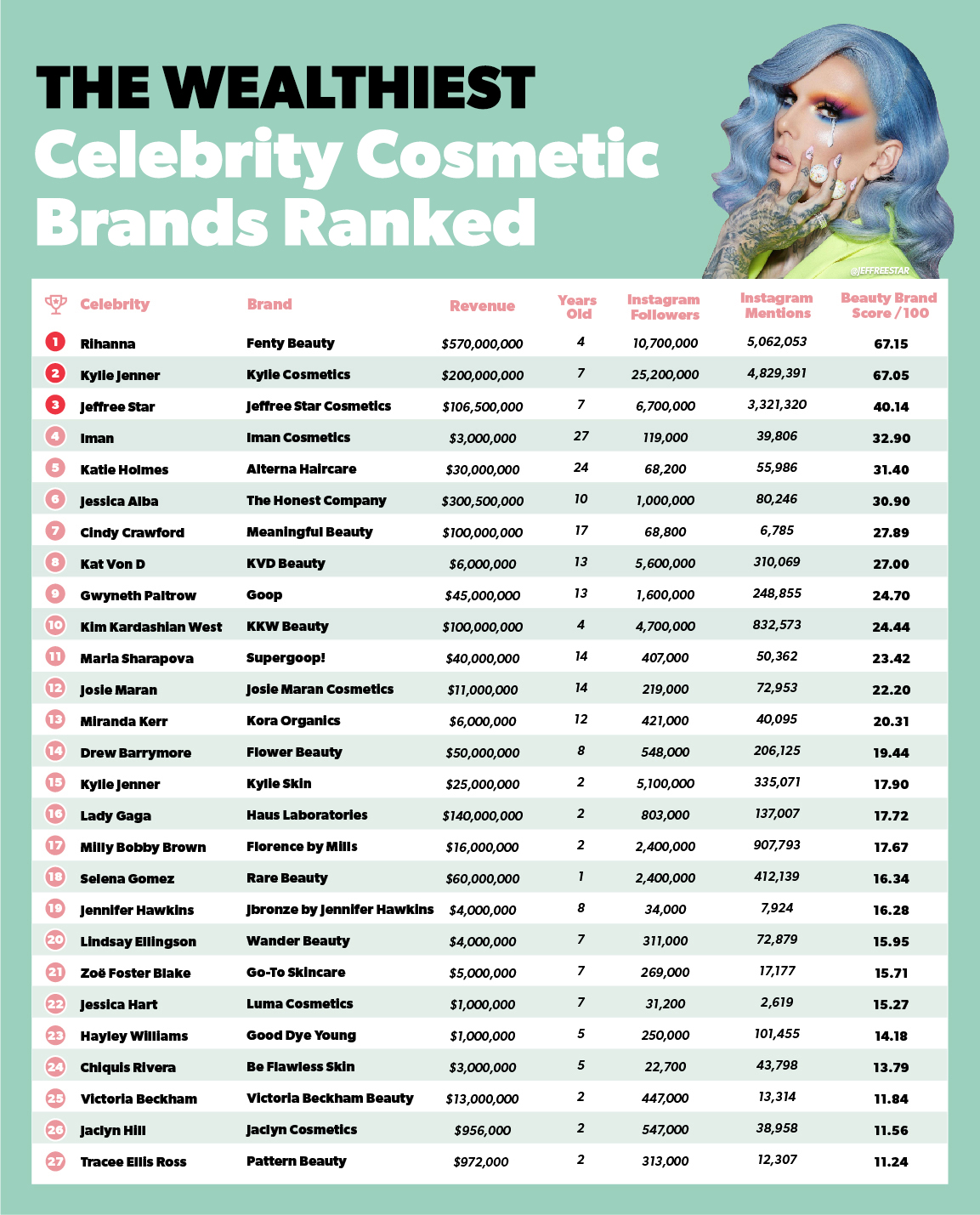 Looking purely at each company's revenue, we'll reveal which celebrity has the beauty brand that looks best on the books.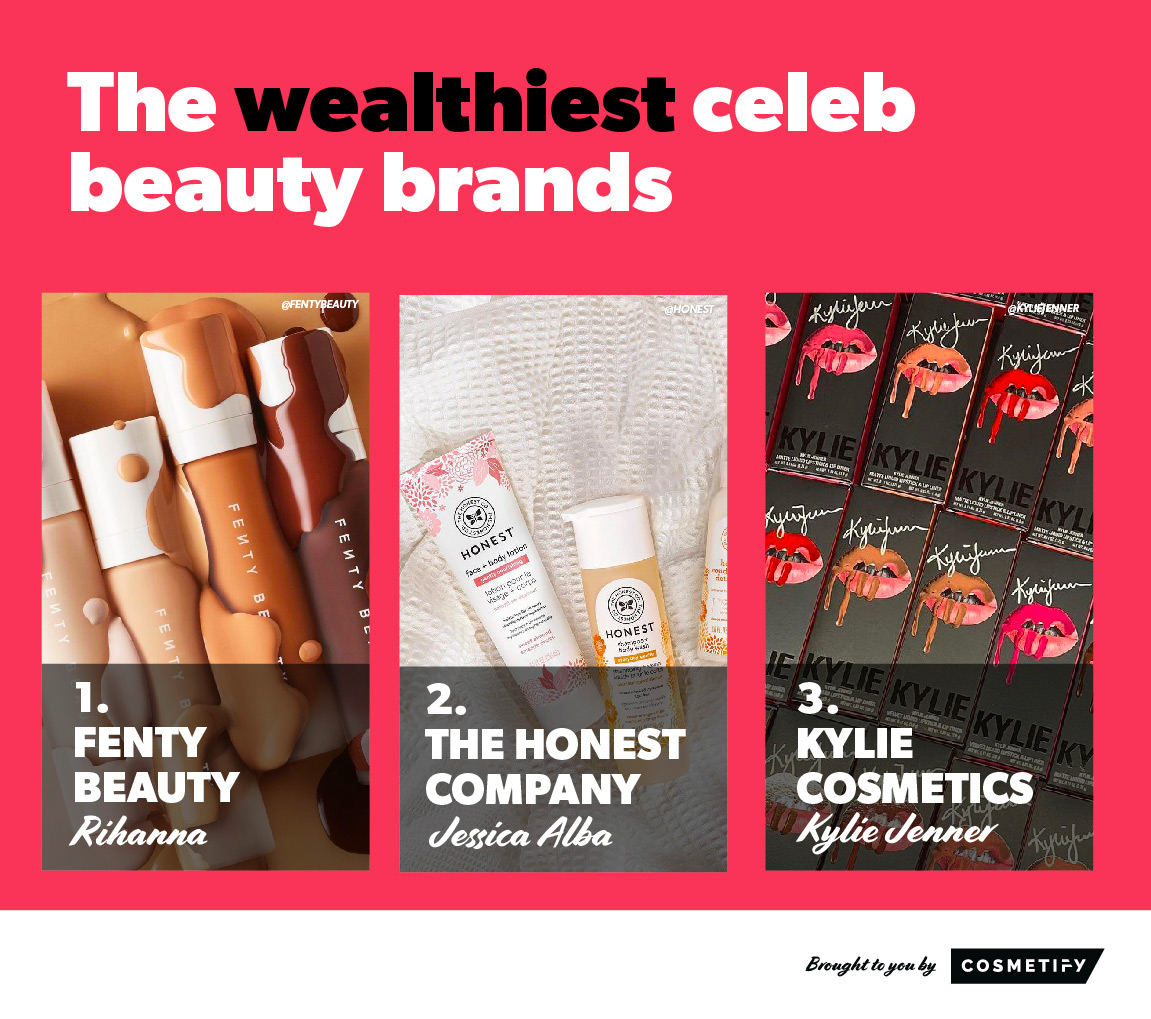 1. Fenty Beauty
Having taken the top spot in our overall ranking, Fenty Beauty is back to claim first place in terms of company revenue. A huge turnover of $570 million puts it well ahead of any other celebrity beauty brand out there.
2. The Honest Company
Jessica Alba founded The Honest Company in 2011 and since then it's gone from strength to strength. Offering a mix of beauty and baby products, all with a focus on cleanliness and sustainability, The Honest Company has an impressive revenue of $300.5 million.
3. Kylie Cosmetics
Our second-placed entry from the overall ranking, Kylie Cosmetics, takes third place with a revenue of $200 million. This shows that Kylie's understanding of publicity is perfectly complemented by her growing business acumen.
Newcomers to the market
While these celebrity brands are some of the biggest and most successful on the market, there are plenty of other great beauty brands out there from some of our favourite celebs. In fact, the last couple of years has seen an explosion in the number of celebrities releasing their own beauty ranges.
So far this year, we've seen Halsey launch her brand About Face, and Jennifer Lopez released her own line of products under the JLo Beauty brand, while last year saw Selena Gomez announce her entry to the beauty market with Rare Beauty.
So, who's your favourite celebrity beauty brand? Have the big winners caught your attention, or are you feeling the vibe of smaller brands like Victoria Beckham Beauty or Millie Bobbie Brown's Florence by Mills?
Either way, there's no better time to check out the makeup lines that our favourite celebs are bringing to the table because if it's good enough for them, then maybe it's worth trying!
Methodology
For this study, we sourced a list of celebrities who have their own beauty product brands from a range of online blogs and articles. Once collated, we found the revenue of each brand, along with the number of years since it was first launched, the brand's Instagram following and the number of hashtag mentions that it has on Instagram.
We then combined all of these factors together, giving each brand a normalised score out 100 on each factor, before taking an average score that could be used to rank the brands in order of their success.
Sources
Womens Health Mag, Cosmopolitan, Elle IN, Elle Aus, Instagram, revenue figures relate to the most recent year for which estimates were available and were sourced from various news articles as well as ZoomInfo.