Badger Balm
Enjoy the Badger Balm assortment of hand creams & lotions, cuticle care, day creams plus others across the spectrum. Remember to sign up with us so that you are first to know about their offers and discount codes.
1 product found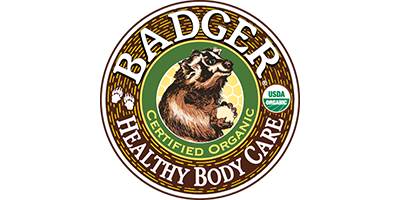 This brand is all about family. Small, family-owned, family-run and family-friendly, you can find Badger Balm tucked away in the woods of Gilsum, New Hampshire.
It all began in 1995 when carpenter Bill Whyte created a balm to help his cracked hands survive the cold New Hampshire winters. Having originally been named Bear Paw (Bill believed that this balm could smooth the roughest of bear paws) the brand was eventually transformed: Badger Balm.
Badger Balm aims to make the safest, most effective products that will soothe, heal, protect and treat your body. They vow to only use ingredients that fit their rigorous natural standards for healthy agriculture, minimal processing, sustainable supply chain and health-giving properties. Combining blends of the finest organic plant extracts with years of tradition, research, artwork and lots of love, Badger Balm now has over 100 products that are infused with rich and powerful antioxidants for healthier people and a healthier planet.
Where can you get Badger Balm products in the US?
Badger Balm can be bought from a number of leading stores in the US, such as Walgreens.
And it couldn't be easier to find the cheapest place to buy your hand creams & lotions, cuticle care, day creams plus others across the spectrum by using Cosmetify. We put in the hard work to compare prices from different stores, so you can find the best price for all your favorite Badger Balm products.
We also showcase shipping cost and associated deals, so you can find the best prices for your favorite beauty goodies in one place.
Frequently Asked Questions about Badger Balm
I don't want to buy products containing phthalates. Can I shop from Badger Balm?
They are a completely phthalates-free brand.
I don't like products that contain Sulfates. Are these products free from this ingredient?
There are no sulfates in their product ingredients.
Lots of negativity surrounding parabens lately, do they feature in these product?
Parabens are compounds that have become more controversial in recent teams in cosmetics. Badger Balm have excluded them from their products.
Is Badger Balm cruelty-free?
Their product line is 100% cruelty-free. As such, Badger Balm never tests products or formulations on animals.
Are they supportive of fair trade standards or a certified fair trade organisation?
Where possible, Badger Balm products are produced according to certified Fair Trade standards.
Are Badger Balm products free of irritating artificial/synthetic fragrance?
Their products do not contain synthetic fragrances.
My skin is quite sensitive, are Badger Balm hypoallergenic?
Most Badger Balm products are hypoallergenic which implies they are less likely to cause an allergic reaction versus non-hypoallergenic products.
SLS Free
SLES Free
Organic
Phthalates Free