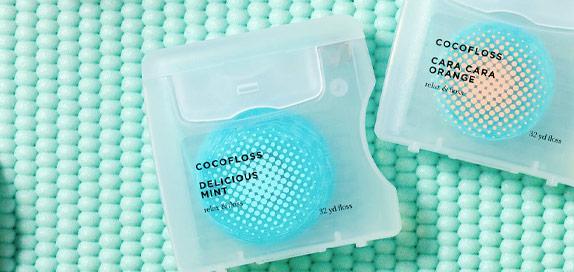 Cocofloss
Sorry, we currently have no products for Cocofloss at this time. Sign up for updates below.
Did you know that more than 700 species of bacteria mingle in your mouth? Some of these microscopic guests mind their business and are actually helpful, but others are villainous, trashing your gums and teeth.
Cocofloss is the dental brand on a mission to improve oral hygiene. Dentist Dr Chrystle Cu knows that more than half of the cavities she treats could be prevented with floss, but her patients (including her own sister!) never seem to stick at it.
With a little help and research from friends and family, Dr Cu discovered that the people need a floss that's effective, motivating and most importantly, FUN. Wanting to put a fresh spin on floss, she combined soothing coconut oils, natural fruit oils and vegan wax to create a spaghetti-length dental floss that not only provides a superior experience but makes your smile sparkle.
Like the best nightclub bouncer, Cocofloss grabs the unruly hooligans that your toothbrush can't reach and tosses them out. The result? Healthy gums, fresh breath and a supercharged smile.
Shop the range today with Cosmetify and discover the variety of tantalising fruity floss flavours.