Ultimate Guide to Self Tan for the Face
With our face tanning guide, you can find out everything you need to know before buying or using the product including can you use body self-tanner on your face and what is the best fake tan for your face. If you're ready to buy or want to see our selection, visit our self tan for the face page.
Self Tan for the Face FAQs
Can you use body self-tanner on your face?
We recommend using a specific face fake tan for your complexion and a separate body self-tanner everywhere else. Face fake tan formulas are usually more lightweight, which means they are less like to clog your pores or feel cakey on the skin. Whereas body tanners tend to have a richer and thicker consistency, which are ideal for covering large surface areas like your legs and torso.
When searching for the perfect face tanning solution look out for hydrating, gentle and long-wearing options. However, there are a few formulas that are multi-tasking and look beautiful applied from head to toe. See individual products to find the best solution for your skin.
What is the best fake tan for your face?
Check out all the best fake tans for your face, here at Cosmetify. From serums to oils and lotions to creams, there's something for every skin type and skin concern. Discover leading tanning brands including James Read, Skinny Tan, Isle of Paradise, Green People and more. We have luxury formulations and affordable options, which make tanning your face as easy as pie.
To find the best fake tan for you, simply use of drop-down filters and categories. With these you can search by ingredient preference to find nasty-free formulas, kind-to-skin serums and even vegan-friendly alternatives.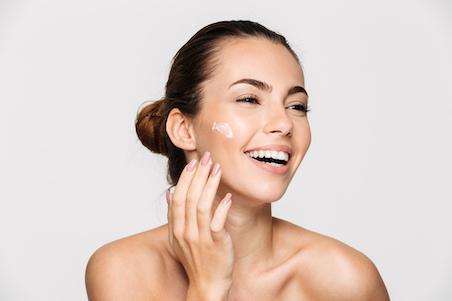 How do you fake tan your face?
The first step is prepping your face with an oil free cleanser and exfoliator. This helps remove any excess dirt and smooths the skin ready for tanning. It's also important to moisturize your face concentrating on the areas that are dry, like the chin, nose, cheeks and along your hairline and forehead. Next find the perfect face fake tan – remember you can always build up lighter shades.
Make sure your hands are clean and dry. Then if you're using a cream or lotion take a small amount of fake tan in your fingertips and apply to the face in circular motions starting in the center and moving outwards. Wash your hands afterwards to avoid any stains. If it's a spray formula, hold the can around 6-8 inches away and then lightly mist your face. And for tanning serums, add a 1-2 drops into your moisturizer and apply as you normally would.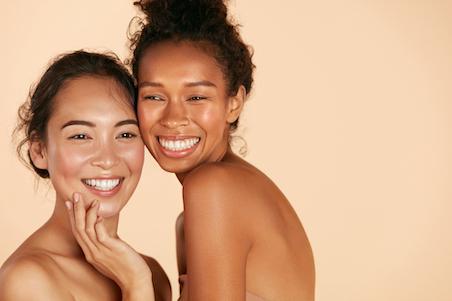 Should you fake tan your face?
If you're fake tanning your body, it's a good idea to apply fake to your face as well in order to achieve an all-over golden glow. For a natural sun-kissed look, we recommend using gradual tanning face drops. These are super easy to use, simply apply on the areas where the sun would naturally hit, like the across the nose and on the forehead.
However, if you want a greater color payoff try using tanning face creams and lotions. These require a little more prep time but develop in just a few hours – perfect for special events. Just make sure your face tan matches the color you've applied to your neck and chest to achieve an even, flawless effect.