Guide to Peel-Off Face Mask
With our peel-off masks guide, you can find out everything you need to know before buying or using the product including are peel-off masks good for your skin and what is the best peel-off mask. If you're ready to buy or want to see our selection, visit our peel-off face mask page.
Peel-Off Face Mask FAQs
Are peel-off masks good for your skin?
There is no evidence to suggest that peel-off masks are necessarily bad for your skin. However, peel-off masks are better suited to some skin types, such as oily, combination and congested, as they work to unclog pores and remove oil, impurities and blackheads. As a result, these skin types tend to be more tolerant and can handle the gentle pulling and tugging that comes with a peel-off formula.
On the other hand, it is recommended that sensitive and mature skin types, and those with skin conditions such as rosacea, should avoid using peel-off masks as they can be abrasive and the extra exfoliation could set off sensitivity and irritation.
What is the best peel-off mask?
The best peel-off masks are those that are acne-fighting, pore-unclogging, blackhead-removing and skin-hydrating. The best peel-off face masks are also infused with all the goodness, such as purifying, detoxifying and nourishing ingredients. They shouldn't be too harsh on skin, and they definitely shouldn't be painful to remove. Finding the best peel-off mask to suit your skin needs can be daunting, especially if you're new to the area. Let us help you out by suggesting peel-off face masks from brands such as Florence by Mills, Origins and GLAMGLOW. They boast cult-favorite formulas that are good for skin and regularly top the lists of beauty enthusiasts, bloggers and editors.
How do you make a peel-off face mask?
Naturally, peel-off masks need a base ingredient that can adhere to skin and harden, in order to create that peel-off effect. The easiest and most simple way to make your own peel-off face mask is to use non-toxic glue - certainly not superglue - gelatin or egg whites as the base. Then you can mix in your chosen ingredients, depending on your skin concerns. Popular ingredients include activated charcoal, manuka honey, tea tree oil and other essential oils.
Making your own DIY peel-off mask is great as you can choose the specific ingredients you want to use and replace harsher chemicals with more natural remedies.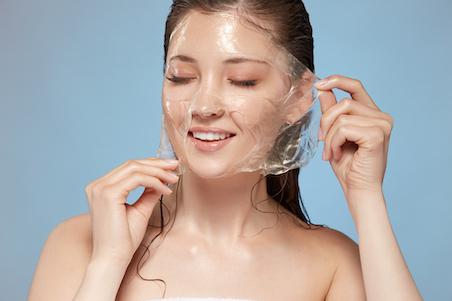 How do peel-off masks work?
Peel-off face masks work to refine and renew skin by gently removing the dead skin cells from the surface of your complexion. Once applied, the mask hardens and adheres to the top layer of skin, trapping in any impurities. When you peel the mask off, it pulls the dirt, dead skin cells and oils out from your pores, leaving you with a brighter and clearer complexion. Peel-off masks are often developed with antioxidants such as grapeseed, avocado and charcoal, all of which are great when it comes to repairing and protecting skin from future damage.
Ultimately, peel-off masks provide a mild exfoliating effect and the results are usually somewhat visible immediately - you just need to look at the back of the mask after you've peeled it away to see the dirt it has purged from skin. With frequent use, they can make a significant difference to skin.