Guide to Facial Cleansing Brushes
With our facial brushes guide, you can find out everything you need to know before buying or using the product including can you use a facial brush if you have sensitive skin and which facial cleansing brush is the best. If you're ready to buy or want to see our selection, visit our facial cleansing brushes page.
Facial Cleansing Brushes FAQs
Can you use a facial brush if you have sensitive skin?
For beauty lovers with sensitive skin, either prone to redness or dryness, a facial brush can often be too harsh on the skin if used regularly. However, you can use them less and still get the results you're after. We suggest using once or twice a week to ensure your skin isn't overloaded or over exfoliated.
Some brands, such as FOERO and Magnitone, even offer sensitive product options to ensure the bristles are suitable for your specific skin type. Use our search drop down search filters to find the perfect fit for your regime and your complexion.
Which facial cleansing brush is the best?
This all depends on your specific needs and skin types. With a range to choose from, you can find something to suit your skincare routine to a tee. For acne prone skin, silicone facial brushes are a great choice due to their hygienic properties. While soft bristle brushes offer a gentler exfoliation, which is perfect for sensitive complexions.
Whatever your needs, browse a range of leading brands including FOREO, Homedics, Clinique and Clarisonic, here at Cosmetify. Refine your search by skin type and skin benefit to find the best facial cleansing brush for your skin.
How do you use a facial cleansing brush?
Facial cleansing brushes come in all shapes and sizes, so the first step is finding one that suits your skin's needs. Then after removing makeup with your usual makeup remover, wet your brush and apply your chosen facial cleanser to the bristles. Next move the brush in small circular motions across your face. Work across your chin, nose and forehead each for 20 seconds and then your cheeks for 10 seconds. Try to avoid using the brush around your eyes, as this skin can be extra delicate. Once you've finished rinse your face with lukewarm water and pat dry.
Top tips: Be careful not to apply too much pressure and avoid using cleansers with exfoliating properties, as they too harsh on the skin when combined with the brush. And, of course, be sure never to share your facial brush with anyone else as this can spread bacteria and cause breakouts.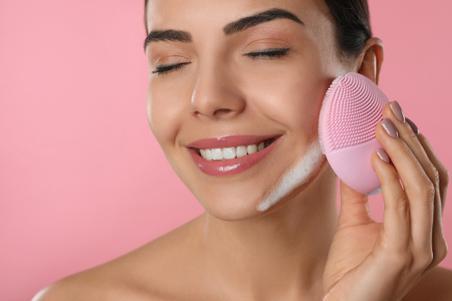 How often should you use a facial cleansing brush?
How often you should use your facial cleansing brush depends on your skincare habits and your skin type. For normal skin, we recommend using the brush once a day during your morning or evening skincare routine. Whereas, if you have sensitive skin, we suggest only using the brush 1-2 times a week.
Facial brushes help provide gentle daily exfoliation to create a cleansed, rejuvenated complexion. However, there's no definite rule on how often you should use them. Listen to your skin, if it feels like too much take a break and reintroduce the brush once your skin has settled down.
How do you clean a facial brush?
It's important to keep any brushes you use on your face clean, whether that's facial cleansing brushes or your makeup tools - especially if you use them on a regular basis. After every time you use your facial brush, make sure you rinse the brush head thoroughly. This helps get rid of any product build-up or makeup residue. For a deeper clean, use brush cleaner or a mild soap and allow to air dry.
Facial brushes with soft hair bristles require you to change the head every three months to ensure they are as clean as possible. This helps your skin look and feel healthy, as well as ensuring you achieve a thorough and hygienic cleanse.