Ultimate Nail Buffers Guide
With our buffers guide, you can find out everything you need to know before buying or using the product including how do nail buffers work and what are nail buffers made of. If you're ready to buy or want to see our selection, visit our nail buffers page.
Nail Buffers FAQs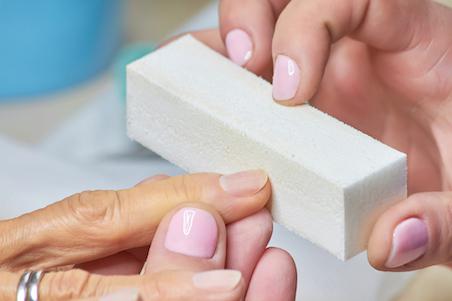 How do nail buffers work?
Nail buffing is a technique used when preparing your nails for a manicure. The nail buffer is a tool that polishes the nails. It buffs the surface, removing undetectable traces of stubborn nail polish or base coat. It also smooths out uneven ridges on the nail and gets rid of any dry and dead surface cells. This allows the nail polish adhere better and also ensures that the finished manicure is long-lasting and looks and feels consistent.
Nail buffers can also be used to add shine – great if you prefer a natural-looking manicure – and stimulate blood circulation of the nail bed, which helps nails to grow faster and healthier.
What are nail buffers made of?
Nail buffers are made with a super fine-grade grit – think of it as a gentle sandpaper for your nails. Typically, nail buffers offer a variety of grit sizes, from coarse to fine, all of which are used for different purposes.
There are two popular types of nail buffer, including the three-in-one (or sometimes four, five or six-in-one) buffing board. This is a variety of buffing tools that have up to two to five grit types and a polisher. It is important to note that the finer the grit, the glossier the finish.
Another popular choice is the buffing block; a three dimensional rectangular block that has a different grit on each side, as well as a polisher.
How do you use a nail buffer?
First, ensure that your nails are clean, dry and filed to your desired shape. Choose your buffer. If you're using a multi-sided buffer with different textures, each side has a different purpose. Take the coarse-grit side and hold the buffer parallel to your nail. Using a X-shape and smooth, even strokes, buff each nail. This is the perfect first step if you want to paint your nails with a color afterwards as the surface has more grip. Try to avoid running the buffer over your cuticles and skin to prevent irritation and dryness.
To polish your natural nails, take the finer grit side of the tool and buff them using tiny circular motions and a light pressure. To add a mirror-like shine to your nails, use the smooth side of the buffer.You should skip the polishing and smoothing steps if you wish to paint your nails, as a glossy finish makes it harder for the polish to adhere.
How often should I buff my nails?
It is recommended that you buff your nails no more than once a month. It can take three to six months for your nails to grow from cuticle to tip, meaning that once buffed, nails have a long-lasting shine. It's important to only buff nails when completely necessary – less really is more in this case. Not to mention, over-buffing can cause friction and build up heat, which over time can damage the nail bed and weaken nails.
If you have weak, brittle nails that bend or break easily, you should only buff nails occasionally, making sure to be very gentle.