Guide to Quick Dry Nail Polish
With our quick drying guide, you can find out everything you need to know before buying or using the product including which brand of nail polish dries the quickest and does quick dry nail polish work. If you're ready to buy or want to see our selection, visit our quick dry nail polish page.
Quick Dry Nail Polish FAQs
Which brand of nail polish dries the quickest?
When it comes to nail brands that offer quick drying formulas, Sally Hansen seems to top the list. Adored by beauty editors and nail enthusiasts, the brand offers the Insta-Dri nail polish collection, which claims to dry perfectly in 60 seconds with no top or base coat needed.
OPI and Seche are also popular brands when looking for nail polish that dries quickly. Their fast-drying, clear top coats are guaranteed to give flawless shine and maximum protection with every application.
If you're on the hunt for alternative quick drying products, head over to Jessica. This nail care brand offers a professional and popular range of fast dry spray, drops and more.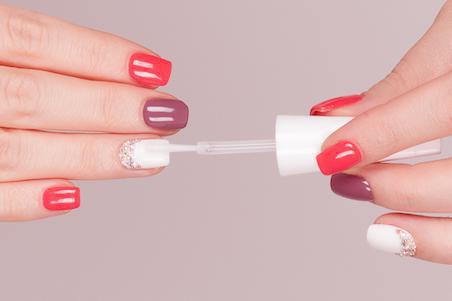 Does quick dry nail polish work?
You might not believe it, but quick drying nail polishes do work. How, we hear you ask? Well, quick dry polishes are formulated with the same technology as your normal nail varnish, except the ratio of ingredients differs. Quick dry polishes utilize higher levels of solvents; an ingredient that helps the evaporation process. The more solvent used, the quicker the evaporation rate and drying time.
With that being said, quick drying polishes aren't going to give you bone dry nails in 'under a minute' – which is often suggested – but they will help to reduce dry time if used correctly. Much like other polishes, thick, heavy layers will always take longer to dry – even with a quick-drying formula. So, to ensure fast and efficient results, you should always apply thin, even coats of polish.
If you're not quite sold by quick drying polishes, other formulas, such a sprays and drops, contain fast-acting silicones that protect the nail polish film from smudging as it dries.
What can I do to make my nails dry faster?
Quick drying nail products are a great investment if you're looking to reduce overall drying time, however, there are some alternative methods you can try to help speed up the process.
The first being to ensure that you always paint nails in light, thin layers. Thick, heavy and gloopy coats of nail polish are a recipe for disaster, as they take much longer to dry and are more prone to smudging.
To cure the polish quickly, you can try blowing cool air from a hair dryer over your nails for two to three minutes. Whilst this hack won't dry nails completely, it will help boost the process. Simply ensure your blow dryer is on a cool setting and hold it around 30cm above fingertips.
You can also try dipping your freshly-painted fingers in a bowl of ice cold water. All you have to do is allow your nails to air dry for around one minute, before placing them in a bowl of water with some ice cubes. Hold for 1-2 minutes and then take them out of the bowl. Again, this will not dry nails completely, but it will help the nail polish to harden quicker.
Finally, if you want some quick and easy nail art tips to go with your quick and easy polish, check out our blog!