Complete Guide to Makeup Bags
With our makeup bags guide, you can find out everything you need to know before buying or using the product including can you bring a makeup bag on a plane and what do you need in a makeup bag. If you're ready to buy or want to see our selection, visit our makeup bags page.
Makeup Bags FAQs
Can you bring a makeup bag on a plane?
Yes, but all your liquid, gel, foam, paste and cream formulas need to be in one clear plastic bag. This bag needs to be sealable and has to go through the security check in. Each liquid product should also be 100ml or less, so make sure to decant larger products into smaller travel-sized bottles before you head to the airport. Otherwise, you might have to bin your fave formulas before you even arrive on holiday.
Powders, like eyeshadows and bronzers, can stay in your normal makeup bag in you carry on case. However, if you have any doubt about what you can and can't take on a plane, check with your airline and airport before flying.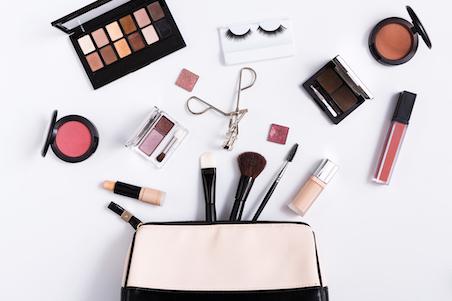 What do you need in a makeup bag?
The contents of everyone's makeup kit bag is different, depending whether you love full glam or a more natural look. So, whether your makeup bag is big enough for everything or your trying to streamline your collection, there are a few products that are an essential part of everyone's routine.
We recommend a base product, whether foundation, BB cream or tinted moisturizer. Don't forget blusher, bronzer and highlighter. Then for your eyes a fun eyeshadow palette and mascara. To tame your brows, groom them with a brow gel. Finally, you can't go wrong with a few different lip balms and lipsticks for every occasion. Not sure where to start? Find everything you need to kit out your makeup bag here at Cosmetify.
How can I clean my makeup bag?
It's important to keep your kit clean, including your makeup products and your makeup bag. If you're using a cloth makeup bag, simply empty the contents then pop the bag in the washing machine. For other types of makeup bags with compartments, brush holders and compact cases, wipe down with a hot soapy washcloth. Anti-bacterial wipes are also a great way to wipe down plastic cases. After cleaning allow to air dry.
While you're on a spring-cleaning hype, it's time to make sure all your makeup brushes are fully cleaned. We breakdown how to clean your makeup brushes over on the Beauty Hub, where you can find lots of cosmetic tips and tricks.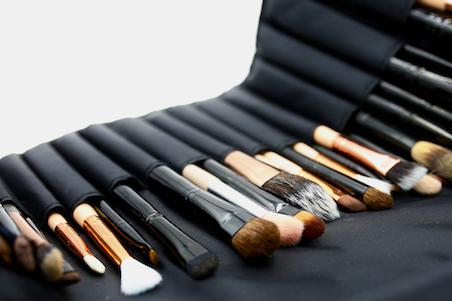 What is the best makeup bag?
At Cosmetify we have a plethora of stylish and useful makeup bags for every type of beauty lover. Find travel friendly pouches, brush belts, makeup bag organizers, custom compact cases and luxury eyelash cases all in one handy collection. No matter if you need a small, medium or large option, we have some of the very best makeup bags in the business.
A few of our personal favorites come from Sigma, Zoeva, MAC and I Heart Revolution. Whether you need something functional or super trendy, there's a bag for every beauty buff. Sort your search by price and brand to find affordable, cheap makeup bags without compromising on style.