Complete Guide to Contour Brushes
With our contour brushes guide, you can find out everything you need to know before buying or using the product including what brush do you use to contour and what are the different types of contour brushes. If you're ready to buy or want to see our selection, visit our contour brushes page.
Contour Brushes FAQs
What brush do you use to contour?
There's a variety of makeup brushes for you to choose from, but most beauty lovers prefer a slanted contour brush to sculpt and define the face. These brushes are specially designed to fit in the curves and grooves, making it super easy to add shadows and definition. Better still, contour blending brushes are versatile enough to apply a wide range of products, including powder, cream and liquid formulas.
Slanted angled brushes are also perfect for applying other face makeup products, including blusher and bronzer, making it all-round beauty brush you need in your collection.
What are the different types of contour brushes?
At Cosmetify, find a wide array of different contour brushes to suit your routine. A big fluffy angled brush is perfect for achieving a soft, natural-looking contour with powders. And a damp beauty sponge is ideal for lighter, sheer coverage. To achieve a more chiseled, dramatic look, choose a flat contour brush with densely packed bristles. This helps you blend out your favorite cream and liquid products to achieve a seamless finish.
Brushes come in all shapes and sizes, so you can find the best fit for your face. Smaller nose contour brushes are ideal for precise application, while bigger brushes are great for blending around the jawline and forehead.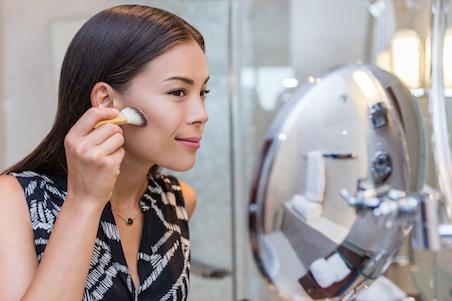 How do you use a contour brush?
Dab your contour brush in your contour product, whether cream or liquid, and apply across your cheekbones, along your jawline, around the temples and down the sides of your nose. Start with less product on your brush to avoid heavy application – remember you can always gradually add more as you blend. Then to buff the contour product into the skin use your brush in either circular motions or pull the brush upwards on the cheekbones to avoid smudging your foundation base.
Then to make sure everything is full blended together, bounce your beauty sponge over the top of your contour, highlighter and bronzer. This helps all the products melt seamlessly into the skin, so your complexion looks flawless all day long.
What is the best contour brush?
The best contour makeup brushes come from beauty brands such as Sigma Beauty, Urban Decay, Real Techniques and Morphe. Here at Cosmetify, you can discover these much-loved brands, as well exciting new releases. Whether you're searching for the best nose contour brush or a big, fluffy option to blend everything together, we have it all in one handy place.
To refine your search, simply use our categories and filters. This helps you search for brushes by not only brand, but by makeup concern, format and even price. Snap up your favorites today with professional, budget-friendly options.