Ultimate Eyebrow Brushes Guide
With our brow brushes guide, you can find out everything you need to know before buying or using the product including should you wet your eyebrow brush and what kind of eyebrow brush should I use. If you're ready to buy or want to see our selection, visit our eyebrow brushes page.
Eyebrow Brushes FAQs
Should you wet your eyebrow brush?
This depends on the type of look you want to create. Lightly wetting your eyebrow brush, whether with water or setting spray, can ensure more color payoff for powders and waxes. This works well when you want to add more shadow and definition to your eyebrows. The setting spray will also help lock the color in place all day long.
However, be careful not to add too much water and use short angled strokes – don't paint on like a paintbrush and paint. The short brush strokes mimic the natural brow hairs, leaving your brows looking thicker and more defined.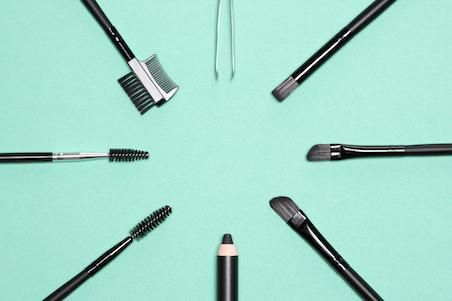 What kind of eyebrow brush should I use?
There's lots of high-quality, professional brow brushes for you to choose from when applying makeup to your eyebrows. An angled brow brush is perfect for applying powders and pomades as it helps carve out your preferred brow shape. Densely packed, fine tipped brushes are also great for adding short hair-like strokes. And finally, a spoolie eyebrow brush helps shape and tame your brow hairs.
To find the best eyebrow brush for your routine, take a look at our wide collection of brands here at Cosmetify. Check out top picks for leading names such as Anastasia Beverly Hills, Laura Mercier, Daniel Sandler and Bobbi Brown.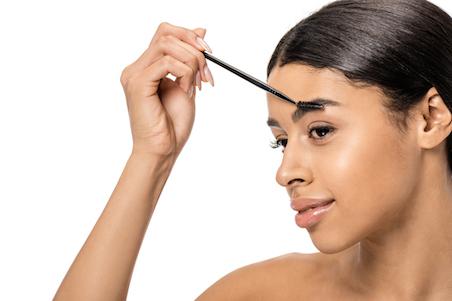 How do you use a spoolie brush on eyebrows?
You can use a spoolie to help define, blend and shape your brows. Before adding powders, brush through your brow hairs with a spoolie. This helps you see the shape of your brows and highlights the sparse areas you can fill in with powders, pomades and pencils.
After applying your brow products, you can then use the spoolie again to blend any harsh markings. This helps soften the look of powders and pencils, so your brows look more natural, rather than one block color.
At Cosmetify, we have a range of brow tools, including double-sided eyebrow brushes with a spoolie on one end and an angled, fine tip brush on the other side. This tool is a makeup bag must-have.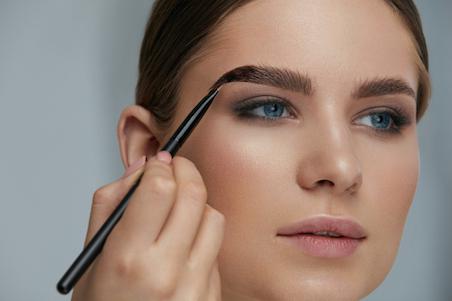 Which kind of brush should I use for an eyebrow pomade?
If you prefer to use pomade on your eyebrows, choose an angled brow brush that has short, dense bristles. This makes it easier to buff, blend and define your eyebrows. The densely packed bristles give you more control over your application, especially when creating short, hair-like strokes. When applying your chosen pomade, remember to lightly coat the bristles instead of scooping out too much product. You can always go back in and add more until you get the desired finish.
Eyebrow brushes with a fine tip are also ideal for adding more detail than a small, fluffy powder brush. To finish everything off, run through the pomade in your brow hairs with a spoolie. This helps create a natural-looking finish.