Lipstick Guide
With our lipsticks guide, you can find out everything you need to know before buying or using the product including how do you stop lipstick from bleeding and should I use matte lipstick or glossy lipstick. If you're ready to buy or want to see our selection, visit our lipstick page.
Lipstick FAQs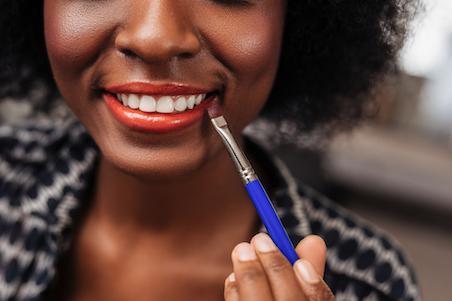 How do you stop lipstick from bleeding?
Prepping your lips properly helps your lipstick stay put, with no smudging or bleeding throughout the day. To do so, exfoliate your lips with your favorite lip scrub and give them a much-need boost of hydration with your favorite lip oil or balm. Once everything has soaked in apply a lip liner that matches the color of your lipstick. Start in the edges and work towards your cupids bow. Then fill in the rest of your lips with the liner.
Next choose a long-wearing lipstick formula and apply carefully with a lip brush. This small brush helps you get a precise application. Then the final step is to blot and set your lipstick with a light dusting of translucent powder, which prevents your lip color from bleeding throughout the day.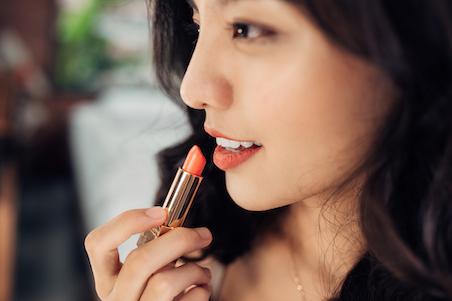 Should I use matte lipstick or glossy lipstick?
This depends on your mood, the occasion, your style and sometimes even the season. For example, in the Winter months beauty buffs love trying matte shades for a seductive, moody look. Whereas in the Summer, a glossy, bold pop of color can be a fun, flirty vibe. No matter where the mood takes you, you should wear whichever finish you feel most comfortable in.
But remember, matte lipsticks need a little bit more prep time with a lip scrub to exfoliate your pout to create a smooth base. A glossy lipstick, however, is an easy one to just swipe and go for those more natural makeup days.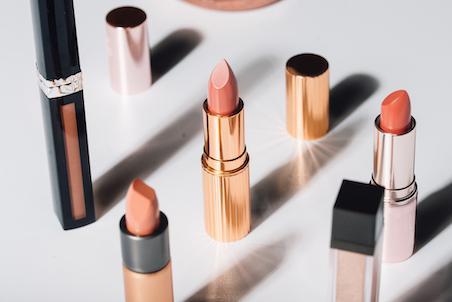 Which shade of nude lipstick should I use?
Find the best nude lipsticks for you, here at Cosmetify. Over on the Beauty Hub, we run through the best nude lippies for every skin tone, with top makeup brands including Chantecaille, Too Faced and Urban Decay. When deciding on your favorite nude lipstick opt for a shade darker than your skin tone, with pink nudes for cool undertones and caramel colors for warmer undertones.
Find you new go-to nude lipstick by using our search filters, including format, finish and ingredient preference. It's never been easier to find all your favorite budget-friendly options in one handy place.
Can I take lipstick on planes?
Depending on where you're traveling, lipsticks usually need to be in a clear plastic bag with your other toiletries. We recommend checking what hand luggage you're allowed with the airport and airline you're flying with. Most security checks ask that any containers in your hand luggage are 100ml or less, so as long as your lipstick in under 100ml it should be fine.
When flying make sure all your makeup products are tightly packed in your main luggage to avoid breakages. Or, ensure you have decanted your favorite formulas into a small travel-size bottles in a see-through square plastic bag.
What color lipstick suits me?
It's all about testing out your favorite shades. Bright bold reds work all year round, whereas deep plums and blue lipsticks are perfect for colder months. Choosing your favorite shade of lipstick all depends on your undertones. Cool undertones suit blue and pink colors, while warmer undertones suit orange and peach shades.
No matter your style, it's about experimenting and finding what works with your makeup habits. Whether you choose natural nudes, ravishing reds or pretty pinks, there's a lipstick to suit every skin tone at Cosmetify. Check out our lipsticks using our handy filter system, or take a read of blogs like The Best Red Lipstick for Your Skin Tone and The Best Dark Lipsticks for a Vampy Look.