Guide to Concealer and Color Corrector
With our concealers & correctors guide, you can find out everything you need to know before buying or using the product including how do you apply concealer and what is concealer. If you're ready to buy or want to see our selection, visit our concealer and color corrector page.
Concealer and Color Corrector FAQs
How do you apply concealer?
When applying concealer, it is important to focus on problem areas such as dark circles around the eyes and blemishes. Start by dotting the formula under and around the eyes with either a concealer brush or the wand head provided with the concealer. You can also draw an upside-down triangle to fully conceal the look of dark circles.
Concealer can also be used on top of the eyelids as a primer to even out discolouration whilst providing a base for eyeshadows to cling onto. When focusing on spots, try and use a green-tinted concealer to tackle redness. Simply dot on the concealer to the affected blemishes and blend in with a blending sponge for a more natural-looking result.
Concealers tend to come in lighter shades, as their aim is to brighten, lighten and conceal darker patches of skin to even it out.
What is concealer?
Concealer, also known as a color corrector, is a beautifying tool used on the visage to conceal blemishes and discolouration. It tackles the likes of dark circles, age spots, acne scars, blemishes and uneven skin tones by concealing it in a high-pigment formula evens out the complexion.
Similar to a foundation, this handy tool can arrive in a liquid, cream, pencil or stick format and tends to be light in color (as to brighten and conceal darker areas). Concealers also tend to be thicker than foundations and arrive in smaller, more concise packaging. In some instances, concealers may have a slight green, orange or purple tint to it in order to color correct areas of the face.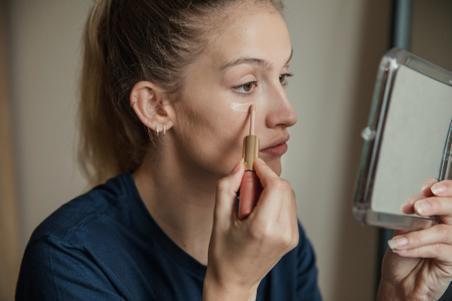 Do you put on concealer before or after foundation?
Foundation first. It's a common misconception that concealer should go first, but this will only result in you smearing it around once it comes to applying foundation. Overall, there is no right or wrong method but you will more likely see clearer results if you apply foundation first and then go in with concealer. The act of blending out foundation over concealer can often soften the appearance of the concealer, smudging it away and diminishing its effect.
Begin by applying your moisturizer and primer as a base before going in with a liquid foundation, finishing off with a few dots of your concealer on the desired areas. If you are using a powder foundation, maybe look at applying concealer first as things could get a little chalky and messy.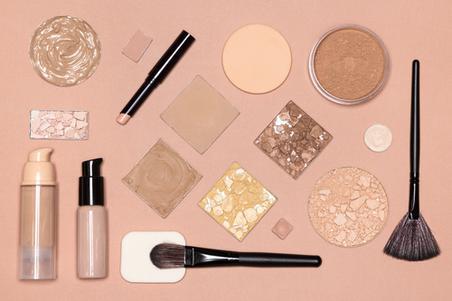 What is the difference between foundation and concealer?
Foundation is to be used all over your face and neck, acting as a tool that evens out your entire complexion by adding a wash of warmth and buildable cover. Concealer is different in the sense that it is used for more targeted areas and is usually lighter in color so that it can brighten dark circles and blemishes. Some concealers may even contain a green, orange or purple tint to specifically even out discolouration, something that foundation doesn't typically consider.
Concealers will often arrive in a much smaller format as they are only to be used in small doses on specific areas, whereas foundations tend to be a lot bigger in size in order to cover the whole visage.