Complete Guide to Eyebrow Pencils
With our brow pencils guide, you can find out everything you need to know before buying or using the product including how to use eyebrow pencils and what are the best eyebrow pencils. If you're ready to buy or want to see our selection, visit our eyebrow pencils page.
Eyebrow Pencils FAQs
How to use eyebrow pencils?
As we said, brow pencils allow you to mimic the eyebrow hairs. However, they are a number of considerations before getting heavy handed. How thick do you want your brows? Do you want a dramatic arch? Are there any sparse patches you need to fill? Do you want to add more color?
Firstly, you need to find the right shade to match your natural hairs. Sometimes this could mean applying two different shades of a pencil to create dimension. Then, using a spoolie, brush your brows to reveal your natural shape.
It's then time to use the pencil in short strokes. Start at the end of the brow and work your way inwards. Then apply the pencil in swift movements to fill in any sparse patches. Make sure to concentrate the product mostly on the arch of your brow and use less pressure at the front. This helps create the most natural finish.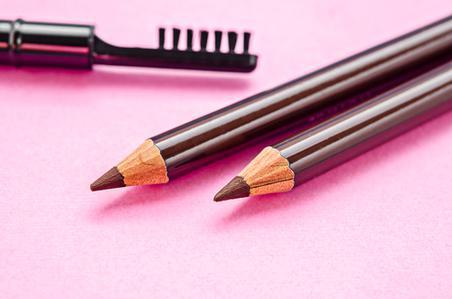 What are the best eyebrow pencils?
Here at Cosmetify, we love nothing more than testing out new products, especially when it comes to brows – anything to achieve the perfect arch! With that comes plenty of talk about the best eyebrow pencils on the market.
In our humble opinion, some of the very best come from favorite brands such as Benefit Cosmetics, Urban Decay, Anastasia Beverly Hills and HD Brows. These brands have fantastic formulas and perfect packaging. Not only are their brow pencils super simple to use, but they provide the best color payoff.
With a multitude of shades and consistencies, you can achieve well-defined brows with these beauty brands at your fingertips.
What are brow pencils?
Brow pencils are easy-to-use tools which help you create thicker, fuller, more defined eyebrows. Shaped like your typical HB pencil from school, these tools are the perfect cheat sheet for people who aren't blessed with bushy brows ala Cara Delevingne, Dua Lipa or Lily Collins
Simple, quick and fuss-free, eyebrow pencils are often the preferred method for filling in your brows. The pencil itself gives you precise control and allows you to create hair-like strokes, which can be harder with other formulas. Other times, brow pencils are the first step in a routine, followed by brow powders, pomades and gels.
How do you sharpen an eyebrow pencil?
To get the best result, it's super important you keep the tip of eyebrow pencil sharp. This not only helps keep your makeup tool in good condition, but it is the secret to defined, neat, bold brows.
However, how to sharpen your pencil depends on the type of product you choose. Some pencils come with a twistable cap, which keeps it sharp. Others come with an in-built sharpener, which you can use to keep the tip spick and span.
If not, the pencil requires a normal makeup sharpener, like the ones in your old school pencil case. Just make sure every time you use the sharpener you clean out any residue from old eyeliners and eyebrow pencils.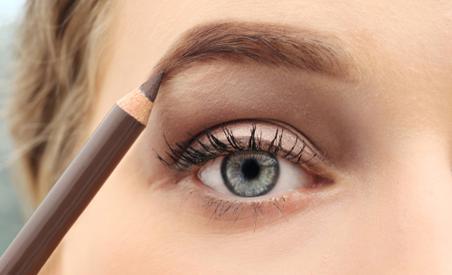 Why use brow pencils?
Pencils are one of the easiest brow products to use. From hd eyebrow pencils to soft kohl formulas, there's something to suit every routine. They are great for beginners, but also for pro beauty lovers who want to jump on the bushy brow trend. With this tool, you're in charge of the pressure, which means you can create the shape you want.
Whether it's a bold brow, a defined arch or an extended tip, you can etch the outline with an eyebrow pencil. This gives you parameters to work between, which you can fill in with your pencil or with a brow powder. It couldn't be easier to achieve the style you want with this solution.