Ultimate Bath Brushes and Sponges Guide
With our bath sponges & brushes guide, you can find out everything you need to know before buying or using the product including what are natural bath sponges made of and can using a dry body brush reduce cellulite. If you're ready to buy or want to see our selection, visit our bath brushes and sponges page.
Bath Brushes and Sponges FAQs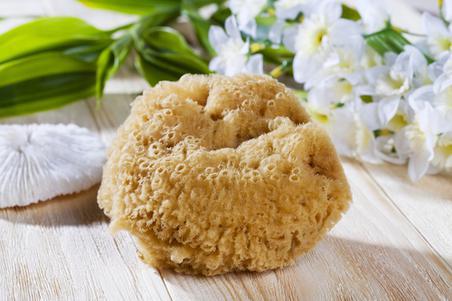 What are natural bath sponges made of?
When referring to natural bath sponges, you'll often see them called natural sea sponges. Why? Because this tub-time essential originates from the ocean and is actually a complex skeleton of a small marine species. Growing in colonies along the ocean floor, this special sponge contains regenerative powers that allows them to regrow once harvested.
Unlike synthetic sponges, natural bath sponges don't contain any pesticides. Instead, they provide an environment that naturally doesn't hold onto bacteria or mold, making it the perfect accessory for your bathroom.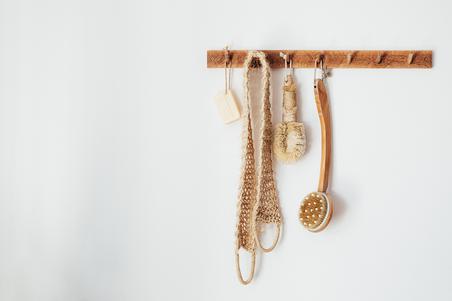 Can using a dry body brush reduce cellulite?
It's important to note that dry body brushing won't completely rid your legs of cellulite, but it can definitely help with lessening the severity of it. This technique works by stimulating the subcutaneous adipose tissue: a connective tissue that is in charge of where fat is stored. This intelligent tissue often gets overloaded with toxins that then form uneven, bumpy heaps of fat that are referred to as cellulite.
However, using a dry body brush can help to massage this tissue which in turn helps to break down the toxins that are causing those pesky pileups of fat. By breaking the toxins down, the skin and other vital organs (such as the kidneys) can filter out these unwanted toxins for a smoother finish. As with everything, a healthy and balanced diet teamed with exercise is recommended for the most effective results.
How do I give my baby a sponge bath?
We would recommend using a natural bath sponge over a synthetic sponge when bathing your baby, as they tend to be kinder on skin and don't cause irritation.
Begin by gently bathing their face and head with a small, damp, natural sea sponge. Avoid using soap here if you can you can to prevent getting suds in their mouth and eyes. Focus on the neck and under the chin with a baby-friendly soap, before moving onto the fingers, toes, under the arms and behind the ears. Wipe very carefully around the umbilical stump ensuring to keep it dry where possible. If you do accidentally get it wet, simply pat dry with a towel.
Finally, finish up by cleaning the nappy area and wrapping your baby up with a hooded towel and a fresh nappy.
What are some body brushing benefits?
Body brushing brings forth a whole host of benefits that help to sculpt and soften your body for the lust-worthy results you deserve.
So, why should you incorporate dry brushing into your routine? The main body brushing benefits worth focusing on include eliminating dead skin cells, enhancing blood circulation, rejuvenating the nervous system, cleansing of the lymphatic system and promoting a more even distribution of fat cells (see, we told you it does a lot!). When you dry brush your skin, you are helping to improve blood circulation, which works hand-in-hand with encouraging the lymphatic system to drain out unwanted toxins.
To summarize, you can expect softer skin with a smoother-looking surface, which brings us nicely onto out next question.
Can I use a dry body brush on sensitive skin?
You may want to be extra careful when dry brushing on sensitive, dry skin. If you suffer from eczema or psoriasis, then regular dry brushing will most likely do more harm than good.
Over-brushing your body can lead to dried out, irritated skin that feels uncomfortable and looks sore. Before you start brushing, try doing a test patch on your skin to see how it feels. Remember, dry brushing should feel good, so if you're experiencing any discomfort then you may want to hold off.