A Beginner's Guide to Sweed Lashes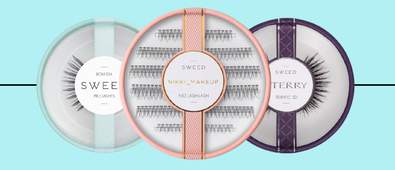 It's time to get your glam on with our beginner's guide to Sweed Lashes. Since launching in 2015, this brand has gained a cult following of loyal beauty lovers across the globe who love their high-quality, vegan-friendly falsies.
Whether you want to dress to impress or add a subtle definition during the day, they have a pair of false eyelashes to suit every style. Plus, we love their individual lashes which give a natural full effect.
Discover your favorite new pair today as we run through our top picks of Sweed Lashes.
Sweed Lashes Classic Collection
Searching for the perfect, natural-looking false eyelash? Look no further than the classic collection at Sweed Lashes. Discover varying lengths, clusters, colors and styles to suit every single event. Whether you want to get your glam on or add a little definition to your work eye makeup, they have every type of false lash you'll ever need.
The classics include popular choices such as Gabbi, Dina and Bom Dia which all provide something a little different. Each of the sets of lashes come in a pastel colored, round, reusable box that you can store your falsies in to use them again and again.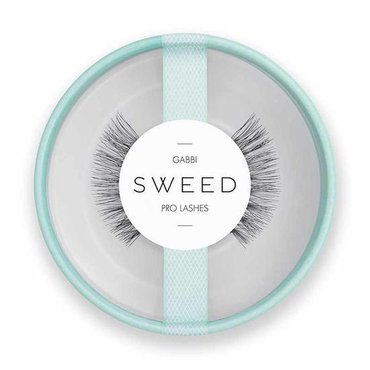 Get your hands on the best-selling Gabbi lashes. Loved by A-listers, influencers, bloggers and beauty editors, these are a go-to in any makeup lover's collection.
The black lashes have a subtle, flared effect that gives you plenty of volume without being too heavy or overbearing. In fact, these false eyelashes are comfortable from dawn to dusk, thanks to the lightweight band which also happens to be transparent. Simply wear during the day for a beautiful fluttery finish.
Go To Store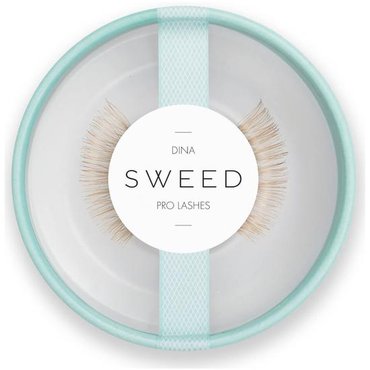 For fair haired beauties Sweed Lashes have the classic Dina falsies. What makes these lashes special is the unique blonde shade, which is perfect for fair beauty lovers searching for an alternative to harsher, darker options. The color provides a gorgeous, natural-looking result and are ideal for 'no-makeup' makeup days.
The Dina lashes also add flattering volume and length to your natural eyelashes, without looking too heavy. This is all down to the transparent band, which means they blend seamlessly on the lash line and fit comfortably for all day wear.
Go To Store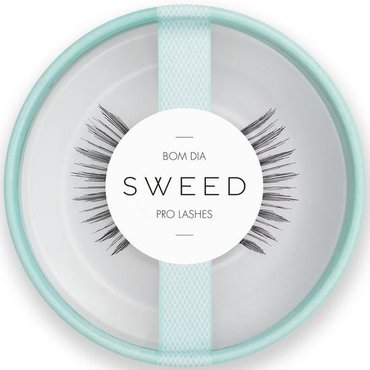 The Bom Dia are for bold makeup lovers. Inspired by the iconic model, Twiggy, these lashes give you that wide-eyed, glamorous look. The strip of falsies provides a high-quality and separated effect with no heavy, clumpy feeling. Instead, they feel weightless and give you the best red-carpet ready lashes.
They are also super easy to use as the band curves to fit different eye shapes. Better yet, you can reuse them up to ten times for glamorous, fun and flirty makeup looks. Simply house them in the pastel blue Sweed case between applications to keep them in tip top condition.
Go To Store
Sweed Lashes By Terry Collection
Feast your eyes on the collaboration between Sweed Lashes and the iconic cosmetics brand, By Terry. Founder Terry de Gunzburg joined forces with Sweed's very own Gabriella Elio to create false eyelashes to flatter every person.
Using their industry expertise, By Terry know what it takes to make a luxurious product that takes you from day to night perfectly. Their range of falsies with Sweed Lashes allow you to do just that, with everything from natural mini-lashes, full volume 3D falsies and clusters in varying lengths. Browse the collection and find your favorites today.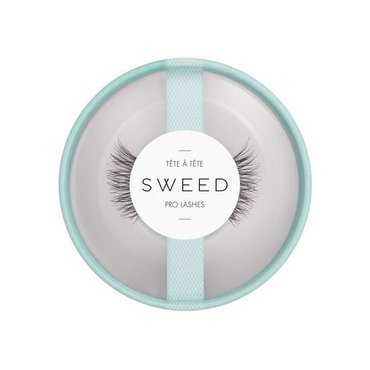 This pair of natural-looking, beautiful lashes comes from the brains of both Sweed Lashes and By Terry. With their combined expertise they've created a much-loved and go-to false lash for beauty lovers everywhere. The Tête à Tête is a delicate option for a subtle, yet fuller look.
It's a half lash which when worn on the outer corners of the eye creates an everyday, fluttery effect. It's a great option for beginners as it easy to use due to the flexible cotton band which you can quickly apply with a handy pair of tweezers.
Go To Store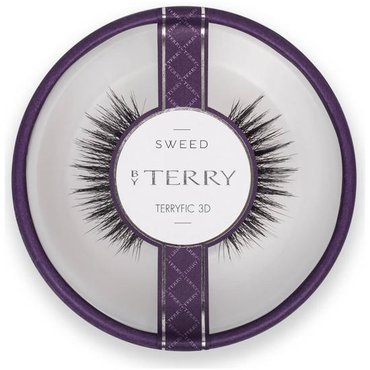 Add drama, definition and volume with the Terryfic 3D false eyelashes. These beauties come from the By Terry collection and are a must for any beauty buff. The deep black shade make them the perfect makeup accessory for a special event or for a glamorous evening look.
The lashes are specially made using the Sweed Lashes unique 3D technology for an ultra-intense look. Apply them to your lash line with ease using the flexible band and reuse them up to ten times.
Go To Store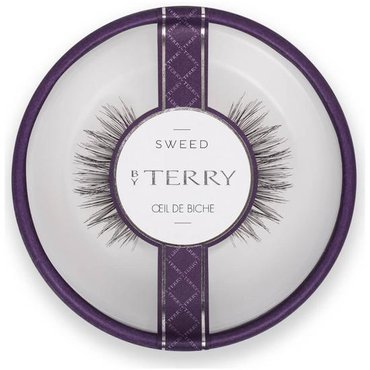 Treat yourself to the Oeil De Biche false eyelashes from the By Terry collection. The round box houses bambi-like falsies, which are used by none other than our mega celeb crush, J.Lo!
However, you don't need to be an A-lister to wear these beauties. No matter your skill level, these lashes are super easy to use, whether you're an MUA or a complete beginner. Add the lush lashes to a smokey eyeshadow for a dramatic evening eye look or trim down for subtle definition during the day.
Go To Store
Sweed Lashes Nikki Makeup Collection
Sweed Lashes have teamed up with makeup artist Nikki Wolff to create a range of must-have false eyelashes that are not only great for professionals but are perfect for beauty beginners. Nikki understands the pain of finding a lash that delivers drama, which is why her collection allows you to add definition and fullness to your natural eyelashes.
In fact, each lash set is thoughtfully designed to look beautiful for everyone. Whatever eye shape or makeup style you prefer, these versatile false lashes are perfect for creating a range of looks. Think bold, out-out glam and natural, easy-going daytime looks.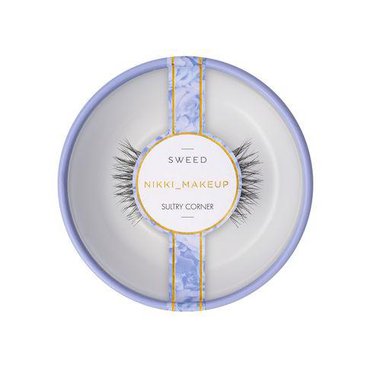 Create a sexy, seductive eye look with the Sultry Corner false eyelashes from the Sweed Lashes X Nikki Makeup collection. These half lashes are perfect for beginners as they are super easy to apply to the outer corners of the eyes.
The lash itself uses the innovative 3D effect for a full look. And the fluttery shape helps elongate the eye and gives you that sexy cat eye vibe. Pair with a mega feline flick using a dramatic black eyeliner.
Go To Store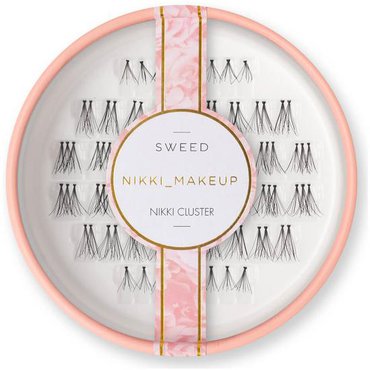 Take your eye look to a whole new level using the Nikki Clusterfrom the Nikki Makeup collection at Sweed Lashes. These false eyelashes come in single, double and triple flairs in different lengths. This allows you to fully customize your look to suit your mood, style and occasion. Think wide eye, glamorous and oh-so-seductive eye makeup. Wear alone with a slick of mascara or with other top Sweed Lashes for big, bold and beautiful eyelashes.
Go To Store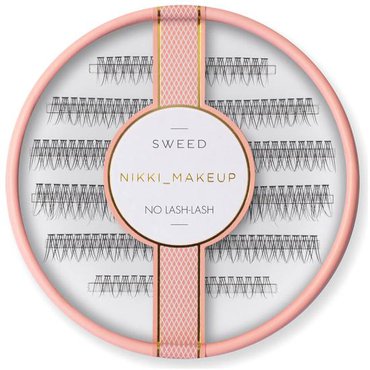 Want to create natural, full-looking, beautiful eyelashes? Sweed Lashes have got you covered. As part of their collaboration with makeup artist Nikki Wolff, they have created the Nikki No Lash-Lash. These are delicate clusters of false lashes which come in four varying lengths.
For natural daytime makeup, use the shorter lashes and for evening looks, use the longer ones. They help add effortless definition and volume, while still remaining lightweight and subtle on the lash line.
Go To Store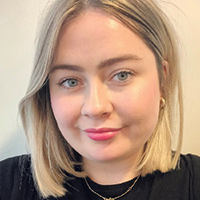 Rebecca is a content writer with over three years' experience and a keen interest in cosmetics. Cosmetify allows her to combine her blogging skills with her passion for beauty.