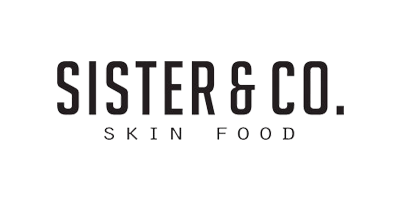 Sister & Co
Sister & Co Skin Food have delivered an extensive range of nutrient-rich formulations, that are all 100% free from animal testing, fillers, chemicals and preservatives, yet still work effectively to give optimal results. Offering an incredible selection of natural skincare and beauty solutions from cleansing oils to beautifying sugar scrubs, they have got you covered for all of your skin and body needs.
They are known for creating astounding beauty and skincare products that are not artificially altered by their colour, texture or smell. This is so that their raw and minimally processed ingredients can remain as potent, as when they are found in nature at source, to maintain their imperative healing and nourishing properties.
Sophie, the founder of Sister & Co Skin Food, worked with cosmetic chemists to develop the natural products by using the finest superfoods from around the world, including: raw nut butters and milks, cold-pressed plant oils, sugars and salts, clays, waxes and pure essential oils.
As a brand Sister & Co Skin Food carry out production runs every 12 weeks (in small batches) to stock products - which can then immediately go to market. This ensures that every item delivered, is at its optimum efficacy when stocked so you can purchase freshly developed and natural products, that will certainly leave you wanting more – once you relish the results.