Pacifica
Explore the Pacifica selection of women's eau de parfum, body butters, scented candles and more besides. Make sure that you sign up to our alerts so that you are always aware of product offers and sales.
24 products found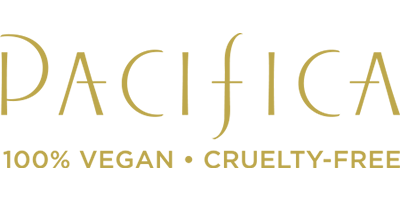 Beautiful, whimsical with divine fragrances, Pacifica is an enchanting skin, cosmetic and perfume brand, founded by Brook Harvey-Taylor and her husband Billy Taylor.
Founder Brook was always fascinated with scents from a young age and went on to study aromatherapy at college which led to her passion for perfuming. So, she set off on a journey to create fragrances that were unique and enchanting, when along the way she met photographer and filmmaker, Billy who shared her love of the great outdoors and ambition.
In fact, it was during a drive home from a surfing trip, the couple were inspired by nature, waves and fresh sea breeze and Pacifica was created. This creative, natural beauty brand does not only focus on the wonderful fragrances but is 100% vegan, cruelty-free and sustainable making it not only kind to your skin but to the earth.
What's more, the effective and safe formulas are encase in sophisticated, fun and happy packaging. Pacifica truly adds attention to detail and makes vegan skincare enjoyable and shows a real passion for beauty in all aspects. So why not explore the wonderful world of Pacifica today?
Frequently Asked Questions about Pacifica
Do they formulate their products with Parabens?
All of their products featured on this site are paraben-free.
I am a Vegan. Can I use Pacifica products?
Pacifica are 100% vegan-friendly which means their products do not contain animal-derived ingredients or by-products.
Are Pacifica products, formulations or ingredients cruelty-free and not animal-tested?
Pacifica do not test on animals, nor do they have any third parties (such as suppliers) conduct animal testing on their behalf, making them 100% cruelty-free.
Does Pacifica use phthalates in their products?
None of their formulas or products contain phthalates.
Do they have any mineral oil-free products?
When possible, they use mineral oil-free ingredients.
Does this company operate a Fair Trade policy?
They strive to use fair trade and sustainable ingredients whenever possible.
Is alcohol an ingredient in any of their products?
When possible, they create products that are alcohol-free.
I prefer to shop sulphate free. Are there sulphates in these products?
Many of their products are not sulphate free. If you wish to shop for products without this ingredient please use our sorting options.
Paraben Free
Vegan Friendly
Cruelty Free
Phthalates Free