Guide to Hair Dryers
By Luke Chapman, Content Writer
With our hair dryers guide, you can find out everything you need to know before buying or using the product including how to use a hair dryer diffuser and what is a hair dryer. If you're ready to buy or want to see our selection, visit our hair dryers page.
Hair Dryers FAQs
How to use a hair dryer diffuser?
Some of you may not know what a hair diffuser is, let alone how to use one. Basically, they're the attachment to your hair dryer, often with circular heads and sprongs. If you have straight, fine hair then you don't really have much use for them (we give you permission to skip this section) however, those with curly hair need to pay attention. When utilised correctly, hair diffusers help the air circulate around the curls and add definition, resulting in a natural finish.
Before you start wielding the hair diffuser, use a soft towel to gently dry your hair and then leave it to air for around ten minutes. Next, gently brush your hair and add a soothing hair product to tame any frizz. Set the hair diffuser to a cool, low power setting then turn your hair to the side. Cup a section of your hair towards the diffuser and hold it for a few seconds. Repeat this process until you've covered your entire head, flipping your head from side to side in the process. Repeat the steps a few times for maximum curls.
To finish the job completely, flip your hair forward and diffuse it for around a minute to add some volume. We suggest applying a curl preserving serum to keep your hair looking flawless throughout the day.
What is a hair dryer?
As modern inventions go, the hair dryer is possibly one of the more overlooked, though that's not to understate its impact in the beauty industry. Nearly every household in the UK has had a hair dryer in the bedroom at some point, and although they were originally intended for women, many men have enjoyed their uses over the years.
In lament terms, a hair dryer is described as a mechanical device that blows cool or dry air to damp hair to amplify the drying process. The purpose of a hair dryer has gone form purely drying the hair to also styling it; many stylists now use hair dryers to shape hair and sculpt it into a certain look.
Modern day hair dryers have multiple settings so you can adjust the power and temperature of the air that blows out. They range from extremely hot to fairly cold, and from gentle to significant power.
How do you use a hair dryer?
If you've never had medium length or longer hair, you've probably never had the use for a hair dryer. Or even if you've had long hair all of your life, you may not have ever been tempted by the innovation of a premium hair dryer. But if you're suddenly tempted by the power and convenience, let us introduce you to the way they work.
Most modern hair dryers come with multiple settings that allow you to adjust the power and temperature. You can range anywhere between a hot, powerful setting or something a bit gentler and cooler. If you have brittle, weak or curly hair, we suggest you opt for a cooler setting and keep the hair dryer at a safe distance from your head. If you apply the hair dryer too close to your hair, it causes long-term damage to your hair follicle and cause immediately damage the cuticle.
Move the hairdryer around your head until all of your hair is dry, smooth and feeling lush. If you're in a rush during the morning routine, using the higher setting is suitable as long as its used at a safe distance.
Should I use a hair dryer if I have curly hair?
Only those with curly hair understand its temperamental and unpredictable nature. Curls can oftentimes be fragile, volatile and tender, so they need our full love and affection to maximise their potential. There are many things that can cause damage to curls, and the most prevalent one is excessive heat.
Using a hair dryer on a high setting close to your hair breaks the bonds in your hair, damages the cuticle and and strips away all the moisture from your hair. Not only does this damage the hair follicle, it also changes the hair's protein and greatly affects the way your hair grows in the future. To put it simply, excessive use of a hair dryer could turn your gorgeous curls to limp, lifeless straight hair.
You can use a hair dryer on curls, but we recommend using it on a cool setting and at a safe distance from your to maintain the health of your hair.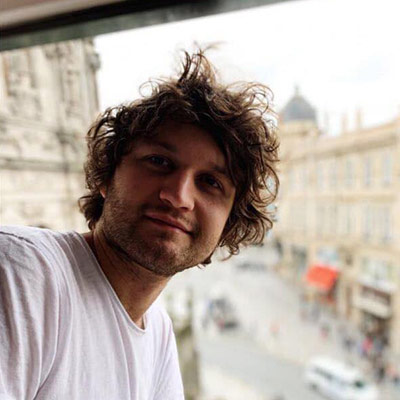 After six years of experience in content writing, Luke followed his passion for male grooming, particularly fragrances, hair styling and natural skin care.