Ultimate Hair Brushes and Combs Guide
By Luke Chapman, Content Writer
With our hair brushes & combs guide, you can find out everything you need to know before buying or using the product including how often should I brush my hair and what kind of brush should I use for curly hair. If you're ready to buy or want to see our selection, visit our hair brushes and combs page.
Hair Brushes and Combs FAQs
How often should I brush my hair?
Believe it or not, there is such a thing as brushing your hair too much. There are few more satisfying feelings than brushing through your locks, but too much can cause long-term damage to your tresses. Excessive brushing can lead to friction and damage the cuticles, which oftentimes results in split ends. If your hair is naturally thin and fine, you need to brush it gently to maintain its health.
A weak and plastic brush often causes damage to your hair if you brush it slightly forcefully, so we suggest investing in a premium brush to make sure your hair is looking and feeling its best. To fully nourish your hair, we recommend brushing it once in the morning and once in the evening before you go to bed. This helps you to detangle any knots and keep your hair looking shiny and healthy.
It can be tempting to ignore your nightly routine if you've had a busy evening, but making sure you brush your hair before bed makes your morning much simpler and stress-free. The last thing you need in the morning rush is to spend an extra ten minutes brushing through messy hair.
What kind of brush should I use for curly hair?
The curlies out there know all too well about the toils of maintaining curly hair. From different shampoos to curly hair specific styling products, managing curly hair requires a lot of attention and products. One of those products you need in your repertoire is a premium hair brush to detangle curly knots and give your locks a healthy shine.
The key to brushing curly hair lies in the soft bristles and wide brush head. Curly hair often needs more moisture and hydration than straight hair, so having a brush which gently caresses your hair is integral to maintaining healthy hair.
Adding a deluxe comb to your routine also helps immensely whilst managing your daily routine. Running the comb through your hair before you brush your hair makes the process much easier and quicker.
What hair brush should I use?
Whilst hair brushes may look similar in shape, design and material, there are specific brushes for different hair types. If you have thick, full hair then you need a larger, wider and more durable brush than someone with fine and thin hair. Whatever hair type or style you have, we recommend using a material other than plastic, which is known to cause long-term damage to your hair.
Boar bristles are best for navigating through brittle and coarse hair, especially if your hair is wet whilst brushing. If you're vegan in diet and beauty products, you can get nylon bristles which are equally adept at manoeuvring through difficult to manage hair. Brushes with a cylindrical head are more suited to hair that's longer and curlier, whereas wider heads are more suited to shorter hair.
If you're someone who brushes your hair straight out of the shower, a wet brush is tailor-made to slip straight into your routine.
What is the best hair detangler brush?
Detangling brushes come in a wide variety of shapes and sizes. You can find rectangular brush heads with boar bristles or cylindrical brushes with finely-packed, nylon bristles that produce optimum results. ghd also provide a sleek and stylish detangling comb to help the process become that touch smoother and simpler.
Boar bristles are perfect for detangling; the durability and strength is ideal for effortlessly brushing through tangled hair and knots. They're often compactly filled on the brush head so you can work your way through your hair with ease. We suggest a brush with a slightly shorter handle if your hair is particularly thick; this allows you to get more purchase when brushing and carry more weight with the brush.
Wet Brush, Denman, Tangle Teezer and Beauty Works are the go-to brands for detangling. They all offer affordable options, ranging from £5-£22.
How to back comb hair?
Back combing your hair takes a little bit of prep work but the results are well worth it. First of all, we suggest investing in a luxurious, volumising shampoo and conditioner to give your hair the boost it needs. Secondly, turn your head upside down and blow it dry thoroughly to give it some extra volume.
When you begin combing, choose a section of your hair to comb using your fingers to separate it from the rest of your head. Most people begin with the section on top of your head, which acts as a guide to the rest of your hair. Next, place your hand halfway between your roots and the comb and begin gentling brushing upwards in smooth, fluid motions. Start with the back of each section and work towards the side that is closest to your hair. Repeat with the next section until you've finished your whole hair.
When you've finished combing, use a brush to smooth out the top layer; use enough to blend the hairs together but not enough to flatten your hair completely. Your hair should look full and luscious, without evidence of back combing.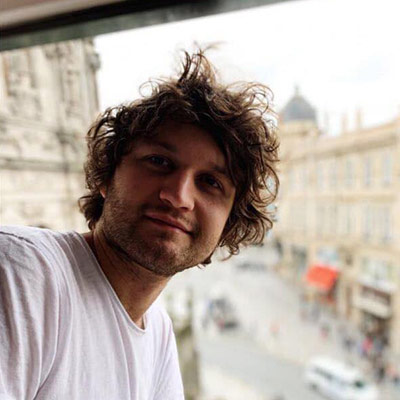 After six years of experience in content writing, Luke followed his passion for male grooming, particularly fragrances, hair styling and natural skin care.